Driver's Ed 101: How to Ace Your Driving Test
Hang on for a minute...we're trying to find some more stories you might like.
Put on your seatbelt. Put the keys in the ignition and start the car.  Turn on your lights. Take off the parking brake. Put the car in drive.
For many students at Chamblee Charter High School, these steps are a simple reflex when they drive a car. However, for others, they have yet to delve into the world of driving and may be curious as to what steps they must take to finally sit behind the wheel by themselves.
The first step to earning the right to driving is applying for and receiving an instructional permit (CP). Applicants must be 15 years or older. The main requirement is a knowledge exam covering various topics.
"There were questions about signs and a lot of questions about what the markings on the road mean," said Nate Kite. "There were questions about how to safely operate a car, like when should you pull over, what happens if you lose control of the vehicle. There were questions about right of way and yielding. There were questions about driving in weather conditions."
Students will be relieved to hear the test is presented in a familiar format and on a computer.
"It's all multiple choice and it's like five answers," said Valencia Loi.
Kite, who recently received his permit, used a specific resource to prepare for the knowledge test.
"I found a practice test online that has very similar questions to what was on the test, so that made it easy," said Kite.
Anika Karim, another driver who has her permit, found a different tool for practice.
"There's this app, it's called DMV Genie," said Karim. "It helps you prepare for it [the test] and it has practice questions and at the end, it has a test that's similar to the actual driving [permit] test, so that helped me a lot."
Additionally, she used a practice book that you can get from the Department of Motor Vehicles (DMV). Loi took a similar approach, but only for a short period of time.
"I only studied the night before, but I would recommend studying the handbook," said Loi.  
After studying for the test, Karim and her father went to the DMV to apply.
"You need an adult with you and the adult needs to have an ID … We had to pay and then they take a picture of you and then you go inside a room and then you just take the test," said Karmin.
The cost is $10 and certain documents are required, including a source of identification, like a passport or birth certificate, as well as the Certificate of School Enrollment. This certificate can be purchased for $3 from the Chamblee front desk. It is only valid for 30 days.
After getting her permit, Karim has begun to drive with an adult in the car but has already encountered some difficulties.
"I don't know how to park, but I can drive. Parking is just hard," said Karim.
Fellow learning driver Jordan Francis has pinpointed his weakness.
"Consistently maintaining lanes, like when it's curved and then also checking blind spots at the same time," said Francis.
Francis has found a way to incorporate practicing into his daily life.
"I drove from church back, which is a couple of good miles, and then I just drive around with my parents," said Francis. "All around the neighborhood."
After turning 16, those owning permits for at least one year and a day can take a road skills test to obtain a class D provisional driver's license. Similar to the permit, several documents and requirements must be met.
If 16, the candidate must meet the Joshua's Law requirement, which was implemented in 2007.
"Now in the state of Georgia, … it's required in order to get a license at 16 to take driver's ed [education], and that is the Nathan's, Taggart's type of thing," said health teacher Lorri Reynolds.
Reynolds is referencing Taggart's Driving School and Nathan's Driving School, both of which are popular among Chamblee students.  
Additionally, candidates must complete at least 40 hours of supervised driving, six of which must be at night. One piece of documentation not required for the permit test, but required to obtain a class D license, is ADAP certificate of completion.
"The ADAP program, which is the Alcohol and Drug Awareness Program, is part of the health class and that's just basically a program that they have to go through in order to get your class D license," said Reynolds.
ADAP covers a broad range of topics necessary for students to be safe drivers.
"They learn about blood alcohol content, they learn about everything that's drug and alcohol related to the privilege of driving, so the laws, how their license can be suspended, what the restrictions are," said Reynolds.
The program culminates in a test.
"If they [students] pass it with a 70 or better, they get a certificate. And then that certificate, they take to get their class D license," said Reynolds.
Besides the formal ADAP program, the health class curriculum covers broader topics.
"We talk about impaired driving, but there's also, you know, a lot of safety tips … we talk about speed and we talk about travel distance between the car in front of you … hand placement on the steering wheel, just basic common sense type of safety things," said Reynolds.
After completing these requirements, students must take a road skills test in which an examiner sits in a car with the candidate as they execute certain driving skills.
"The lady [examiner] got in the car with me and basically, she just had me drive around in the little space, like pull forwards, brake hard, and then back up, parallel park, back up parking, that kind of thing," said Maci Yeager. "And then she had me go out to the open road and just kind of do a little circle around the complex and the pull back in."
Topics the candidate will be scored on include parallel parking, backing up in a straight line, turning, passing, and posture. Current driver Caitlyn Liu admits that your examiner could play a role in your performance of the test.
"My driving test was a little bit intimidating. I didn't really know what my tester person wanted, so I like barely passed," said Liu. "That was pretty stressful."
Others, however, believe that experience matters.
"Honestly, if you've been driving a lot, drive how you know how to drive," said Yaeger. "Make sure you check your mirrors, you look both ways, check your blind spots, those are the major things they'll take points off for."
Some have a much more relaxed attitude.
"Don't worry about it. It's easy," said current driver Eric Shute. "Even if you mess up something, it's not like you're going to fail."
One important thing to check before leaving for the test is the make sure the car you'll be testing in is fully functioning.
"The first time I went, I wasn't able to do it because one of my brake lights was out and that was like the first thing they checked, so I had to go home from Conyers, so that [took] a while. It was a far drive," said Yeager.
Although some may be eager to get their license as soon as possible, other students have reasons that they're holding off for.
"My sister has her license but she doesn't have a car and neither do I, so I kinda always knew having a car wouldn't really be anything I'd actually have, so it kind of made it less of an incentive to get it so early," said Robert Felton.
He is also hesitant to take the driver's education courses, most of which are 30 hours long.
"[I] don't have a lot of time to do that … as well as kind of like my own laziness a bit," said Felton.
But for those students who have gotten their license, all agree that it has many benefits.
"I like the freedom because my parents don't have to drive me everywhere," said Liu.
However, Reynolds reminds students that there are restrictions on the number of passengers a new driver can drive for several months after getting their license. For example, during the first six months after getting their license, new drivers can only have immediate family members in the car.
"It's the law. And it's there for a purpose, because the more people you have in your car, the more distracted you're going to be," said Reynolds.
All in all, Reynolds wants new drivers to be aware that the largest danger in driving is oftentimes those around you on the road.
"There's just so much traffic and you know … it's not you necessarily, it's everybody around you, so you have to learn to anticipate somebody doing something stupid," said Reynolds. "That's going to save your life."
About the Writer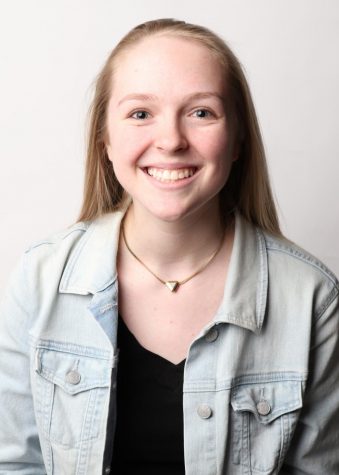 Hope Williams, Staff writer
Hope Williams is a senior staff writer. When she's not churning out articles, you can find her playing with her cats or going on a hike. This is her second year on the staff.