Stars Align for STAR Student Alice Bai
Hang on for a minute...we're trying to find some more stories you might like.
Alice Bai is many things: student at Chamblee Charter High School, co-editor-in-chief of the Blue & Gold, and co-president of Interact. Most recently, she has added STAR Student to her list of accomplishments.
"STAR Student is essentially when [the school] just looks at the SAT scores of everyone in the senior class and I think they just take whoever has the highest single-take score," said Bai, on how she obtained the title of STAR Student.
Bai scored a 1590 on her SAT, only getting two questions wrong and nearing a perfect 1600.
"I took a lot of practice tests, like a lot of practice tests. After a certain point, there's a definite format to [the SAT]. Studying for it was a lot easier for me since I already learned a lot of the math in class," said Bai. "If I could give any advice to people planning on taking the SAT, it would be to pay attention in class."
Bai was pleasantly surprised when she found out that she had gotten the highest score at CCHS.
"It's mainly an honor, just something nice," said Bai. "It's a nice thing to be STAR Student, but I feel like it hasn't really gone to my head at all. It's almost been a year, and having done so much for college, it wasn't really on my mind. But it was still cool to find out."
In addition to being honored with the title of STAR Student, Bai was able to pick one of her teachers to be this year's STAR Teacher. She chose her journalism teacher of three years, Fred Avett, as she attributes a lot of her academic success to his class and the way that it is run.
"For me, I picked Mr. Avett just because journalism has just been so much more than an academic class. Which isn't to say that academics aren't important, it's just that journalism is so independent and it's forced me to do so much more outside of normal academics," said Bai. "I feel like [journalism] has honestly played a really big role in my high school experience and the way that I've learned, changed and grown throughout high school and it has all really been facilitated by Mr. Avett."
Avett remembers his initial impression of Bai when he first had her as a sophomore.
"Alice Bai entered journalism pretty much fully formed as a student," said Avett. "The actual growth that I've seen in her actually is in her leadership skills. She applied to be an editor her second year on the staff and has become, I think, an outstanding editor."
Avett emphasizes her strong work ethic and ability to conquer anything she sets her mind to.
"[Alice] will go off to whatever college she wants to and they would be lucky to have her. She will achieve whatever she sets her mind to, I'm sure. I think the problem for Alice might be to decide what that actually is," said Avett. "I look forward to seeing her name in lights in a positive way."
About the Writer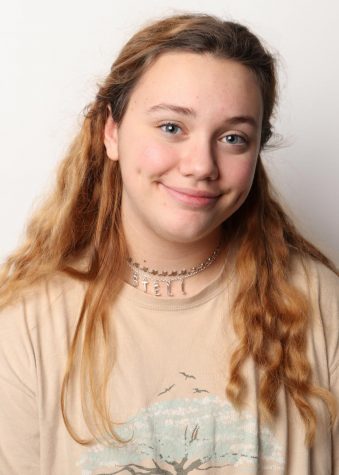 Stella Garrett, Staff writer
Stella Garrett is a sophomore and staff writer. Outside of journalism, she likes thrifting, taking naps, and listening to music. This is her first year on the staff.