Eagles Soaring South: Chamblee Alumni at Georgia Southern
Hang on for a minute...we're trying to find some more stories you might like.
This article is part of a series on college life for CCHS alumni. The other stories can be viewed here. 
Georgia Southern University, known as one of the nation's most eco-friendly campuses and the state's largest center for education south of Atlanta, opens up its arms each year to a wide variety of students, including many Chamblee Charter High School graduates.
"Georgia Southern is nothing like Atlanta," said senior Mahdi Karim. "I had to learn quickly that I was in the middle of nowhere, and the university is the only thing that's keeping this place going. The campus itself is really big and stunning."
Karim turned to Southern for the academic programs that it has to offer.
"I wanted to pursue a career in recreational therapy," said Mahdi. "Georgia Southern is the only school in Georgia with that program."
On the other hand, junior Broderick Hammond decided to attend Southern because of its distance from home and the campus.
"I wanted to get away from home but not too far to where I couldn't visit," said Hammond. "I also wanted an actual campus and [Georgia] Southern has a beautiful campus. The on-campus housing is very nice and there are plenty of affordable options for off-campus living."
When comparing the workload and rigor Chamblee to that of Georgia Southern, some students believe that the level of intensity at Southern started off similar to that of high school but progressively became more challenging.
"It seemed easier than Chamblee at first," said junior Nesha White. "As I'm rounding out the end of my junior year, it's gotten more difficult. I have so many papers, it's ridiculous."
For Hammond, he finds the intensity of the work to be fairly similar to that of CCHS.
"The classes and work aren't more challenging. They're about the same," said Hammond. "The difficult classes are still difficult, and the easier classes aren't hard."
Aside from various differences between the intensity of the classes and work, students also find that the university experience is drastically different from the experience at Chamblee.
"It's almost a new world. You don't have teachers that are constantly reminding you what to do, said Karim. "You have a lot more freedom, and your decisions and actions are yours alone. Classes are much shorter and I usually only have 2-3 classes a day. But the workload is intense, and it is very fast paced compared to high school."
Hammond finds that both differences and similarities can be found between high school and college life.
"The social aspect of college is different because you don't see everyone every day and if you don't want to see someone, it's very possible for you not to see them," said Hammond. "Education-wise it's not so different. Teachers love to say that college professors are different and expect more while putting up with less. But honestly, they're very similar to the ones back at Chamblee."
Both Karim and White are involved in extracurriculars at Georgia Southern.
"I'm part of the Student Therapeutic Recreation Association [STRA] and part of Cross-Cultural Awareness Association," said Karim. "I joined [them] because I'm intrigued by culture and STRA is a resume builder and I get to learn more about interventions"
White believes that being involved in extracurriculars helps students to better socialize and opens up opportunities.
"I'm in two honors societies and Anthropology Society, and I also work at the Chick-fil-A on campus," said White. "I would say that joining any of what Southern has to offer helps you to meet new people and makes connections. You're putting yourself out there."
Hammond has yet to join any extracurriculars so that he can focus on his studies but he still encourages others to join them.
"I am not involved in anything for the moment. There are so many clubs and organizations to join and I suggest that everyone should get involved," said Hammond. "I haven't joined them because I'm still trying to mature and work on my time management skills with the load that I have currently."
Although college life can feel overwhelming, Karim believes that CCHS helped him prepare for college both academically and socially.
"Chamblee is probably the best high school. The love I have for Chamblee is crazy because I received both the education I needed and the social life I required," said Karim. "I was very well prepared to tackle the aspect of education and social life in college."
White believes that it depends on each student to prepare for college and that every individual has a different experience.
"I think I sort of was prepared for college," said White. "[But] I think you don't really know what's going to happen at college until you actually get there. It's different for everyone. You just have to see for yourself."
The journey into college and adulthood brings many obstacles, but it is still possible for students to thrive and accomplish their goals.
"There are a lot of distractions at Southern, especially when you're away from home. That newfound freedom can often get to adolescents' heads," said Karim. "I believe Chamblee prepares their students to distinguish between right and wrong. So just practice what you've learned at Chamblee and you'll excel at Georgia Southern."
About the Writer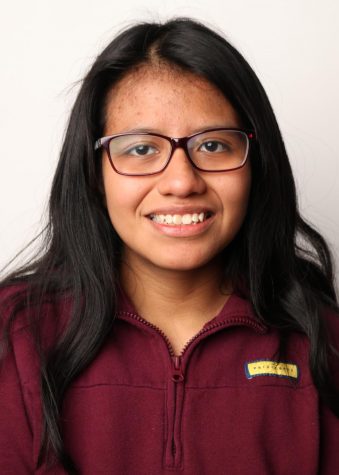 Yammile Garcia, Staff writer
Yammile Garcia is a senior and staff writer. In her free time, she likes to walk her dogs and work with kids. This is her first year on the staff.