Bringing the Theater to the Classroom for "Romeo and Juliet" Performance
Hang on for a minute...we're trying to find some more stories you might like.
Every high schooler reads "Romeo and Juliet" in their English class, but not all of them get to see it visually acted out. This year, however, the musical theater department organized a performance of the iconic balcony scene to perform for the ninth grade class, giving these students the opportunity to see what they are reading live.
Although executed by musical theater, the idea actually stemmed from freshman literature teacher James Wallace, who has had the idea since before he came to Chamblee Charter High School.
"I've been thinking about this since when I was at Ola High School in Henry County, where we had one of the best drama departments in the entire state. The teacher there and I talked about doing this for years and never got around to doing it," he said. "When I came here, I talked to [musical theater director Ms.] Lirette, but I didn't teach ninth grade English, so it wasn't something I pushed, but because I'm teaching ninth grade this year, I actually followed through. I didn't do anything other than suggest it to her, she kind of took it from there and ran with it."
Wallace describes his reasoning for choosing that scene in particular.
"Even in high school I really liked that scene, that's the one that kind of popped out to me," he said. "[Additionally], there's only two characters, so you just need two people who are dedicated to learn their lines."
The students Lirette found for the roles were sophomore Rosemary Cochran as Romeo and junior Maya Torres as Juliet. Cochran describes how she got the role.
"Mrs. Lirette said she was holding in-class auditions for a small Romeo & Juliet scene to be performed in front of some freshmen," she said. "I played Romeo. I have never played a role similar to his, but I have performed Shakespeare before. When the Shakespeare Tavern did a residency this year I played a side character called Francis Flute in a 'Midsummer Night's Dream.'"
Torres and Cochran rehearsed exclusively in class, since both students are in second period musical theater.
"We probably did ten complete run-throughs of the scene in one of Mrs. Lirette's side rooms," said Cochran. "It was really awesome and different from my other theater experiences because Mrs. Lirette didn't give us much direction. We were able to really explore our characters and react how we felt they would react. We got a lot of compliments saying that we had a very original and unique take on the scene."
Wallace, who studied Shakespeare extensively in college, finds the balcony scene particularly important for freshmen to study because it relates to their unit about sonnets.
"If you actually look at and break down their conversation, Romeo and Juliet speak in sonnets," he said. "One will start the sonnet and the other will finish the 14 lines. It's ingenious on Shakespeare's part that he wrote it that way, [since] the form of the sonnet was written to express love for another person. When they're having that conversation and they're doing it through the form of the sonnet, it builds off what we've already learned in the class."
Although Shakespeare can sometimes be confusing for high schoolers, Cochran believes the students enjoyed being able to see the writing played out in front of them, rather than just reading it.
"I think that the audience was receptive. The teachers who saw it told us that they loved it," she said. "I wish we could have done it for more students. One student told me afterward that he had really enjoyed it."
Cochran will use this performance as a gateway into more Shakespeare opportunities.
"I definitely want to do more Shakespeare after this experience," she said. "It was so much fun and I hadn't gotten a role that I really clicked with before playing Romeo."

About the Writer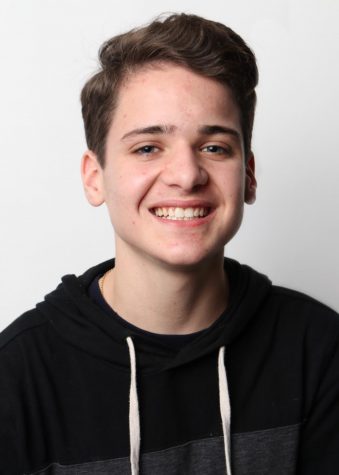 Foster Cowan, Staff writer
Foster Cowan is a junior and staff writer. He likes to eat prepackaged salads, wear sweatshirts for schools he doesn't attend, and avoid Boy Scout meetings. This is his second year on the staff.