Chamblee Plants Ivy Seeds in the Ivy League
Hang on for a minute...we're trying to find some more stories you might like.
This article is part of a series on college life for CCHS alumni. The other stories can be viewed here.
For hundreds of years, Ivy League schools have remained an icon of American education and academic research and progress. For millions of high schoolers around the world, being accepted to one of the eight private universities, all of which were founded before 1900, is a dream. For numerous alumni who attended Chamblee Chamblee Charter High School, this dream became a reality.
Elena Brown-Soler graduated from Chamblee in 2016 and now attends the University of Pennsylvania (UPenn). However, she is not just a student.
"I am a student-athlete here at Penn. I'm a member of the Women's Track and Field team," said Brown-Soler.
This requires her to balance both studying for her classes and going to practice.
"Being a student-athlete means that I have two jobs here, I strive my best to exceed in both every day," said Brown-Soler.
As a student, she has a unique major that some may not be familiar with.
"I am majoring in criminology, which is a fairly new major here," said Brown-Soler. "It's kind of nice because the department is small, so you can get to know the professors, who are some of the most prominent researchers and leaders in their fields."
Brown-Soler was able to experiment a bit before deciding her definitive major.
"At UPenn, you don't actually declare a major until spring of sophomore year," said UPenn freshman and CCHS class of 2018 graduate Sakshi Segal.
For Brown-Soler, she never expected to choose criminology.
"I honestly kind of found criminology by accident," said Brown-Soler. "Freshman and sophomore year, I was bouncing between interests and taking classes that sound interesting to me. When it came around time for me to declare my major, I found that I'd really enjoyed taking the Intro [to] Criminology course."
Another option for students at most universities is to double major.
"I'm majoring in biochemistry and German, which has been a good experience so far," said Columbia University student and class of 2016 Chamblee graduate Aomeng Cui.
Columbia is quite different from other Ivy League schools due to its location. The campus is close to cultural icons, like the Metropolitan Museum of Art and the Lincoln Center.
"A lot of these are incorporated into visits during Art Hum, Music Hum, or Contemporary Civilizations, which are core classes taken by all students in the [Columbia] College," said Cui.
Cui is well suited for an urban setting and is constantly impressed by who she sees around campus.
"I think the campus is really vibrant, there are tons of student groups and events held each day," said Cui. "I was really surprised by just how common it is to find talks held by Nobel Prize winners, many of whom are professors here, or various world leaders, such as prime ministers or presidents of various nations."
Segal sees a similar atmosphere at UPenn.
"I picked Penn for its social atmosphere and have found it a refreshing blessing to be surrounded by like-minded, often-extroverted individuals," said Segal.
Segal has also joined several extracurriculars, including Penn Democrats and Penn First, a first-generation, low-income student organization. Brown-Soler's extracurriculars are focused more so on helping children.
"I am a counselor and board member of Camp Kesem here at Penn," said Brown-Soler. "Camp Kesem is an organization that supports kids through and beyond a parent's cancer. At the end of the summer we put on a one week camp for the kids, and throughout the year and we raise the funds and organize the details of camp."
She also helps children academically.
"I am also a tutor for the West Philadelphia Tutoring Project, which organizes tutoring at schools in West Philadelphia and at a center on campus," said Brown-Soler. "I also shadowed a doctor at the Children's Hospital of Philadelphia and did data abstraction for her research team."
However, Brown-Soler has the added time spent practicing for track, which she acknowledges can be challenging.
"Being an athlete is amazing and rough at the same time," said Brown-Soler. "I'm not going to lie, it's hard balancing both. It's exhausting and tiring. Your body is constantly sore, and you still have to get to class and library and get everything done. But competition, races, supporting your team, [that] makes it all worth it."
Her experiences as a track athlete help her appreciate other sports.
"As an athlete, I keep up with the sports here and know a fair amount of other athletes, so I attend games and matches," said Brown-Soler. "Football games, especially homecoming are fun."
Part of the experience has to do with a unique tradition.
"We have this tradition after the third quarter where we all throw a 'toast' to Pennsylvania," said Brown-Soler. "It started a number of years ago after alcohol was no longer allowed. It's a bit weird, but something I'll always remember doing."
For Cui, it's been her academic opportunities that have defined her experiences, not athletic ones.
"I think that [biochemistry] has given me a good background for research, especially since a lot of the classes are research methods based and have taught me a lot about the technologies and techniques available," said Cui.
However, one downside is the large size of the biochemistry classes, with about 150 students. On the other hand, her German classes tend to be more personalized.
"The German department is very small, and the professors are really interested in getting to know you and helping you figure out internships, et cetera, so I've built some really good relationships with them," said Cui.
Overall though, she has had favorite classes from both areas.
"I'm taking a neurogenetics class now that's really interesting, and in the German department, I've really enjoyed a Kafka literature course and Survey of Postwar German Lit," said Cui.
Segal has some advice for any high schoolers who would like to apply to an Ivy League school.
"My greatest advice would be to be very honest, particularly in your essays to these universities; they can see through superficial essays and would, in my opinion, much rather prefer a raw, genuine narrative of one's life," said Segal.
Many students are also nervous about the transition from high school to college, and Segal believes academically, it can be challenging.  
"I took rigorous courses at Chamblee, but pre-med courses at UPenn are often no match in terms of difficulty and rigor; that definitely took adjusting to," said Segal.
But, this is no reason to panic.
"I found that it became a more manageable and enjoyable experience once I found a great group of friends," said Segal. "Overall, I think I was as prepared as possible though still taken aback, particularly for some courses designed to 'weed' students out."
Brown-Soler has advice for college freshmen feeling overwhelmed.
"Be yourself. Explore. I, like many others, I got caught up in having to do a million and one things, but I realized you only get to go to college once," said Brown-Soler.
Now that she's been in college for almost three years, she can look back at her experiences and appreciate them.
"College has challenged me in every possible way," said Brown-Soler. "It has brought me the brightest days and the darkest nights, but looking back I've grown from every moment."
About the Writer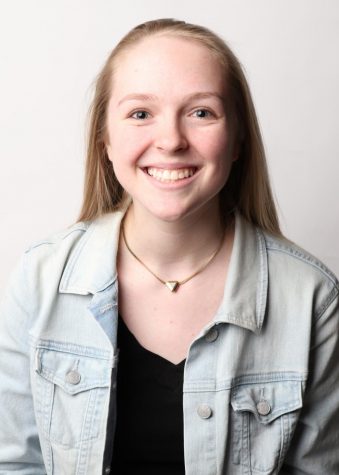 Hope Williams, Staff writer
Hope Williams is a senior staff writer. When she's not churning out articles, you can find her playing with her cats or going on a hike. This is her second year on the staff.