FEMA Program Teaches Students Life Saving Skills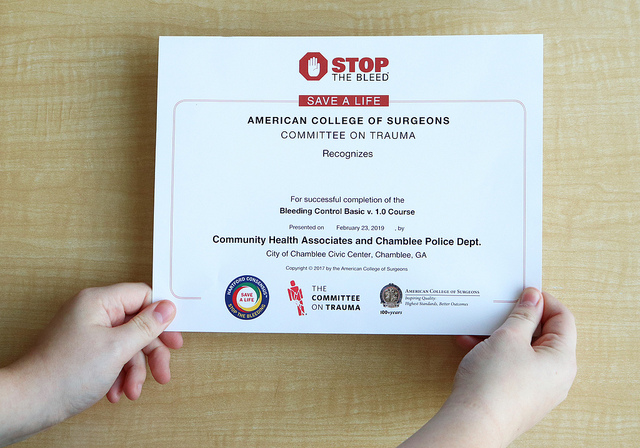 On Saturday, February 23, the City of Chamblee offered a free, three-hour Federal Emergency Management Agency (FEMA) training class named called "Until The Help Arrives", the purpose of which was to teach students how to react to extreme emergencies. The program took place at the Chamblee Civic Center and was taught by infectious disease expert Dr. Hudson Garrett, Jr. and City of Chamblee police officers.
Several Chamblee Charter High School students attended, highlighting the program's hands-on practices, which helped them understand emergency situations better.
"One thing I learned that was interesting is how to apply tourniquets," said freshman Keegan Brooks. "Also, there was a fake wound we had to cover in order to stop bleeding."
The FEMA program was particularly beneficial for students because it gave them the opportunity to learn under the guidance of trained professionals for free.
"The [teacher] made it sound easier than it could have been. He taught us some basics, and he informed us how to deal with certain situations, like if someone is having a heart attack, and what to do before help arrives," said senior Joseph Feagle.
Students also received a certificate for completing the course, which can be helpful in the future for job resumes.
"You get one in person — the Stop the Bleeding [certificate] — and the FEMA one is online," said Joseph Feagle.
The course can be applied to situations like babysitting and in daily life when an unexpected emergency arises.
Besides the practicality of the course, some students were also motivated by certain CCHS teachers who provided incentives for students who attended.
"Our AP Gov[ernment and Politics] teacher, [Chloe Kaspar], gave us extra credit points for an assignment if we attended and brought the certificate back," said junior Apoorva Agrawal.
About the Contributor
Adena Perez, Staff writer
Adena Perez is a junior and staff writer. Outside of the paper, she likes to sew, sleep, and ride her bike. This is her first year on the staff.