How to Pick a Proper Principal
Since former Chamblee Charter High School Principal Rebecca Braaten announced her resignation in December 2018, the CCHS Governing Board and DeKalb County School District have been searching for a person to fill her role.
In order to be certain that the new principal is the right person for CCHS, the Governing Board lobbied for more Governing Board and stakeholder involvement in the process.
"[The Governing Board] has a lot more involvement early on in the pre-screening process, which is something we really wanted," said Governing Board Chair Kathy Wilson-Chu. "Last time we, the Governing Board, did interview the top four candidates as selected by DeKalb County School District employment people, and a couple of the top four candidates that we received were not as well qualified as a couple of other candidates I later found out had applied to the position. So I feel much better about the process this time because of increased involvement of the Governing Board, teachers, and parents up front in the process."
Aside from increased Governing Board involvement at the beginning of the principal selection process, Wilson-Chu also lobbied for more inclusion of the Governing Board, as well as teachers and parents, in the entire process.
"I met with Sherry Johnson, the Region One Superintendent, and we basically mapped out the process," said Wilson-Chu. "First, a leadership attribute survey came out to parents, students, and teachers to indicate what attributes they want to see in a principal, which we take into account when interviewing candidates. The next key item is a resume review, where a Governing Board member and a parent works with DCSD employment people to review all the resumes of the qualified candidates and then pick the top six or seven candidates. The next step is what is called professional interviews. So the top six candidates are interviewed by two Governing Board Members, a teacher, and a support specialist, and are narrowed down to the top four candidates. Then about five members of the Governing Board will interview the top four candidates asking all four the same questions that the Governing Board came up with. Two teachers and a parent will also be in the room for this step as well. Afterward, the Governing Board, as well as the two teachers and parents, will discuss the interviews and each candidates strengths and weaknesses and pick their top and secondary choices. That is not final though. The Governing Board will meet totally in private about a week later to discuss the candidates and finalize our first and second choices and send them to Dr. R. Stephen Green, the Superintendent of DCSD. Since the principal is an employee of DCSD, he has the final decision of our two favorites."
Compared to other public schools and school districts, the principal selection process at CCHS is fairly standard. Generally, the only difference comes from the involvement of the CCHS Governing Board because most schools are not charter schools.
"There are some portions from our process that I think other schools have, but we the Governing Board, because of the charter, have more autonomy and discretion in this process," said Wilson-Chu.
That said, one public school system, Atlanta Public Schools (APS) has a relatively unique step in their principal selection process, which is the same across all schools in the system, according to APS Chief Human Resources Officer Skye Duckett.
"High scoring principal candidates are invited to a district interview day where they move through rotation of four different interview scenarios. So they have to role play a scenario, analyze data, talk about data, and give a presentation. It is not like a sit-down type interview where you just ask them questions. Then at the end of the interview day [administrators and other interviewers] sit down and debrief to decide which candidates we approve to continue onto the next step in the process," said Duckett. "It is really time-consuming and cumbersome – it takes a team of about 20 or 30 people, but [APS has] found that it is completely worth it."
Additionally, independent (or private) schools seem to also have very similar processes for picking principals, compared to CCHS, although there are a few differences. One small difference is that independent schools seem to like letting potential candidates tour the school and interact with students.  
"While candidates are on campus, [interviewers] want to show them the campus, meet with teachers and administrators to get a feel of the culture of the school. We also try and allow for time to talk with students informally in the classroom," said Laura Magnanini, Assistant Headmaster at the Paideia School.
One major difference between the process at CCHS and private schools is that some private schools do like to involve parents in the hiring and firing processes at their school, including Paideia and Midtown International School (MIS). At MIS, it is because of the school's unique atmosphere.
"We do not bring in board members or parents," said Ande Noktes, Head of School at MIS. "I think partially because what we do here is so specialized and I would not say that there are any parents or board members in our community that understand it with the level of expertise that our in-house people. I do think it is important to include parents and board members in lots of other types of decision making, but when it comes to hiring or firing I do not that is the place for them."
Apart from secular private schools, religious schools, such as the Marist School and Blessed Trinity Catholic High School, also include their faith in the principal selection process.
"I am the president of the school so I belong to the Society of Mary because the Marist Fathers own this school. And [The Society of Mary] has a Board of Members who have total control over the school, but we delegate most of that control to the Board of Trustees of Marist. So the Society of Mary oversees the school and the Board of Trustees ensure that our policies are in line with the Catholic Church teachings," said Fr. William Rowland, the president of the Marist School.
Overall, regardless of the differences in how schools select new principals, the main focus of finding a new principal is what will be best for teachers and students.
"The cost of a bad hire is astronomical; it is seriously detrimental to a school. The job [APS] takes most seriously is hiring principals," said Duckett. "Yes, it is expensive and time-consuming and a lot of work, but we would rather do it on the front end than have teachers and students damaged on the back end."
About the Contributor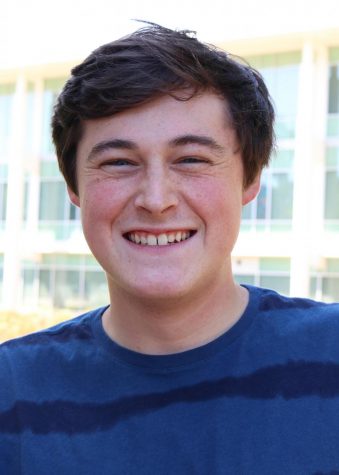 Oliver Hurst, Staff writer
Oliver Hurst is THE senior staff writer. You can find him going to Fernbank, talking about his dog, and binging a show on Netflix. This is his third year on the staff.