Seven Teams, One Field: CCHS's Nightmare Practice Situation
With seven teams that play and practice on a limited number of fields, finding practice space has always been an inevitable struggle for Chamblee Charter High School's spring sports teams. But as the spring season kicks into full gear, a new rule from DeKalb County's head of athletics, James Jackson, has complicated an already hectic situation.
"We were told, not in [writing], but verbally from our athletic director, [Robert Eskew], that Mr. Jackson told him that we are not allowed to practice at North DeKalb Stadium anymore," said Chloe Kaspar, who is a social studies teacher and the girls' soccer sponsor.
Eskew explained why the county decided to enforce it, and emphasized that it was not his choice.
"I had to be the bearer of bad news because I am the stadium manager," said Eskew. "We have been put out of North DeKalb because it does not belong to Chamblee High School and [Jackson] received complaints from other schools about wanting to use the stadium."
Many of the students and coaches claim that the 'other schools' were actually just one school: Dunwoody High School. Girls' lacrosse coach Theresa Abernathy elaborated on this claim.
"Dunwoody complained that we have an advantage over here because we have the use of a lined field," said Abernathy. "I do not know the accuracy of that rumor, but that is what I have heard from many sources."
Part of the reason that Abernathy referred to it as a rumor is that, as of March 19, neither she nor any other coaches have received any official explanation in writing from administrators or county officials. They have only gotten verbal explanations from Eskew and CCHS administration.
Dunwoody's soccer coaches also would neither confirm nor deny the allegations.
"I specifically asked Coach Eskew for a name of the coach or the parent at Dunwoody who complained, so I could reach out and try to make amends on behalf of whatever team or person may have made them upset, but no specifics were given," said Kaspar.
Kaspar also made it clear that this is not a new issue for CCHS spring sports teams.
"I don't know who complained, but [field availability] is a recurring problem and has been happening for years ever since I've been involved with the soccer program," said Kaspar.
Junior and varsity soccer player Abby Washburn gave a more detailed explanation of just how difficult getting practice space was, even before the North DeKalb Stadium rule was announced.
"We practiced in the main stadium a lot for the first two weeks of our season because lacrosse started after, but every time we've practiced there since […] there's been a lot of dispute about what team gets to what yard line," said Washburn. "When you reserve the field, you reserve it from this yard line to this yard line, and we all just kind of kept being petty, our team included, in pushing the lines."
But with the new rule in place, seven teams now share the practice field, making productive practice nearly impossible.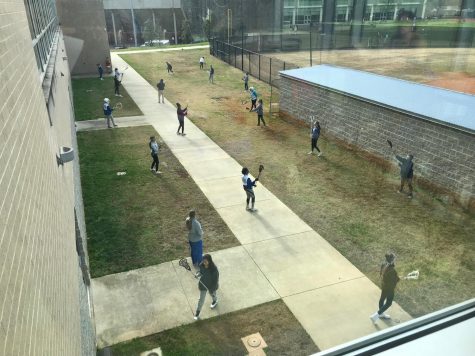 "Splitting the practice field makes practicing really tough," said senior and boys' lacrosse coach Davis Cooke. "We don't really know where we're going to be practicing every day until pretty much practice starts."
Even after practice starts, teams often have to trade spots and use different parts of the practice field for different activities. It can cause quite the headache if two teams want to use the same part of the field at the same time.
In addition to complaints about having to use such a small space, there are also problems with the unfair delegation of responsibility.
"I should mention that the single practice field has been maintained by funding and volunteers from the soccer team booster club," said Holly Lombardo, a varsity soccer parent. "Our football and lacrosse counterparts [have] access [to] the field but do not contribute."
Other problems with the field decrease available space further.
"Twenty percent of our practice field is unusable because of a drainage issue. The county has sent people out multiple times, but nothing has been fixed," said Asako Ferguson, member of the boys' soccer Booster Club. "Since they are going to build on it in the near future, the county says it isn't worth it to fix it."
As a result, a common sentiment among stakeholders has been frustration toward the stadium practice ban.
"I don't understand why the county didn't just open up the stadium for everyone to use or just invite the people that complained to come practice at the stadium," said Cooke.
Kaspar felt similarly.
"I think for me, what's most frustrating is if Dunwoody wants access to North DeKalb stadium to practice, that is a fair request because it is also their home stadium," said Kaspar. "But they should be added to a field sharing schedule or something. If they want to practice there three times a week, that should be allowed, but they shouldn't throw the baby out with the bathwater if you know what I mean."
However, Eskew explained that a field sharing schedule with other schools was not an option.
"Other schools had requested to use the stadium, but [their requests] were denied," said Eskew. "With us having access to it, it put the county in a situation where if they were not going to allow other teams to use it to practice, then it was not fair to allow our teams to use it."
While Eskew stated the county does not let any school use county stadiums, Clarkston High School's soccer team regularly practices at Hallford Stadium. Hallford is a county-owned stadium and is used not just by Clarkston, but by many schools as a home stadium.
This new ruling has created a near-impossible situation for all CCHS teams involved.
"Now, approximately 170 kids are expected to use the practice field," said Kaspar.
In order to relieve these space problems, coaches, sponsors, and booster club members have been working tirelessly to find more places for our many teams to practice.
"One option we had was to use the old Chamblee Middle School property but this was across I-285," said Ferguson. "We were not given access to transportation to get over there, so we were not able to use it."
The current solution to the limited space is to use feeder elementary school Huntley Hills, which is less than two miles from CCHS–but the agreement to use this field was not without its own challenges. Huntley Hills principal Mia Ford would initially not allow any CCHS teams to use the elementary school's field. CCHS Interim principal Robert Williams explained that this was because Ford had received inquiries from someone in the community about who was practicing there, and she could not identify who that person was.
"[Ford] did her homework, trying find out if this person was a Chamblee staff member, and it was not so she was a little eerie," said Williams.
To ease into an agreement, Williams and Ford first came to an agreement to allow only girls' soccer teams to use the field. After this trial period, Williams renegotiated with Ford to extend permission to all CCHS teams.
Even so, athletes still have qualms about using this alternate field.
"I mean it's like really good to have our own field, but it's not even a field," said senior and varsity soccer player Erin Obarowski. "It's like sand and some holes. There are ants [and] there are no goals. We have to bring our own."
When teams practice at Huntley Hills, they also do not have access to the building or its facilities.
"If you have to go to the bathroom [or] you need to refill your water bottle, you're kind of out of luck. Meanwhile, if you're here [at Chamblee], you have access to all of that," said senior and soccer player Lauren Carter. "We also have access to a trainer here, and our team gets hurt a lot, and so I feel like it's an issue because that field is so bad that we can twist out ankles easily, and then they would have to come all the way back here to see a trainer."
Another complication while only girls' soccer was permitted to use the field was with transportation. In order to get everyone to the field, junior and senior members drove an assigned group of girls to their practices.
"[A time when] I was sick, I couldn't drive the group of girls that I'm supposed to drive, so then they had to sort out who they're going to ride with," said Carter. "And sometimes it's not necessarily legal for someone to be driving however many people they're driving."
This issue has since been resolved by Williams. Bus number 3722, which already goes in the direction of Huntley Hills, now takes some student-athletes to Huntley Hills right after school.
"So [the bus] just adds an extra 19 kids. It has a normal route, and drops members of the soccer team off at practice," said Williams. "Down the road, [there are] some proposals that could be made. In Fulton County, each school has an activity bus, and there is someone on staff certified to drive the bus so you're never without transportation."
Although access to the Huntley Hills has helped to alleviate some problems with field space, Chamblee's teams still do not have a soccer field the size of the fields they will play on, such as the one at North DeKalb Stadium.
"Right now, our practice facility over here is not regulation sized, and the one at Huntley Hills is not regulation size," said Williams. "Unless we can get North DeKalb Stadium, we are going to be at a disadvantage because none of our fields are regulation fields, whereas  all the other high schools have regulation size fields."
Williams believes this in itself is a good enough reason to allow us to use North DeKalb Stadium.
"Since we are already practicing on irregular field, I'm saying compensate us by allowing us to use North DeKalb stadium to make up for what we have to practice on," said Williams.
Williams is continuing to work to improve the practice situation, and he hopes that the problem will be resolved by next season. For now, though, CCHS teams will continue to struggle to get in quality practice with their minimal space.
James Jackson, DeKalb County's head of athletics,  did not respond to request for comment.