Thespian Society Starts Prom Dress Drive
Hang on for a minute...we're trying to find some more stories you might like.
Few high school traditions are so widespread and iconic as the American prom, short for promenade, which is an annual school dance that upperclassmen attend. Traditionally, students will dress up in formal clothing, which typically means a suit for boys and long dresses for girls.
However, what once started as a fun way to spend a night has, over time, turned into quite an expensive ordeal, especially for girls who wish to wear a dress.
For senior Caitlyn Liu, her search from a prom dress last year was quite stressful.
"The week of [prom], I was like 'Yeah, I'm going to go to prom,' but like it was during the school week, so I didn't have a dress and prom was on Saturday," said Liu.
She quickly realized her error for waiting so late.
"I think at that point, everyone had already gone dress shopping, so like there wasn't that much of a selection," said Liu. "… The big prom stores didn't really have anything left so I just went to Perimeter Mall and I went to a few stores, I didn't really like the selection."
Liu, luckily, was able to find a dress on sale that she loved. However, for some, they had to pay a hefty price for the perfect dress. Senior Julia Weil has two adjectives to describe the price of prom, dresses included.
"Absurdly expensive," said Weil.
Weil believes the current norm of spending hundreds on one dress is pointless.
"I think it's ridiculous except you can re-wear those dresses multiple times and that's the good move," said Weil.
This year, Weil did buy a dress, but only with a specific intent.
"I went with a group [shopping] with the intention of finding something cheap and mine was a little under forty dollars and I'm planning on wearing it to every social event that I run into in the years to come," said Weil.
Luckily, the Chamblee Charter High School Thespian Troupe has found a solution to prevent situations such as Liu's last year and Weil's apprehension to costly dresses: Chamblee's very own formal dress store, which will be cheap and convenient for students.
"The idea was brought to us by the woman that was helping us with the snack for the musical, Beth [Zubia]," said Natalia Carlson. "She came up with the idea and I said that the Thespian Troupe could sponsor it."
The effort will be donation based.
"We would love for people to donate formal dresses, for prom or homecoming and any shoes," said Carlson. "We need all sizes and colors."
These can dresses that girls wore to dances previously in high school, but are still in good condition and need a new home.
"They can be dropped off by Ms. Lirette's room preferably before spring break, but the week after is also fine," said Carlson.
As an effort to incentivize the drive, service clubs such as the National Honors Society (NHS) and Beta Club will be offering volunteering hours for donating a dress.
"Donate your gently used gowns to Ms. Lirette's room on the first floor of the Fine Arts building by Friday, March 29, before spring break, for 1.5 hours per dress with a cap of 3 hours," said NHS officer Sarah Mackey.
For those who would rather borrow a dress, they are in luck.
"If you are looking to rent a gently used prom dress, keep an eye out for advertisements from the Thespians leading up to prom," said Mackey.
Carlson confirms that starting in April, Chamblee students can take advantage of the dresses.
"We will turn the drama room into a 'store' where people can come and look for a dress. They can bring friends and try on in the side rooms. The dates from that will be April 11 and 12," said Carlson.
In terms of timing, there are still some details to be worked out.
"As of right now, people can just show up after school," said Carlson. "We haven't discussed times yet."
About the Writer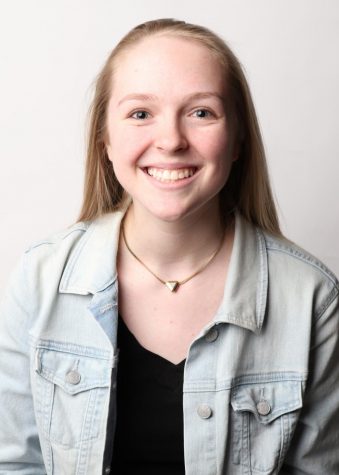 Hope Williams, Staff writer
Hope Williams is a senior staff writer. When she's not churning out articles, you can find her playing with her cats or going on a hike. This is her second year on the staff.