World Cup-Bound Soccer Prodigy to Attend the University of Tennessee
It's March of 2019, and for seniors soon to graduate, that means that it is time to decide what the next step of their lives will be. Many are having to make some tough decisions, such as choosing which college to attend. One senior, however, has known where she is going to college since her sophomore year.
"I committed [to the University of Tennessee] in February of my sophomore year," said Giselle Washington, who has wanted to play soccer in college ever since she started playing club soccer when she was nine years old. She had other offers from other schools to play soccer, but she ultimately decided Tennessee was the best choice.
Washington made headlines early in the year when she with her Jamaican national team qualified for the FIFA 2019 Women's World Cup. She has a busy year ahead of her, but deciding where to go to college is not something she has to worry about anymore.
While it may seem odd to commit to a school so early in high school, Washington says she committed at a pretty typical time for high-level student athletes.
"For soccer, the recruiting season is super early," said Washington. "I felt like the school was right and it was the right time."
Despite the fact that she made her decision earlier than most, she is happy with where she is going and excited for the new experience.
"It was a really big decision, just like for everybody else," said Washington. "It was huge, but I feel pretty good about it."
For Washington, Tennessee is appealing in many ways.
"It's not too far, which is good because I don't want to go too far from home," said Washington. "I also really like the campus and their facilities are really nice there for women's soccer."
But the coaches and the team there were what sealed the deal for her.
"The coaches were definitely what made me decide to go there; they're very sincere and genuine," said Washington. "I also met some of the players, and it just seemed like a good fit."
Like many other high school seniors, Washington is not without her fair share of nerves about the upcoming year.
'I'm definitely nervous," said Washington. "Coming into any team, you're gonna be nervous, especially fitness-wise and physically because they're older, so I'll have to step up and work on that, but I'm mostly just excited."
Washington will also start her education at Tennessee over the summer, which she believes will be a benefit.
"I'll go in like a month early, so that way we can take a couple of classes and start school so that it's an easier workload during the fall season," said Washington. "We can also start some strength training and get accustomed to the team and the campus."
Overall, she is eager to experience Tennessee and all that it has to offer.
"I love the family feel of all the sports and the spirit that everyone has there is just crazy," said Washington. "You see orange like everywhere. I think everyone just really enjoys it there and looks like they're having fun."
About the Contributor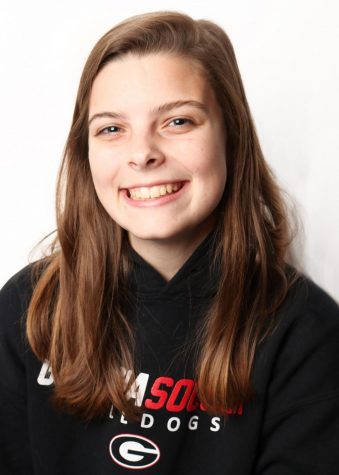 Ellie Furr, Staff writer
Ellie Furr is a senior and staff writer. When she isn't writing, you can find her playing soccer, hiking anywhere and everywhere, and bird-watching. This is her third year on the staff.