Beloved English Teacher Named Rotary Teacher of the Year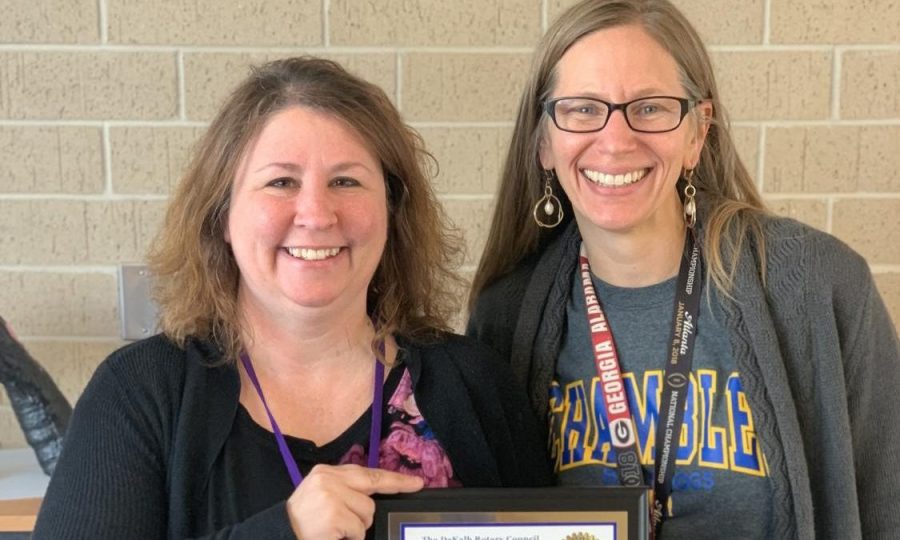 Congratulations are in order for Chamblee Charter High School language arts teacher and Interact sponsor Jennifer Andriano. The North Atlanta Rotary Club, which backs the Interact Club at Chamblee, named Andriano their Teacher of the Year for the 2018-2019 school year. For this honor, Andriano will receive several awards.
"[Ms. Andriano] will get recognized with a plaque, she will get honored with the Teachers of the Year selected by the other Rotary Clubs in DeKalb County, she will be honored at the breakfast that is on March 22, and she will also receive a monetary stipend as a gift and appreciation for all of her hard work," said North Atlanta Rotary Club President Julie Koriakin.
This Rotary Teacher of the Year selection is a tradition that goes back many years.
"[The DeKalb County Rotary Clubs] wanted to celebrate vocational service, and we all collectively agreed that teaching is not only one of the noblest careers anyone can do but is also a job that is underappreciated in many cases," said Korakian. "Many years ago, the council established [the Teacher of the Year] breakfast as a way to recognize service. Each club in the council independently recognizes a teacher in the area that they concentrate their service work in as an exemplary model. [A Teacher of the Year] uses their vocation […]  to do good things and is a great example to not only others in their profession, but also the community at large."
Koriakin also outlined why Andriano was selected over other teachers in the area.
"[W]e look at what kind of connections they have to service both with Rotary and independently," said Koriakin. "We also look at whether this [is] a person that builds strong connections with other people in the community that they serve, and Ms. Andriano certainly seems to be held in high regard at CCHS. Speaking to her colleagues, the feedback was very consistent. […] She is someone who is a great role model and who selflessly does a lot of things for students and the community through her work at the school."
According to Koriakin, the North Atlanta Rotary Club selects their Teacher of the Year from schools where they are currently serving or have served in the past.
"[Rotary] does not have designated service areas, but for [the Rotary Club of North Atlanta], the service we perform is mostly in the Cross Keys cluster, so not only do we do a lot of things with CCHS, we also have a literacy program in conjunction with the Brookhaven Rotary Club at Woodward Elementary and do many things at Cary Reynolds Elementary School," said Koriakin. "We like to select teachers of the year from the schools we do work in. So even though we would accept nominations from any of the schools we work with or any of the other schools in the cluster, the nomination kind of stems from who have we worked with that would be worthy for the recognition."
For Andriano, this recognition comes with great appreciation.
"It is an honor because I was definitely not expecting this. […] Our Interact is so student-led that I am kind of just there for support," said Andriano. "But seriously, it is an honor that they thought of [Interact] because there are other people they could have chosen."
According to Andriano, she initially started teaching to inspire students.
"I got into teaching because—this sounds so cliche—I want to make a difference in people's lives," said Andriano. "I wanted to be a teacher since I was five. I loved learning, and I knew that I wanted to give that love to other people."
To accomplish this goal, Andriano strives to create safe spaces for her students in her classroom.
"I do not know everything; I do not claim to know everything," said Andriano. "I like [my classroom] to be a comfortable, relaxed atmosphere where people feel they can ask questions and not have other people judge them. And I think when you do that, people are more likely to open up in discussions."
Despite Andriano's doubts as to why the North Atlanta Rotary Club chose her as Teacher of the Year, her students seemed to completely understand her selection.
"I think she really does deserve the award," said sophomore Sam Grant. "She is a teacher that really tries to make all of her lessons engaging for her students, and she is really successful with that."
Sophomore Belane Abdurhman offered Ms. Andriano's 20% Project, in which students were able to pick anything and blog about it for ten weeks, as an example of Andriano's engaging lessons.
"As a teacher [Andriano] has a pretty big influence in my life, but I think the biggest influence she has had on me and my peers is the 20% Project," said Abdurhman. "I have always had an interest in dance, and this gave me the opportunity to actually explore dance and learn how to do it. And my peers are working on things that they hold interest in but have not been able to explore."
Overall, Abdurhman seems to think that Andriano succeeds as a teacher due to Andriano's openness.
"[Andriano] is really helpful," said Abdurhman. "If you do not understand something or if you have a question, she does not make you feel bad about going through it with you and explaining something step by step."
About the Writer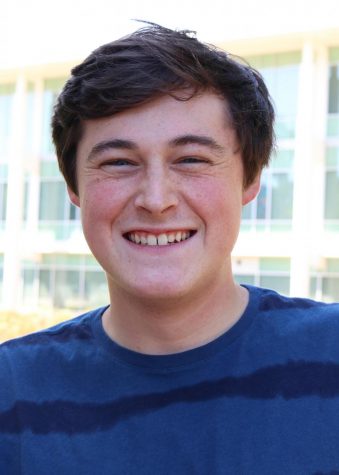 Oliver Hurst, Staff writer
Oliver Hurst is THE senior staff writer. You can find him going to Fernbank, talking about his dog, and binging a show on Netflix. This is his third year on the staff.