Soccer Star Savannah Lawrence Scores with MIT Acceptance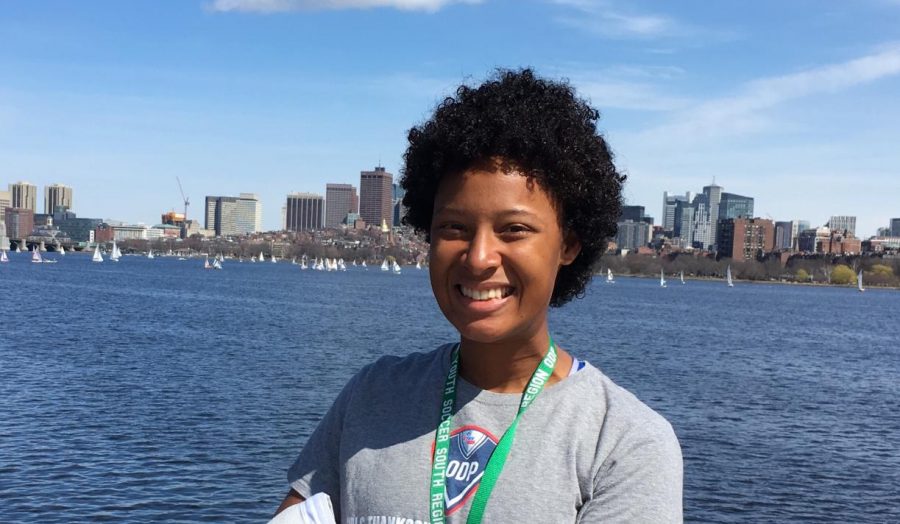 It is the time of year when more and more college decisions rollback, and it is often a time of indecision and uncertainty for seniors. For one senior, however, the decision has already been made. Senior Savannah Lawrence has decided to play Division 3 soccer at the Massachusetts Institute of Technology (MIT).
Lawrence is captain of Chamblee Charter High School's girls' soccer team and a member of many state and regional competitive soccer teams. She is also a strong student, passionate about biology and chemistry. Lawrence would like to major in chemical-biological engineering.
In choosing MIT, Lawrence felt she was striking a balance between her love of soccer and her academics.
"Doing D1 soccer plus MIT education would be hard, so going to an Ivy League school would be extremely difficult, working around the clock with engineering and labs plus soccer and games and traveling out of state," said Lawrence. "With MIT, their sports mostly stay inside of Massachusetts or the Northeast area, so it's not super far traveling."
The soccer season in college is run differently than in high school, which mostly takes place in the spring.
"[The season] ends in October," said Lawrence. "Then, we'll just keep practicing and have friendlies throughout the second semester, but I think that's mostly freed up for work, internships, and travel."
Lawrence's decision to play soccer will also affect other aspects of her experience at MIT.
"I would pick [a dorm] close to the athletic part and probably somewhat near the dining hall so I don't spend too much time walking to the dining hall to eat before practice or walking to the gym to do my workout," said Lawrence. "I have to schedule around to make sure I use my time more efficiently."
The admissions process is slightly different for athletes as the coach has a role in admissions.
"[The admission process] was pretty stressful, and it was kind of different because I'm planning on being a student-athlete," said Lawrence. "But I did the same thing as everyone else: I applied. […] I applied regular and [the coach] also asked me to send in a list of different soccer achievements that I've had and my team has had; being on the region team or going to a national tournament were things I put on there and links to articles if I've ever been in an article."
Part of the admissions process involved an interview which, Lawrence explains, acts mainly as a conversation.
"An admissions officer that's in the area would contact you and say, 'Hey, let's do an interview. When can you do it?' It's just a friendly conversation. You can dress casual," said Lawrence. "I was in jeans and a dress shirt. It was at Starbucks so it was a pretty comfortable setting, and it was a nice conversation."
Lawrence was extremely excited when she received her acceptance. She was at a band event called LGPE (Large Group Performance Evaluation) which made the experience unique.
"At first, it was definitely just shocking. I was sitting there in the LGPE auditorium and I had to be quiet, and I was supposed to be silent, but I couldn't be silent in a moment like that," said Lawrence. "It was shocking at first, and then it was happiness, and then I started crying because I was just so overwhelmed. And then, when I saw my dad because I had to go find him, I was running through Southwest DeKalb with tears running down my face, trying to find my dad and I found him, and I was really happy."
In addition to her excitement about MIT's soccer program, Lawrence wanted to attend MIT for several other reasons.
"I have a lot of relatives [in Massachusetts], so it's a really nice spot. […] I also want to study chemical-biological engineering and they're number one for that," said Lawrence. "The education is first-rate. I went on a tour one time, and they were talking about how collaborative everyone is, and I think it's a good place for me."
Lawrence might explore other academic options in addition to her major.
"I'm going to be majoring most likely in chemical-biological engineering. If not, maybe just chemistry or just biology, but I do like the added engineering part," said Lawrence. "I might do something with German. […] I also might do something with computer science because programming is cool, but I've never really done anything with that except a couple of intro courses."
Lawrence's chemistry teacher, Dr. Zuehlke, enjoyed having Lawrence in her class.
"I taught Savannah for two years, both as a 10th-grade student and as an 11th-grade student, and I felt like she brought the class the same tenacity that she brought to the soccer field," said Zuehlke. "She was very persistent and determined to get it right. […] She was willing to take risks and make errors but then correct her errors and try again, and I think that is one of her biggest strengths."
Zuehlke sees Lawrence's acceptance as a culmination of her dedication throughout high school.
"I think it's just a result of hard work," said Zuehlke. "Hopefully, she's got the skills and the background and the support from friends and family to succeed and be successful in a highly competitive environment and take her to wherever she's going in the future."
Lawrence is overjoyed that she will have the opportunity to continue playing soccer in college.
"I started the soccer recruiting process in sophomore year, the second semester," said Lawrence. "And as that process kept going, I really just started thinking. Do I really want to keep playing soccer? [..] My plans for the future were starting to look more like I'm probably just going to do academics. I was getting D1 offers, but it was more places where they either didn't have engineering or just not a school I thought would be a good place for me. [MIT] was my last hope, my last reach to try and play soccer, and I made it, so it was really great. And now, I get to continue to play a sport I do love and I'm really excited about that."
About the Contributor
Catherine Cossaboom, Editor
Catherine Cossaboom is a senior and editor of the Blue & Gold. In her free time, you can find her solving way too many math problems, going on wandering walks to make friends with the deer in her neighborhood, and training her kittens to compete at the next Kentucky Derby. In five years, she hopes to be traveling across the country, running math circles, writing columns, and turning math into a performance art to empower girls to take on the world's problems. This is her third year on the staff.