Star Athlete Swims Her Way to Arizona State
Hang on for a minute...we're trying to find some more stories you might like.
After winning the state swim and dive meet with the Chamblee girls' swim team, the Lady Bullsharks, senior Jadé Foelske has been recruited by Arizona State University in Tempe, Arizona to swim as a Sun Devil.
"I think it is an amazing opportunity to swim for a D1 school," said Foelske. "It is an amazing experience that I really wanted to be a part of."
Arizona State University (ASU) is a D1, or Division 1 school, which means they have a large sports program that competes at the highest level.  
But becoming a top swimmer did not happen suddenly for Foelske. She first started swimming 13 years ago at her dad's encouragement.
"My dad swam when he was younger and was really good, but he did not have the opportunity to continue [in swimming], so he wanted his children to swim," said Foelske. "My brother and I have been swimming since we were five."
Like many competitive swimmers, Foelske also swam outside of school year round.
"I started swimming here at Dynamo, and then I moved abroad and swam in Germany and Poland in a bunch of different clubs," said Foelske. "Now I swim at Dynamo again."
For Foelske, swimming is not just a competition; it is also therapeutic during the stressful times of high school.
"I like swimming a hard set and doing well in it. It just makes me feel good about myself and good about my training," said Foelske. "I also like the way swimming feels after a stressful day at school. It just kind of relaxes me."
That said, swimming is still very difficult.
"During certain periods of times there are periods when you will not get faster, and you just have to push through and make sure that you do not quit or give up. Those are probably the toughest times for swimmers and athletes in general," said Foelske.
After deciding to swim competitively in college, Foelske had to undergo the recruitment process.
"I did not have much knowledge about how the recruiting process worked since I am one of the oldest of my friends," said Foelske. "So when I got to my junior year [on] September 1, which is when colleges can start contacting you, I was a bit overwhelmed, but I figured it out. Overall, it was just an amazing experience to see how everything works and get to talk to a bunch of different coaches and find out about their schools."
Due to her prowess in swimming, Foelske had offers from multiple colleges, but as a butterfly swimmer, or "flyer," she was initially interested in colleges with renown butterfly programs.
"I was talking to a bunch of [Southeastern Conference] schools like Florida, Georgia, Auburn, and Tennessee, and I was actually planning on going to UGA because they have an amazing [butterfly] program, and I am a flyer, but they already had a bunch of flyers, and I did not just want to be another flyer," said Foelske.
Because of this, Foelske turned to other schools, mainly in the West.
"I decided to look on the West Coast because they did not have as many flyers," said Foelske.
The Arizona campus is what eventually drew Foelske to ASU.
"They have a really pretty campus," said Foelske. "They have this thing called Palm Walk, where all of the different academic buildings [are located], and it is just a long walk with palm trees. […] I just fell in love with the campus, and the weather is pretty great."
Ultimately, Foelske is excited about the opportunities that swimming at ASU presents.
"I am going to swim under Bob Bowman, who was Michael Phelps's coach," said Foelske. "Since [Phelps and I] swim the same events, I thought this would be an amazing opportunity."
About the Writer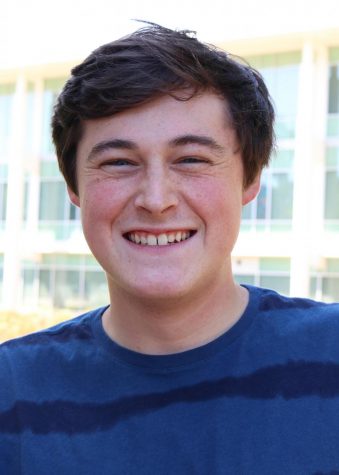 Oliver Hurst, Staff writer
Oliver Hurst is a senior staff writer. You can find him going to Fernbank, talking about his dog, and binging a show on Netflix. This is his third year on the staff.