Don't Blame "ME!": Blame the Music Industry
Hang on for a minute...we're trying to find some more stories you might like.
With the long-awaited arrival of Taylor Swift's single — preceded by obscure, pastel Instagram posts and a few hours' notice — the stakes were ever higher for it to be something incredible. While I've kept myself relatively safe from the swirling controversies and FBI-like investigation as to what the date '4.26' would entail, I was nonetheless thrilled to have more music from an artist I really loved and her collaboration with one of my favorite performers. It was just not what I was expecting.
I cannot say that I hated it. In fact, for the first two minutes, I was almost convinced. I felt the bubbling excitement of something new and an intensely powerful collaboration of artists. The "Delicate" reminiscent first few harmonic lines made Reputation and Swift feel ever present and reignited that single-release excitement. Brendon Urie's voice and talent is nothing less than incredibly powerful and has hardly existed in this pop setting before, and as an avid follower of his band Panic! At The Disco I was just excited to know I could have more to listen to. I heard his style in the trumpet blares and drumline that reminded me of his Pretty. Odd. days of playful, entertaining tracklists and I heard Swift's familiar self-reflective lyrics make their way through the extremely poppy beat.
But soon enough I had heard the chorus three times and the "Me-ee-ee"s had become too much. The startlingly abrupt announcement that "Spelling is Fun!" by Swift really solidified that I wasn't going to be loving this song as I had hoped. It felt uncomfortable and childish, and almost fake. And it was a steady decline from there.
Brendon Urie is a genius with his lyrics. His impactful instrumentals are backed by lyrics that are so poetically chosen and emotionally charged that you'd think Morrissey was writing his one-liners. That made it all the more shocking when he started to inform me that the word "awesome" included "me." I was just upset such an artist's talent was being wasted.
So why am I – and the rest of the world – still singing along to this song five days later?
There's a calculated reason to release this song when she did. I mean, we could see the obvious planning: having the countdown start at 13 days — an iconic number for Swift and her fans — and having her revealed as one of the Time's 100 Most Influential People just days after announcing the release date. But it's also a prime time for both her and Urie to collaborate.
Just watching Panic! At The Disco's music video for "Nine in the Afternoon" proves absurdist, fantastical, and colorful expression isn't new to Urie. He's been riding this creative wave since 2005 with the band's first album, and right now he's at the top of his game. His hits, from "This is Gospel" to "Hallelujah" have had their successes, but the ascension of "High Hopes" off of his latest record to #4 on the Billboard Hot 100 surpassed even his previously greatest hit "I Write Sins Not Tragedies." The band finally made it to the mainstream, breaking the barrier into popular music and entering a territory the band hasn't really experienced yet.
Swift, who has been a part of this realm since 1989's commercial success and the countless successful singles from Red, can probably see the potential Urie has as an emerging pop artist and admires his creativity and passion that he's had for so long. They both can use each other: Swift for her new image breaking free from her Reputation, and Urie possibly breaking free from the band that no longer is.
Oddly enough instead of the song featuring Panic! At The Disco as it usually appears on other collaborations, ME! featured Brendon Urie himself, possibly signaling a future as a solo artist after years of leading the lonely band himself. I had this fear when Pray for the Wicked came out in June that this would be their last album, hearing in the popular single "High Hopes" itself, " … I got one more run and it's gonna be a sight to see" and maybe it is, but we "haven't seen the best of" Brendon Urie yet. Maybe he could break free from the band as Swift broke away from her country girl image in the Speak Now era.
This isn't just a song. This is a power play. This is artists propelling other artists forward and the marketing that is the music industry.
In this way Swift could finally tap into a new audience in the form of Panic's cult following and Brendon could do the reverse, by producing a song that was marketable to a younger audience, accessible by many, and fun and catchy like the songs that stay on the radio for weeks. And with the music video surpassing 65 million watches in its first 24 hours, it seems to be working.
So the song didn't exactly fit my tastes, but in reality it's doing so much more for music and these artists' careers that I can hardly complain. And as for their upcoming performance at the BBMAs, I can only have high hopes.
About the Contributors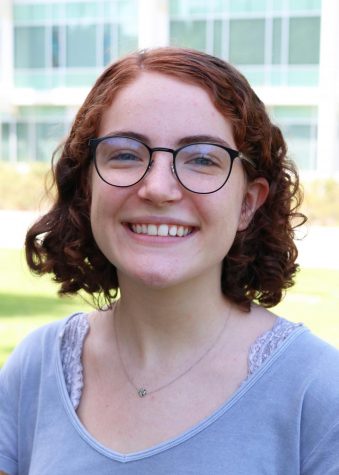 Ava Lewis, Editor in Chief
Ava Lewis is the Editor in Chief of The Blue & Gold. Outside of journalism, you can find her reading anything by Alice Oseman, drinking copious amounts of tea, and waking up at two a.m. to write down an idea for an article. This is her third year on the staff.