Unpopular Opinion: Taylor Dropped a New Song. It Broke.
Hang on for a minute...we're trying to find some more stories you might like.
You won't find ME! listening to Taylor Swift and Brendon Urie's new single anytime soon.
The track was released on April 26 after much anticipation, and I honestly feel bad for those who were looking forward it.
I'm not the biggest Swift fan, but I can't deny that the 10-time Grammy-winning artist is talented. And when she announced that her new single, ME!, would feature Panic! At the Disco's lead singer, the song had my attention. I had been listening to Panic! for years and figured that the power of the two of them combined would be impressive.
But boy oh boy was I disappointed. To preface my argument, any song that begins with "Me-eh-eh, ooh-ooh-ooh-ooh-ooh" is bound to go up in flames. Even with a catchy rhythm and the usually acceptable sing-songy style of the two artists, I could not get around how stupid the lyrics were. It felt like PBS Kids had sponsored the collaboration in order to incorporate it on an upcoming episode of Sesame Street. This is a 29-year-old singer telling her largely teenage fanbase that "Spelling is fun!"  No.
I also can't help but compare the vibe of this song to Jojo Siwa's discography. Siwa is 15 years old and her music is mostly aimed towards younger children, making it perfectly acceptable for her to sing about her "High Top Shoes." Swift and Urie, however, have been in the music industry for over a decade, and a majority of their fans are old enough to expect the usual from the two artists, not a song written in the style of an oversized child.
Even the music video felt kitschy. The argument that the two have in French at the beginning seems serious, but as soon as the music starts it makes the whole build up seem out of place, an awkward transition from the sophistication of the French language to the simplicity of the lyrics. I'll admit that the over-the-top production of the video as a whole is nothing new for either artist, but the pastel color scheme combined with childlike special effects further ruined the song for me.
The message that Urie and Swift intended is self-love and confidence, but I had to look that up to figure it out. The theme that they are trying to achieve is shrouded by distracting lyrics and visuals and having heard their music prior to this, the execution of the concept could have been better.
Overall, the world could have gone without this collaboration. I have learned that having two successful artists on a track won't necessarily leave you with a likable song. All I can hope is that this was a one time deal for the two of them and that any future singles and albums will stay true to their respective styles.
About the Contributors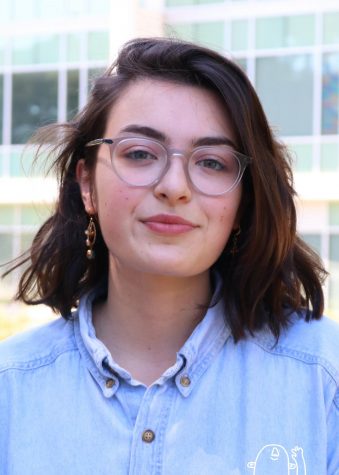 Ashley Veazey, Photo Editor
Ashley Veazey is THE photo editor for The Blue & Gold. When she's not in school, you can find her ordering coffee at Crema Espresso Gourmet, listening to Italian trap music, and talking to herself auf Deutsch. This is her third year on the staff.