We've Got Spirit! Or Do We?
May 22, 2019
Golden football stars, vicious prom court campaigns, school colors plastered on every wall and in every classroom: to me, this was the picture of "high school" that we as a culture had agreed upon. High school, as characterized in films and television shows, is supposedly an all-consuming experience, as if it is the very crux around which the world revolves when you're a student.
And yet, an editorial I stumbled across in a 1982 edition of Chamblee High School's "Blue & Gold" newspaper seemed to paint a different picture: "According to the Thorndike-Barnhart dictionary, spirit means to 'stir up; encourage; cheer.' According to Chamblee High School, it means practically nothing."
So began Chamblee student Anne Stephens's piece, which went on to target pep rallies as events where "people just sit and stare into space or talk among themselves."
This admittedly seemed much closer to the truth of high school to me — but if things had been that way almost 40 years ago, then what did that mean for the quintessential image of high school I'd entertained in my head, even as I experienced high school myself?
As it turns out, spirit at Chamblee has changed as the school has, and the stereotypical image of high school that I'd constructed from media certainly could, to some degree, describe Chamblee as it once was.
"We had amazing pep rallies that no one ever missed. Highlight of the week during football season," said Lori Fuller, a member of Chamblee High's class of 1987. "Our student section was always packed at football games too!  All of our community came out to support our team, not just the students. It was the 'place to be' on a Friday night, for sure."
The focus on sports, and especially football, was mentioned by several other alumni I spoke with as well.
"Pep rallies were a big deal, Fridays were usually a big [deal]," said Mitch Nelson, a member of the class of 1985. "School spirit was high throughout most of the fall, when football season was, and then when the weather got nice in the spring, it would kind of return toward the end of school. […] People would wear the colors, wear the letterman jackets and all their stuff, it was a big deal, we were very spirited in the fall."
This impacted the general atmosphere at the school as a result.
"When the football team was good, the general school spirit was high," said Nelson. "And if a football team wasn't, it wasn't. People just didn't have school pride if the football team was awful. […] Unrelated to basketball, baseball, swimming, anything else, it was mostly about football."
The social climate at Chamblee also seemed to echo the cliques that are often drawn upon in popular media.
"You watch those old movies and you're like, 'that's not real!'" said Robin Clark, a member of the class of 1986. "Well, I think in some instances it was."
Alumni agreed that stereotypical social groupings existed at Chamblee.
"I guess you would say that there were a lot of cliques," said Stephens, class of 1984 and author of the editorial referenced earlier. "The jocks, cheerleaders, nerds, rednecks, preppies, druggies, hippies, the band kids, and the kids who hung out in the smokers courtyard. And then there were the kids who didn't really fit in any group, but were just groups of friends."
Even so, alumni noted that these cliques were not as vicious as one might think.
"I would say that it was never ever really hostile, but there was some division," said Nelson.
Stephens agreed.
"It may be a sweeping generalization, but I really think everyone got along," said Stephens. "I don't remember instances of one group being intentionally mean to another, or even many instances of individuals treating others as if they were 'lesser' or inferior."
Alumni also associated more of an athletic emphasis with the school than the strong academic one that arguably exists at Chamblee today.
"I would say [Chamblee] was sports-oriented. I don't have any memory of that [academic focus] at all," said Clark. "It was more like, you just took the classes that you took and could get into. […] My experience and my perspective is that it wasn't super academic in trying to get kids to figure out who they are and where they are, maybe just more management, how to keep kids from getting into trouble, in a sense."
As a whole, this may be indicative of a broader shift in academic climate over time.
"Overall, I remember [Chamblee] as being pretty laid back. We worked hard, but there wasn't the intense pressure that I see students facing today to be only the very best in everything or to fit into any kind of mold," said Stephens. "Everyone did their own thing. […] Back then not everyone was fighting to get into college so the pressure was not as strong academically, athletically, [or] artistically. Most went to college, but others would go on to vocational training or jobs and that was okay."
One reason Nelson noted was the arrival of a new principal after his graduation, which he believes played a role in changing Chamblee's image.
"The academics made a huge turn for the positive, and all of a sudden, it was this academically strong school, athletics weren't keeping up," said Nelson. "[…] But there was a sense of pride there, in that Chamblee was back on the map, and there were kids that were […] getting scholarships for their academics, not necessarily their athletics."
Indeed, academics were often mentioned by current students when discussing their perception of Chamblee.
"I think definitely, academics represents us, because that's always the thing you hear about Chamblee is like, 'oh, they're one of the top schools in the county,'" said senior Lauren Carter. "I wouldn't say sports are our thing, but I feel like the reason that it's not our thing is that everyone looks to the football team to be the idea of sports, and our football team is unfortunately not super successful, but that's okay."
In general, though, the consensus on spirit at Chamblee today is rather mild. Based on survey results from 91 students, Chamblee received an average spirit rating of 3.5, where five would indicate high spirit and one no spirit at all. Notably, 76% of students also indicated a desire for more school spirit at Chamblee. The most frequently referenced activities in relation to school spirit were wearing school spirit-wear and, as the historical precedent would predict, football games.
"In America as a whole, football is just really big. And I think it's portrayed in the media to be this huge thing," said senior and football player Sydney Murray. "Because really and truly, if they wanted to, they could shift to another sport. Our softball team is really good, so why not tailgate for that [rather] than going to the football game? But it's portrayed like, 'oh yeah, we have the big football game this Friday,' so it's really centered."
At present, Chamblee's football team does not have a reputation for performing well, but Murray maintained an optimistic outlook on the school's spirit regardless.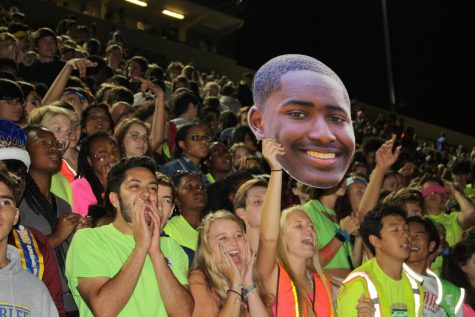 "[The criticism is] whatever because obviously, you don't really play football for them, you play it for yourself. But still, to have [students] come out to the football games, you still see them in the crowd, wearing your school's colors, there's still pride for it, even though the outcome might not be ideal," he said. "There's still that kind of school pride. They're still having fun, having a good time, which still gives you the motivation."
Despite Chamblee's lackluster football record in recent years, though, football games remain one of the main avenues for expressing school spirit beyond the sport itself. Most prominently, this includes the spirit squad and the marching band.
"Spirit squad is a group of four senior student leaders whose job is to stand in front of the student section at football games, inspire rowdiness, and embarrass themselves for the good of the student body," said senior and squad member Teagan Furbish. "Essentially, to make it fun for the student section to watch our team lose game after game."
This complements the marching band's performances at the football games, according to junior and marching band drum major Keren Sahar.
"We do like chants with the drums, people get hyped up," said Sahar. "When we play things that everyone can chant to, [the students] get really hyped up, especially the spirit people [spirit squad] when we have home games. The entire squad is there, all the spirit people, we kind of try to play off of that."
However, both groups also qualified their contributions to school spirit.
"I'd say that more than school spirit, it's student body spirit," said Furbish. "We're proud to be together as a student section just being goofy and being us, and that's less a product of the institution of Chamblee Charter High School and more a product of the students themselves, their culture, and their relationships with each other."
And Sahar, although glad to participate, did not view promoting excitement as the marching band's main objective.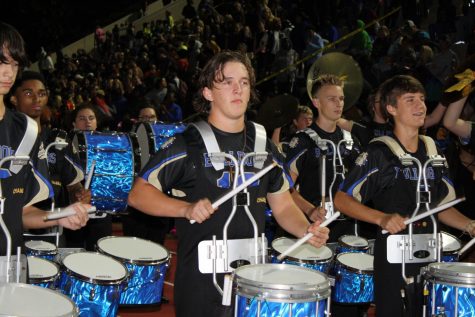 "We go to competitions and stuff, that's our main purpose. And then we see pep rallies and events and all that for the school, I more see that as a side job almost, even though the school says that's our primary purpose," she said. "We don't really train to perform at games. Those are cool and they're fun and I like doing halftime shows, but our huge events are the competitions, that's what we work for."
Other outlets for expressing school-related pride have also changed with time.
"[School pride] was very class oriented," said principal and long time Chamblee staff member Gail Barnes. "But I think that […] having pride and spirit about your class evolved into spirit wars, and junior-senior wars, where a lot of pranks were being done outside of the school, and it got to a point where it was sort of disruptive, so those got shut down years ago."
The homecoming parade is another example.
"We got rid of the parade all together [when I first got here], now we're bringing the parade back," said Barnes. "That's evolved, that's changed, [now] everyone wants to show what they do and who they are, and it's just not the sports teams."
In general, the attitude at present places the responsibility on individuals to get involved with the school.
"There's a lot of people that are really dedicated and involved with stuff like that, but there's also just a lot of students that are just going for high school and that don't really care about that type of stuff," said freshman Andrew Pietkiewicz. "The people that actually care about school spirit and want to be involved will try to make the high school experience as good as it can be for them, and for people that don't want to participate in all the activities and stuff, then it's just, so be it."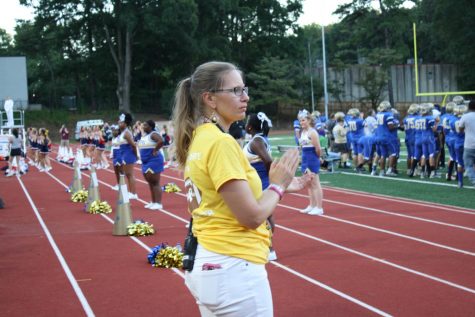 Barnes shared similar thoughts.
"I think it is important that it's your school. I can't dictate how you feel about a football team, or how you feel about a soccer team," she said. "It needs to come from the bottom up. It needs to be organized, and it needs to have that director, but I also see that the actual work needs to come from the students, because it's your buy-in."
This is not necessarily a new development, however. In the past, choosing to be involved was also a key component in determining how a student's high school experience looked.
"I was as involved as I could be at CHS – I loved my days there because I made the choice to get plugged in and to support my CHS," said Fuller.
One key aspect about Chamblee that may make this involvement easier today is its diversity, which was referenced again and again as I spoke with current community members about Chamblee.
"I think a school like Chamblee is cool because everyone is together as a whole diverse group," said Murray. "Like you [look] across the lunch room and you see all these different races, it's pretty great."
Beyond ethnic diversity, community members are also excited about the varying interests in the student body.
"It's like a microcosm of society here," said Barnes. "I think that's something that's different about Chamblee, and I think that's a great thing. There is a spot for everyone. You want to create your own club, you can. There's such a different variety of thought and opinion. You're into engineering, you're into FCCLA [Family, Career and Community Leaders of America], you're into newspaper, you're into yearbook, we've got spots for you."
This diversity results at least in part from the programs in place, like the magnet and charter programs, that bring in students from outside the Chamblee district.
"We are a commuter school, a lot of kids don't live in our attendance area, and so getting that huge crowd that other local schools might have at a soccer game or a football game is going to be different for us," said Barnes, "because that also means that I have a 45 minute car ride on the way home, or I've got to wait 4 hours before the event starts."
The flipside of this diversity is the challenge it can pose to promoting a singular sense of school unity.
"There's a lot of different groups of people at Chamblee, [so] it lends itself to not a huge, majority of the school liking only certain things," said senior Aaron Boyer. "Everyone likes something different, so there's less general consensus on certain topics."
The wide geographic spread of Chamblee students means that for some, school and community are distinct.
"If you're a member of the [local] community, if you walk around and see people all the time at the restaurants or the store, and you're constantly recognizing them, you feel like you're part of the community as a whole," said English teacher Jennifer Andriano. "The minute you start pulling from other places, that makes it really difficult [to feel like part of the Chamblee community], because Chamblee's my school, period. There's not anything else but that school, and for a lot of kids 'that school' isn't a positive thing."
As a result, it may be even more vital for students at Chamblee to find ways to actively participate if they wish to feel like part of the school community.
"It was [hard to fit into the school at first]," said Boyer, who first came to Chamblee for tenth grade. "Sophomore year, I didn't really participate in very many things, I wasn't part of many clubs, organizations, any of that kind of stuff, and it took me a while to find friends and people that I could associate with."
Student groups and informal mentorship may be able to take some of the first steps in bringing other students into the community.
"I would like to believe that no one is limited to those groups, but in reality, people are just gonna stick with their friends, […] and I think that affects the certain type of people that participate in events," said Carter. "This year in powder puff [football], I was happy because I felt like we reached further outside of our groups of friends, […] and I felt like that was a good example of how Chamblee should be more like. But I don't know if it's going to happen with the younger grades, because they haven't quite understood that they can reach out beyond their friend groups yet, but hopefully they get there one day."
Support within the classroom is another way that some seek to encourage involvement.
"The first week when we go over the student handbook, I kind of go off the page and say that I really do care about every single one of my students, and [that] this can be a really stressful school at times," said Andriano. "I really want to make sure that they know I'm there for them regardless of if it's about class or about what's going on at their home, and I really try to make sure that my classes themselves are their own little mini-community while they're here."
Beyond the divisions between students due to different areas of residence, policies at Chamblee can also play a role in promoting or impeding a sense of connection between community members.
"I like it when underclassmen can see upperclassmen and how they behave, and how they're into school spirit and things like that, because the younger ones have to learn from somebody," said Andriano. "So some of those policies of not being able to come in in the morning, or having to get off campus almost immediately after school, […] I think that's changed a lot of the feel of that community. […] I feel like things are very regimented now."
The resulting challenge may be simply getting students over the first hurdle of finding their place within the school.
"I think that Chamblee doesn't need to change persay, it's just that kids incoming to the school need to be welcomed more, and something like the ninth grade hall isn't helping that at all," said Boyer. "There is something for everyone, and Chamblee's really good at incorporating people and getting people to come together. It's just the initial sense of getting people to initially commit is somewhat lacking."
If the community pushes for it, then there is certainly the potential to change Chamblee's culture just as it has changed before.
"If you want to bring some of that back in those spirit activities, great, let's do it," said Barnes. "We need a point of contact and we need to have that group that goes along with it."
To some students, though, this sort of change is unnecessary.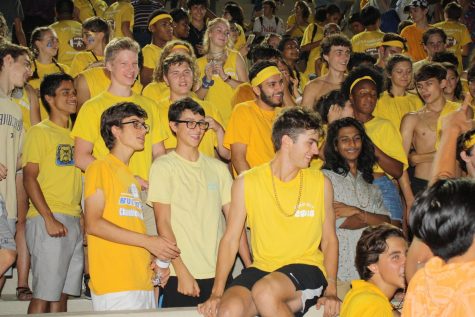 "Because of the size of the school, like not everyone knows everyone, so it's harder [to have a lot of unity," said Sahar. "It's not an issue, we have enough school spirit I think. […] Not everyone is going to be friends with everyone."
But for what it's worth, Chamblee alumni agreed that spirit does have an important role to play.
"School spirit was a significant part of my CHS experience as well as the majority of my classmates," said Fuller. "We all were so passionate about CHS that we attended as many events as possible as well as away games. If students and faculty weren't spirited or supportive of CHS, our experience would not have been as positive as it was."
Stephens's conviction toward school spirit has not vanished since she graduated from Chamblee, either.
"There's a camaraderie when people come together – despite their differences – and are united in support of a team, a school, an ideal. There's a bond that can transcend our differences or time or distance," she said. "I enjoyed my time at Chamblee. I do think that I made the very best of my years there. Enthusiasm for the school played a huge part of that."