New Teachers Hope to Reinvigorate German Department
Despite having different backgrounds in teaching, Yesim Ozbarlas and Ginger Eberhard, Chamblee's new German teachers, both share a contagiously enthusiastic attitude towards this school year.
Ozbarlas, who previously taught at Lakeside High School, Emory University, Georgia Tech, and Agnes Scott College, came to Chamblee to be the only current native-speaking German teacher.
"I decided to come because it's the best German program in the state and you don't have any native person here," said Ozbarlas. "It's very important to have a native person in a German program. That's not to say that non-natives wouldn't teach enough, there are just certain classes where the accent [and] grammar are very different."
It was Chamblee's great German program reputation that drew in Eberhard, who taught at Haynes Bridge Middle School and South Gwinnett High School.
"I have heard about Chamblee High School since I moved to Georgia in 2001 and I have wanted to come here ever since," said Eberhard.
In addition to both teachers having positive mindsets for this year, they also have similar visions for what direction they will be taking their classes in.
"I want to include a lot of culture, really talk about Germany, and bring in guest speakers. I want to include a lot of critical thinking in [my] classes," said Ozbarlas.
Eberhard put it in layman's terms.
"To do more speaking, listening, and less grammar," said Eberhard.
In addition to sharing similar ideas about their classes, both Ozbarlas and Eberhard are excited to start collaborating in the classroom.
"[My goal] is to find our little niches and to really start working together as a team," said Eberhard.
Ozbarlas has big plans for the future of the program as a whole, including keeping our title as the best school for German and bringing her newly established DeKalb-Cologne exchange program to Chamblee.
"My goals for the class are that we keep the best program in the state and have even more students," said Ozbarlas. "I've just added a new German exchange program to Cologne, DeKalb County put it on there. I went to GAPP (German-American Partnership Program) to get funding for it as well."
There are a few things that both teachers had a hard time leaving behind at their old schools.
"I do miss Emory and the college environment," said Ozbarlas. "It was very special. College is very different than high school, so I do miss it."
While they will miss certain aspects of their previous jobs, the two of them are very excited about their first year at Chamblee, which is already presenting many surprises. Eberhard was especially amazed by Chamblee's diverse student body.
"I love the fact that when I walk down the hallways, it looks like the United Nations," said Eberhard. "There are so many different ethnicities, so many different religions. Schools that I've been at before have been one of one thing or very little of another, so it's nice to see such a big mix of students."
Ozbarlas, on the other hand, is enjoying the little things about the new environment.
"The behavior of the students is very nice. The faculty is also very nice, everybody I have met has been very kind," said Ozbarlas. "Our department, the foreign languages, is very strong and very together. Not every school is like this, so I'm excited to be here."
About the Writer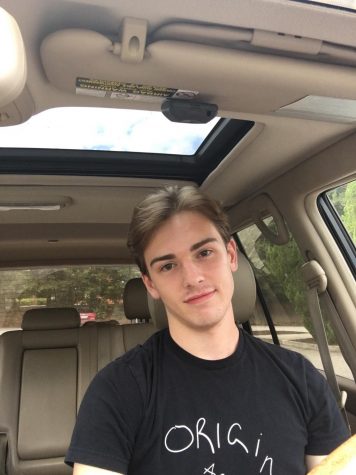 James Hardy, Editor
James Hardy is a senior and editor of the Blue & Gold. In his free time, you can find him memorizing baseball stats, exploring local parks, or driving aimlessly instead of finishing his college applications. In five years, he hopes to have finally read the stack of books sitting on his desk. This is his second year on staff.