Former Columbus Mayor and Senate Hopeful Teresa Tomlinson Reminisces About Chamblee Days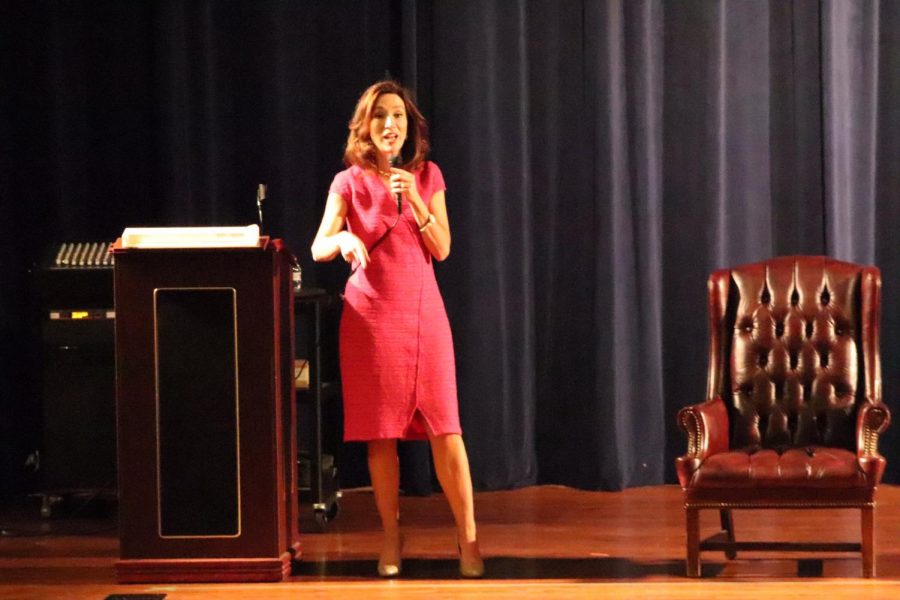 The following article is the first part of a two-part series about Chamblee alumna Teresa Tomlinson. The second part, where Tomlinson's political career and Senate campaign is covered, can be found here. 
On Friday, September 27 Chamblee Charter High School opened its doors to welcome back alumna Teresa Tomlinson, class of 1983. 
Today, Tomlinson is best known for her two-term tenure as mayor of Columbus, GA and for her bid to be the democratic nominee for the 2020 US Senate Race. Blue and Gold Foundation Board Member and social studies teacher Jennifer Tinnell welcomed Tomlinson back as part of a series of notable alumni speakers, hosted by the foundation itself. 
"The Blue and Gold [Foundation] wanted to start asking some exceptional graduates to come back to speak to the students and share what their current career is and share their successes," said Tinnell.
For Tinnell, Tomlinson's return to Chamblee demonstrated the idea of an influential Chamblee community.
 "I really appreciated it because I want Chamblee to be a community," said Tinnell. "And the fact that she has been so successful but wanted to come back and talk to her alma mater also endeared me to her."
Senior Alex Jones was pleasantly surprised by Tomlinson's speech.
"I thought her speech was pretty powerful," said Jones. "I went into it expecting to get bored, but I ended up getting really interested in what she was saying."
Senior Tiffany McWilliams was glad to have been able to hear Tomlinson speak before having the opportunity to vote for her in the 2020 primaries.
"I already knew who [Tomlinson] was and that she was running for Senate, so it was nice to be able to hear her speak and interact with the audience, since I will be voting in 2020," said McWilliams.
As a slightly younger student, junior Nicholas Oselette had a different perspective on Tomlinson's speech.
"I mean her speech did not affect me specifically, but it definitely gave me confidence that I could go on and do something big with my life," said Oselette.
Going back to her high school days, Tomlinson stated that Chamblee indirectly provided her with a foundation for bringing people together.
"I loved my experience [at Chamblee]," said Tomlinson. "What it did was teach me, without me knowing, the value of an incredibly diverse community, of being connected with people that shared a different life journey than you. [Chamblee] prepared me very well for a life of understanding how people come together from completely different perspectives."
This plays into what she called her most memorable experience from her time at Chamblee.
"I would say, one of my most vivid memories is when the federal government assigned Vietnamese refugee families to Chamblee," said Tomlinson. "On their first day, they came with the look of fear on their faces because it was [their] first day of school, much less the first day of school in a new country where you could not speak the language. And it was Homecoming Spirit Week; it was Hat Day, so everybody was wearing a hat and looking pretty goofy. And I just remember them being terror-struck like, 'Where are we? And what have we done? Who are these people?' But then, the assimilation of everybody into one big high school family was a pretty amazing process."
Although much of the diversity and culture of Chamblee has stayed constant, there have been some major changes since Tomlinson graduated. For example, Chamblee used to contain grades eight through 12.
"I came into Chamblee in 1978, I believe, because back then DeKalb County did not have middle schools. So we went straight from the seventh grade into high school. We were 13 and 14 years old and went straight into high school, which was weird," said Tomlinson. "Think about the difference in life experience between a 13-year-old and an 18-year-old. We could not drive, we could not date, we could not do any of the things that [the older students] were doing all around us. And yet, we were all living here together for the vast majority of our days and our weeks."
Nevertheless, Tomlinson notes the expansive nature of Chamblee alumni, and how former Chamblee students can be found all across the nation. 
"The fact of the matter is, no matter where you go, you will run into somebody who went to Chamblee," said Tomlinson. "You know, those people you pass who you really don't know well are someday going to be part of your network. Whether you are in New York City or Americus, Georgia, you are going to be somewhere wanting to work at a nonprofit or to get a job. There is going to be someone from Chamblee in those organizations and communities."
About the Contributor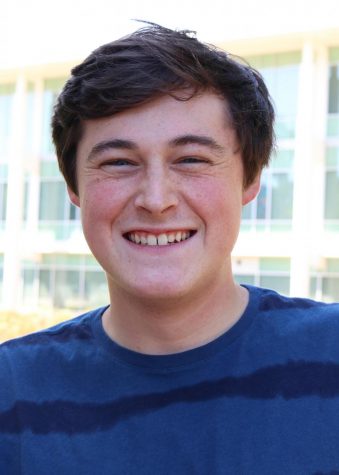 Oliver Hurst, Staff writer
Oliver Hurst is THE senior staff writer. You can find him going to Fernbank, talking about his dog, and binging a show on Netflix. This is his third year on the staff.