Fridays for Future "Chalk Up" a Win for Environmental Activism
Chamblee Charter High School's Advanced Placement Environmental Science classes joined the global fight to end climate change, heeding 16-year-old activist Greta Thunberg's call to action. The students banded together to create chalk art in Bulldog Plaza that echoed the many other student demonstrations around the world. According to senior Ethan Shi, Thunberg's "Fridays For Future" campaign began to gain traction in the United States just as the class began to study climate change.
"In AP Environmental Science, we're talking about global warming and climate change as a unit right now, so Ms. Begum was inspired by the Fridays for Future thing and Greta Thunberg, and how she came over and spoke in front of the UN," said Shi. "So, you know, we didn't decide to do a protest, but we decided to do what we could by drawing all this chalk art to promote awareness of climate change."
Shaheen Begum ensured that the demonstration was school-sanctioned and supported.
"There was a climate change strike that week," said Begum. "It was led by Greta [Thunberg] and it was quite political, so I didn't want the students to reflect so much about the political aspect. It was more about the environmental aspect. I shared it with them and I said, 'Of course, we are not striking.' But we want to do something to spread awareness about the environmental issues that we have."
Many of the students, including senior Debbie Kitzler, liked the fact that Begum and the administration provided them with a school-sanctioned platform for their ideas.
"I thought it was cool that she like gave us the opportunity to do it without actually missing school or [facing] any of the consequences," said Kitzler.
With their excused absences secured, the students got to work. Much of their effort was concentrated on making eye-catching illustrations and phrases that would draw the gazes of passersby.
"Ms. Begum just said, 'Get in groups, try to figure out a cute thing. You can draw in chalk, and keep in mind, it's going to be a big space and you want it to be interesting,'" said Kitzler. "We each had to do separate things, so some people had animals, some people had culture, some had water, stuff like that. We had animals. So we did 'Losing Nemo.'"
In the end, the class was satisfied with their work and pleased with the reactions from fellow students.
"The fact that all my friends were able to go by and see all of it and take pictures of it, I thought that was kind of cool," said Kitzler.
Begum was also very impressed with the planning and final product.
"It's amazing, I'm so proud of my students," said Begum. "I [also] gave them an opportunity to come up with ideas to show awareness about all the environmental issues that we have, not necessarily global warming or something like that. So they looked for water [or] land, pollution and stuff like that, as much as we could cover. They came up with some slogans to put on there and they had a lot of fun doing it. But the much bigger picture of it was to spread awareness and I hope our faculty and students were able to see, appreciate, and think about it."
As an area with a lot of foot traffic, Bulldog Plaza was the optimal location to get as much attention as possible.
"Everyone usually walks through there to get to school and to leave school," said Shi. "We just hope that since there's usually nothing on the ground, that when people walk by there, they read the stuff that we wrote, and maybe it'll make them think about how much we're polluting the earth [and] that climate change is very real, and that it's something that could have a hugely negative effect on us in the near future."
About the Writer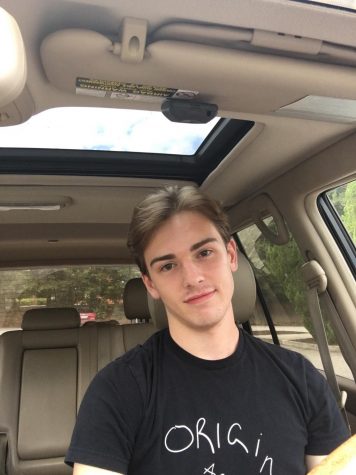 James Hardy, Editor
James Hardy is a senior and editor of the Blue & Gold. In his free time, you can find him memorizing baseball stats, exploring local parks, or driving aimlessly instead of finishing his college applications. In five years, he hopes to have finally read the stack of books sitting on his desk. This is his second year on staff.