The Road Toward a Revised Dress Code: The Controversy Surrounding School Attire
This article offers a look into Chamblee's ongoing dress code revisions. More article updates will be released as more revisions are finalized.  
School dress codes can often be controversial, especially due to the fact that students, teachers and administrators tend to have differing opinions and views on proper school attire. However, this school year, Chamblee students found the dress code to be stricter and enforced more arbitrarily than usual, as the number of students being removed from class for dress code violations notably increased.
Starting in August, many students raised concerns over the absurdity and unfair nature of the dress code enforcement, stating that valuable classroom time was being lost for minor, nonsensical code offenses. 
"One time, I got dress coded for my bralette showing because apparently my quote-unquote undergarments were showing when the entire point of a bralette is to wrap around your neck and show underneath even a t-shirt," said junior Suzie Thomas. "I think that the dress code is enforced stricter against girls because the only things that guys really can't wear [are] curse words and gang-affiliated stuff, whereas girls have a huge list of things—like no shoulders, no mid-thigh, and a bunch of stuff that isn't even and shouldn't be treated as sexual."
In response, principal Gail Barnes allowed the Student Government Association to begin a revision process for the current dress code.
"When the year started, dress code was a very important topic because more girls were getting removed from class than usual," said student body president Lucy Adelman. "Students and parents spoke up, and since then, Mrs. Barnes has given the students the permission to draft and propose a new dress code."
However, differing opinions between students and teachers meant that the first revision draft, which expressed a greater tolerance than the original dress code over what students were and weren't allowed to wear had to be further reexamined and redrafted again.
"We have a dress code committee of students and last month, we surveyed the school asking what changes they wanted to see to the dress code and a couple weeks ago, [the] teachers [also] discussed some potential changes," said Adelman. "This [drafting] process is ongoing because we are trying to propose a strong and equal dress code that students, parents, teachers and ultimately administration can approve of."
The initial redraft included many changes and additions, including the allowance of tank tops, spaghetti straps, fitted pants ("leggings, yoga pants, and skinny jeans"), and visible undergarment straps (as long as the clothing worn does not excessively reveal undergarments). It also did away with the fingertip length rule for shorts, stating that shorts may be worn "as long as underwear and buttocks are not exposed."
Additionally, the revisions' enforcement policy states that "policies and enforcement mechanisms must be consistently applied, not result in unnecessary barriers to school attendance, allow students to wear clothing that is comfortable, expresses their self-identified gender, allows them to wear religious attire, and ensures that all are treated equitably and fairly without bringing to bear particular cultural prejudices and priorities." 
In the case of a borderline violation that requires judgment, the initial revisions also stated that the standards of judgement applied should be that of the community and not that of an individual (i.e.: a single administrator) and educational time missed should be minimized.
Math teacher Dr. Andrew Milne stated that students should not have to be held accountable for their clothing serving as a distraction to other students, especially when students can be just as easily distracted by anything else.
"I think anyone who is distracted by what other people wear, that's their problem and not the problem of the person who's wearing those clothes," said Milne. "Honestly, I think students will be distracted by dogs walking past the window or the sun shining, so I really don't think what people wear is a major issue."
He also stated that the dress code should not inflict any punishment on students, but that severe violations do need to be acknowledged.
"I don't think there should be any punishment in the dress code, but I do think that students can dress inappropriately for school. And if they are dressed really genuinely inappropriately for school, then that needs to be addressed," he said.
On the other hand, ninth grade social studies teacher and Chamblee alum Jacqueline Jones feels that the dress code is fine the way it is and sees no need for revisions.
"In the educational setting, the main thing should be teaching and learning, and so you want to minimize distraction from that," Jones said. "[The dress code] doesn't seem like an area where we need to focus our attention. That seems like majoring in the minors when there are other really time-sensitive issues that the student population can sink their teeth into, […] like climate change and discrimination."
Jones also emphasized that the dress code exists for the safety of the students⁠—both in school and on the way to or from school⁠—and should not be something up for discussion.
"What a school has to consider is […] putting policies in place where the safety of all students is going to be considered. Everyone doesn't arrive at school by car: there are a lot of students that may walk; they may use public transportation; [or] they may use the county transportation. And if they're dressed in a way that is enticing, it may put them in harm's way⁠—not just by other students but by other adults and the general public. So schools have to consider that because heaven forbid something would happen to one of their students while they're traveling to or from school. It would put a liability issue on the school and it unnecessarily puts students in harm's way." she said.
Ultimately, it all comes down to the question of what qualifies as appropriate school attire as well as how should inappropriate school attire be dealt with. Currently, there seems to be no end to the back-and-forth communication and discussion between students and faculty over school dress code policies.
About the Contributor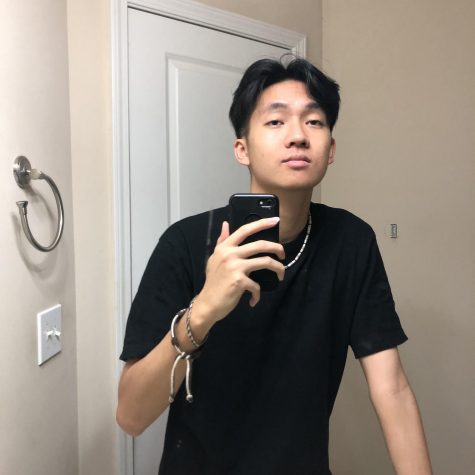 Henry Diep, Staff Writer
Henry Diep is a senior and staff writer for the Blue & Gold. In his free time, you can find him patiently waiting for a J. Cole and Kendrick Lamar album to drop, searching for new music to listen to, and emotionally investing himself into the outcomes of basketball games. In five years, he hopes to have possibly graduated from high school. This is his second year on the staff.