Welcoming a New Round of 2019 Inductees into the Blue and Gold Hall of Fame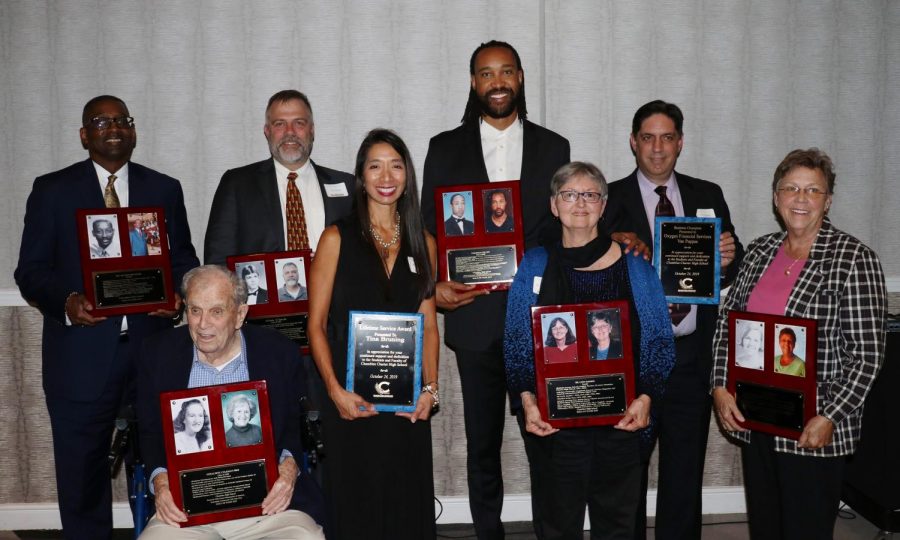 On October 26, Chamblee teachers, supporters and alumni gathered to induct in a new class of Blue and Gold Hall of Fame members. This year, six inductees were recognized: Alan Clack, Coleman Collins, Dr. Lynn Farmer, Shelley McKinney, Geraldine Coleman Pike and Reverend Dr. Keith Reynolds. The Business Champion, awarded to a key employee of a local business, was also announced, along with the Lifetime Service Award, granted to a noteworthy Chamblee volunteer. The following is an overview of the night's honorees:
Business Champion — Van Pappas (Oxygen Financial Services)
The 2019 Business Champion Award was given out to Oxygen Financial Services CFP Van Pappas. As one of the founders of the Chamblee Chamber of commerce and the first chairperson of Chamblee Downtown Development Authority, Pappas is a trailblazer. He is also a dedicated Chamblee community member, serving as both President of Huntley Hills Swim and Tennis Center and Vice-Chair of the Kittredge Magnet School Foundation. Pappas has lived in the Chamblee area for 19 years and attends the Greek Orthodox church on Claremont Road. 
Lifetime Service Award — Tina Bruning
Tina Bruning has been volunteering at Chamblee ever since her daughter Molly began her first year at Chamblee Middle School. Early on, Bruning organized the 8th grade "Disney Trip," helped introduce the harp to the CCHS orchestra, and provided snacks to after school orchestra rehearsals. She has organized large fundraisers, facilitated a band and orchestra Chicago trip, along with being the Swim and Dive Booster Club president. The list goes on. During Molly's time at CCHS, Bruning helped Teresa Abernathy bring the CCHS Girl's Lacrosse team from a developing idea to a competitive sport, and she has facilitated a number of both faculty luncheons and Curriculum Night meals.
Inductees
Alan Clack
The first inductee of the night was Class of 1986 alumnus Alan Clack. Clack is a Chamblee native, and he pointed out at the ceremony that his father attended CCHS "two buildings ago," walking from Brookhaven to Chamblee along the railroad tracks. Clack swam for at the Huntley Hills Swim & Tennis Club, went on to join the CCHS swim team, and, in 2012, swam the English Channel to raise money for Montreal Children's Hospital. With a BS in Business from Emory University, an MBA from Wharton School and an MS in International Studies at Lauder Institute at the University of Pennsylvania, Clack has worked as a private equity advisor, entrepreneur and has additionally joined Russian entrepreneurs in starting what is now the largest head-hunting firm in Russia and Eastern Europe. 
Coleman Collins
Described as a "renaissance man" at only 33 years old, Coleman Collins has succeeded in multiple fields. As a gifted student, praised writer and star athlete, Collins breezed through CCHS, graduating at 16. He went on to attend Virginia Tech as a front line basketball player, leading his team to the NCAA National Tournament in 2007. Collins has received both a BA in Film & Media Theory and a Masters degree in Education at Virginia Tech. He spent eight years playing professional basketball overseas in France, Germany, Bosnia, Ukraine and Bahrain. Collins now focuses on the arts as an actor, writer and interdisciplinary artist. 
Dr. Lynn Farmer
Dr. Farmer is a name nearly synonymous with Chamblee. After 35 years of teaching in Dekalb County (12 at Chamblee), she can still be found at Chamblee substituting for teachers here and there. Her teaching honors include being named STAR teacher five times and being recognized as Teacher of the Year three times. Outside of school, Dr. Farmer is a published poet and photographer, having received two poetry awards and having photographs exhibited at Stone Mountain and the Emory Law School Library. 
Shelley McKinney
Shelley McKinney first thought she would never graduate from high school because that meant sitting through Home Economics. After switching to chorus, however, McKinney graduated from Chamblee in 1970 with ease, matriculating to the University of West Florida. While there, she decided to join the United States Air Force as one of the first female jet mechanics. After four years in service, McKinney began devoting her life to protecting children from abuse and neglect as part of the Florida Department of Juvenile Justice. 
Geraldine Coleman Pike
Class of 1949 graduate Geraldine "Gerry" Coleman Pike's name may be familiar. She and her husband cofounded Pike Nurseries, which can be found throughout the Southeast today and is one of the largest garden center chains in the country. Throughout her life, she donated to many Atlanta area charities and nonprofits, including Children's Healthcare of Atlanta and the refurbishing of the chapels at DeKalb Medical Center in Decatur and Lithonia. Sadly, Pike passed away in 2018. Her daughter Dana Pike-Van Vlake and other friends and family members were there to celebrate Pike's induction.
Reverend Dr. Keith Reynolds
The final inductee of the night was Reverend Dr. Keith Renyolds. Dr. Reynolds served at Chamblee for 15 years as a social studies and English teacher and then as an assistant principal. While at Chamblee, Dr. Reynolds coached both the JV Boys Basketball Team and the track team and served as sponsor of the Interpersonal Relations Club. He was regarded as a teacher who truly cared about his students' learning. After retiring from teaching in the early 2000s, Dr. Reynolds felt called to ministry and is currently the Pastor at Christian Fellowship Baptist Church.
About the Contributors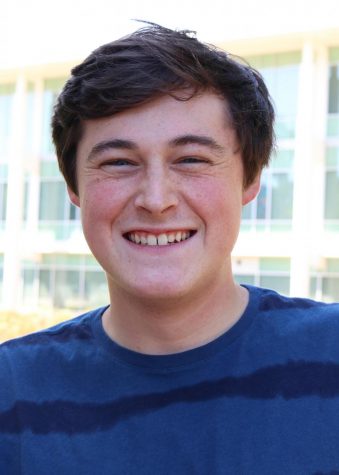 Oliver Hurst, Staff writer
Oliver Hurst is THE senior staff writer. You can find him going to Fernbank, talking about his dog, and binging a show on Netflix. This is his third year on the staff.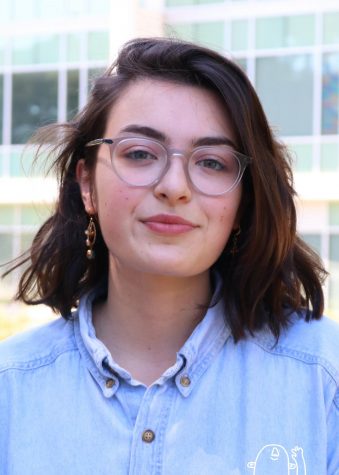 Ashley Veazey, Photo Editor
Ashley Veazey is THE photo editor for The Blue & Gold. When she's not in school, you can find her ordering coffee at Crema Espresso Gourmet, listening to Italian trap music, and talking to herself auf Deutsch. This is her third year on the staff.