From The Blue and Gold to WABE: Chamblee Alum Candace Wheeler Reflects on her Journey in Journalism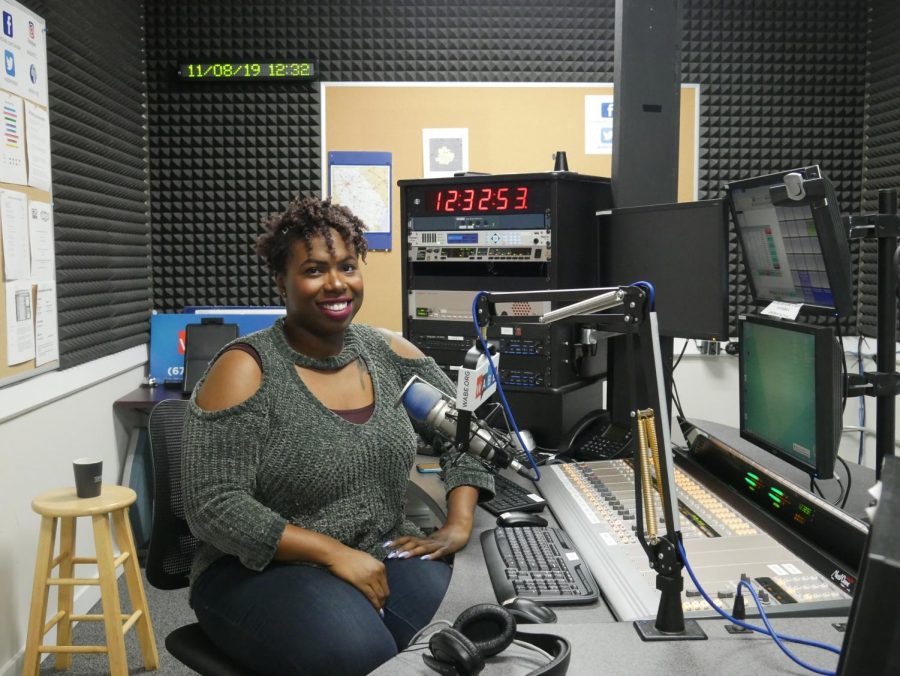 As high schoolers, it's often difficult to imagine where our interests today will take us in the future, but Chamblee alum Candace Wheeler has followed her passions to a successful career. Wheeler was a writer for The Blue and Gold until she graduated Chamblee Charter High School in 2006. Today, she's the senior producer for Closer Look with Rose Scott on WABE, a show that focuses on building and empowering Atlanta's community through daily radio broadcasts, investigating everything from affordable housing to transportation to social reform. Wheeler's journey has taken her from Spelman College to Washington D.C. and back, giving her insights into many different angles of journalism and many aspects of society, and it all began at Chamblee. 
Wheeler, who was in the orchestra and was crowned prom queen her senior year at Chamblee, initially wrote for the Arts and Entertainment section of Chamblee's paper but said her path changed when she wrote one particular feature.
"One of my classmates and I did a story about how […] when I went [to Chamblee], you could pick your own locker when you're a senior, and there were two senior hallways," said Wheeler. "We wrote an article about the fact that people were sort of self-selecting, self-segregating along these two hallways, so you had an entire senior hallway that was mostly African American students and the other senior hallway was mostly everybody else."
The controversy that came with it made Wheeler realize the true value of journalism.
"I remember that there was a lot of discussion about whether it should be printed," said Wheeler. "That was my first taste of writing something where maybe someone was uncomfortable with what I was writing. It wasn't just fluffy and generally accepted. It's so key at that age [to realize] that that is the true benefit and goal of a free press: to get people information that they don't otherwise have or to get people to be more observant about things that are going on. Rose, the host of our show, often says, 'I'm not trying to tell people what to think or how to think, just to give them more information so that they will think.'" 
Her language arts teachers at Chamblee also made an impact on her. 
"Those [classes] were the places where people told me that I was a great writer, that I had something that I should pursue," said Wheeler. "I always knew that I loved to read and I liked writing for myself, but to have people actually encourage you that this is a talent and that you could do something with it, that it's something to develop was powerful. I think that was really key for me early on because without it, I don't think that I would even really have ended up where I am now."
After Chamblee, Wheeler attended Spelman College where she knew that she wanted to go into journalism, but she saw opportunity in another major: sociology.
"Sociology is all about the study of how people relate to their own society, and I think having that perspective but also having experience with rigorous reading research papers and being able to synthesize information has been very key [in my job]," said Wheeler. "People have a harder time wanting to sit down and read through things or read for understanding, and our job is really to do that work and make it simple for our listeners and readers who have read it to understand what's going on."
Although there was no student newspaper at Spelman, Wheeler still gained writing experience there through Morehouse College's paper, The Maroon Tiger, and her first paid stories.
"I got the opportunity to intern at Creative Loafing, which was the alternative weekly paper here in Atlanta," said Wheeler. "I got to be the news intern, and I did a weekly column that was about people who have odd jobs. […] They liked it so much that after my internship was over, they kept letting me doing the column, even though I was a student, and it was the first gig I got paid for as a journalist. 50 bucks! It was awesome."
Wheeler then attended New York University's Arthur L. Carter Institute to get her master's degree in journalism and pursue a dream as a magazine journalist.
"At that time, I thought I wanted to write for magazines," said Wheeler. "I loved long-format journalism and I wanted to own my own magazine one day. That was my dream, but when I went to grad school, we were about two years from the '08 recession, so publishing companies were just folding everywhere. It was a bitter reality, but it was the reality that pursuing a career in magazine writing was going to be really hard, but I still knew that I definitely wanted to do journalism." 
After college, Wheeler randomly decided to apply for the Stone and Holt Weeks fellowship, a fellowship that allowed her to spend 3 months at the Washington Post in Washington D.C. and 3 months at National Public Radio. Much to her surprise, she got the fellowship, and she wrote many powerful stories, including one investigative piece that had an impact on an entire community.
"We did a story about how there were some people that were living in an apartment complex that was really poorly run, and we went into an apartment where a woman could actually see her neighbors through her floor, and it was [very unsafe]," said Wheeler. "After the story happened, I guess the apartment complex was so embarrassed that people had found out that they actually repaired the floor. I [realized] that you could make a difference just by shedding light on something, so that was pretty powerful."
Ultimately, Wheeler decided that she wanted to come back to Atlanta, and someone at NPR put her in touch with interim news director Charles Edwards, who brought her on as a freelancer in 2013. Today, as a senior producer, Wheeler manages many aspects of Closer Look.
"I feel like I touch almost every part of the show, so that includes researching segments, [engaging in] pitch meetings where we talk about our ideas, […] doing research on background to give that information to Rose for the day of the interview, and coordinating with the guest whether they're going to be live in-studio or [if we can meet them at an event]," said Wheeler. "During the actual show, I'm directing. I'm the person who's saying, "we have ten minutes left in this segment," choosing the music that air between segments, and keeping time for the host, Rose, so it's pretty dynamic. […] Being a producer is multitasking at its highest form if you're successful at it."
The host of Closer Look has nothing but kind words for her senior producer. 
"The thing about Candace is that anybody can have a senior producer, but what really stands out and what makes her a remarkable senior producer is her ability to lead," said Closer Look host Rose Scott. "She's an organizer and she's patient. […] As someone who's been working with Candace since she walked into the door five years ago, she really has made our show streamline with more efficiency. I think that our show is better for that."
To Wheeler, good journalism is about integrity.
"It's all about good research, good questions, holding people accountable but being civil, knowing what you're talking about, having a perspective so you're not coming into the interview cold and keeping up with what's going on which helps to better inform your conversation and gives more to your listener or your reader," said Wheeler.
According to Rose Scott, being a good producer comes from being a good journalist.
"[Candace] is more than just a producer too. She's a journalist, and as a journalist, she gets it. She has that journalist thread that's innate, so she understands stories and story angles. She understands the importance of how stories are presented," said Scott. "She's sensitive to how stories should be presented if they are focusing on a particular group of people, such as people of color or people who might be from marginalized communities. Being a senior producer and having that journalist thread is a great combination. Our show is better off for it.
Because Closer Look is very community-focused, Wheeler, Rose Scott and their team also host events and interviews around Atlanta.
"One of the things that we've been doing and that we started this summer is a series called Coffee Conversations with Rose Scott," said Wheeler. "We do these pop-ups at coffee shops around the metro Atlanta area and we tape a whole show in the coffee shop," said Wheeler. "We have residents and city council members come, we talk to the owners of the coffee shop and we talk to a local artist or some kind of community group."  
Wheeler especially enjoys the feedback radio-based journalism gets from its fanbase.
"I think my favorite part of my job is honestly interacting with people. Public radio is an interesting space because public radio fans are fans. And as someone who started in this business from print, […] people definitely have their favorite writers, but the connection that people feel is different, and the people who listen to our show and listen to our station are very passionate," said Wheeler. "They keep up, they let us know when they think that we're on the right track, they tell us when we're not."
Through long conversations, Wheeler has a unique perspective on how she approaches journalism.
"Because we can have conversations with people that are 15 to 20 minutes, which is so much longer than a 500-word article or a one and a half minute story on the radio in our newscast, we always [ask ourselves]: How can we move the news forward? Is there something to move forward? Sometimes, you just need to let people know what's going on because they don't know what's going on, but we're always trying to find that interesting angle that's the 'so now what?'"
One especially memorable conversation Wheeler produced on Closer Look recently was with Scott Pelley from 60 Minutes.
"He's written a book about his time as a journalist, and he came in studio and he was so lovely and so down-to-earth," said Wheeler. "I just think it's always great when you can meet people who are in the field who are still, even when they've reached that level of success, just very personable and sharing really good wisdom about what it means to be a great journalist, and that just reinforces the foundations of what we do. […] That's great because it makes you feel like there's a mission that we've signed up for and it's important and it's work that deserves to be continued. It can get lost, there's a lot going on these days, so that's really nice."
Overall, Wheeler encourages young reporters to tell stories that speak to them. 
"My advice would be to really figure out the stories that are really important to you and the people missing from your perspective and then figure out a way to highlight those things." said Wheeler. "As a young reporter, I would say take your time, do your research, don't try to be first and please stop putting yourself at the center of what you do. A good reporter is not the focus of the story, it's not about you, it's about your audience and the information you're trying to bring to them." 
Most of all, she advises all Chamblee grads to explore their options and make commitments to their work.
"Unemployment is very low right now, the world is your oyster, but be thoughtful about what you're doing. Just because everything is available to you doesn't mean that everything is for you. Really take time to think about who you want to be, what you want to do, but be open to [change] and know that it's okay to change your mind and it's okay to discover and explore things," said Wheeler. "But, whenever you're in a job or wherever you're going to go, whatever you're going to do, be committed to what you're doing. Make a commitment to something, whatever it's going to be, and give it a good effort before you just say, 'on to the next.'"
About the Contributor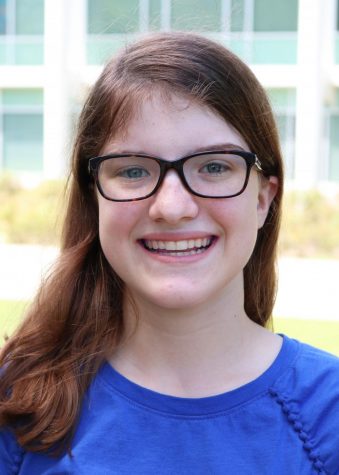 Catherine Cossaboom, Staff writer
Catherine Cossaboom is a junior staff writer. When she's not writing articles, she enjoys leading the CCHS math team, running cross-country, and playing the flute and piano. This is her second year on the staff.