From Coast to Coast: WABE's Molly Samuel Brings New Perspective to Environmental Reporting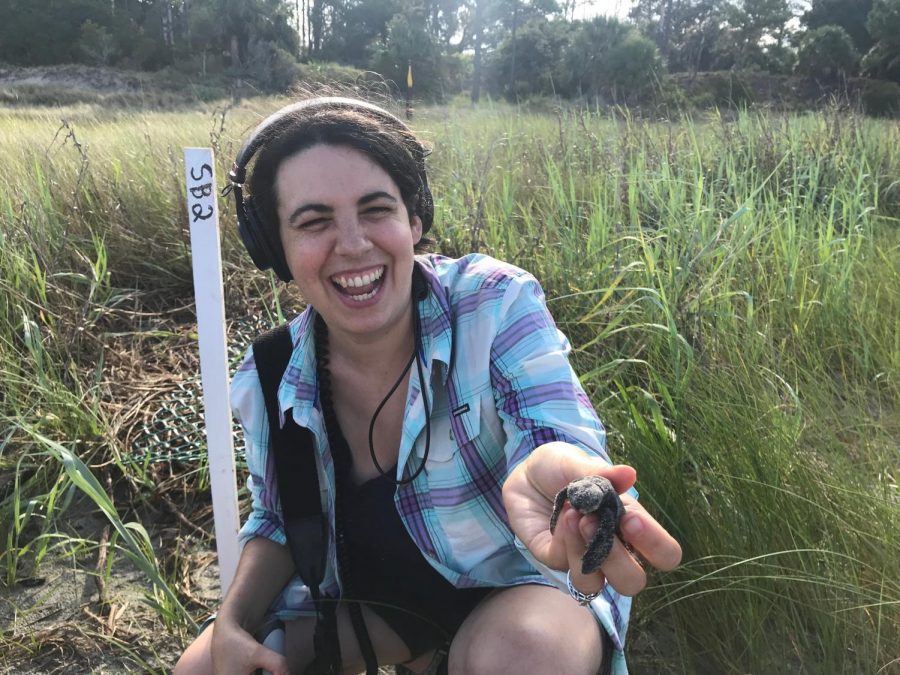 From California's redwoods to sea turtles on Georgia's shores, Chamblee alum Molly Samuel has seen it all. After she graduated Chamblee in 2000, Samuel attended Oberlin College in Ohio before landing at San Francisco's public radio station, KQED, where she produced a show called Climate Watch and reported for KQED's Science Desk. Today, as an environmental reporter for WABE, Samuel investigates climate change, wildlife, energy and land use around the state of Georgia. She especially likes covering water, including the current water wars going on between Georgia, Alabama and Florida, and she loves being away from her desk.
"On my favorite days, I'm out in the field," said Samuel. "On my dream days, I'm following a scientist into the woods or splashing around in a creek."
Samuel's journey began at Chamblee, where she was an editor of the Literary Magazine and a member of the orchestra. She remembers her teachers and peers as defining her high school experience.
"It really stuck with me how chill a lot of the teachers were," said Samuel. "They were cool, interesting people. Dr. Farmer was [my] English teacher. I loved her and I still can picture being in her class and talking about literature. I think that really stuck with me, and just all the weirdos I met."
One of her favorite memories, unsurprisingly, centered on the outdoors.
"We always used to eat lunch in the courtyard and it was so nice," said Samuel. "I remember in the spring after eating inside in the winter because it was just so miserable out, finally being able to go and sit outside and just hang out and talk to people. I had B lunch which was in the middle of a class, so it was nice to go get a break and sit outside."
After Chamblee, Samuel picked a rather unique major at Oberlin.
"I majored in Ancient Greek, which is not related to anything I do now," said Samuel. "Thinking back to Dr. Farmer's class and all the literature we read, I remember going into college and thinking that someday, I wanted to read Ulysses. I had this idea that before I read Ulysses, I should learn about the Iliad and the Odyssey, so that when I read Ulysses, I'd be ready for it. But then I got so into the ancient Greek myths that I ended up just focusing on them. I loved literature anyway, but I think Chamblee really helped me develop [my love of literature]."
Samuel especially loved being a DJ during college, and that inspired her to pursue her job today.
"All through college, I was a DJ at my college radio station, so I always loved radio. That was my big thing that I did at college, so that definitely helped me at least think about loving radio and wanting to do this now," said Samuel. "Oberlin has produced a weird number of public radio people, and I don't think I can really explain why, but my guess as to why is that it's a place that really encourages people. Whatever you want to go really deep into and nerd out on, go for it. […] In some ways, journalism rewards those kinds of instincts too."
After college, Samuel hopped around a bit.
"I had just a crazy winding path," said Samuel. "I did a fair amount of time working in coffee shops and bakeries. […] I had a few internships that helped me get on track for radio. In college, I started playing music with a few friends and I also spent a lot time after college just hanging out and being in bands. Eventually, I got an internship at NPR headquarters in DC and after that, I moved to San Francisco and got an internship at the station out there called KQED."
One of the internships she took encouraged her to consider journalism.
"My first summer after graduating, I had an internship in Jackson, Mississippi collecting oral histories and I think that was really the first thing that helped me start to get on this path," said Samuel.
Samuel stayed at KQED for several years, becoming a science reporter, producer, director and blogger. 
"I did so many different jobs at KQED," said Samuel. "I started out as a news intern, and so my job there was running around every day, collecting sound on whatever the news of the day was. I learned how to think about the daily news there and pitch and write daily news stories. I also spent time as a producer and a director for a statewide show called the California Report that was all California news, and that was a daily show."
Over time, she moved up to other positions.
"I worked on a climate change reporting project called Climate Watch, which was full time producing and reporting stories about climate change," said Samuel. "Then, I was a producer and a reporter on KQED's Science Desk, so I covered a lot of different environmental issues, like climate change, water and endangered species. That was my last job at KQED before I came here to Atlanta." 
She came to explore the environment because it was always one of her passions.
"Even though my college and my bachelor's degree has nothing to do with [the] environment, I always loved reading about nature and the environment," said Sameul. "All through high school and college and soon after graduating, if I could choose what to read, the things that I would like to read in my free time were books about nature, evolution, biology, and the environment. At some point, it dawned on me [that I could write about it too] and it was this one book called the Song of the Dodo by an environmental writer named David Quammen [that inspired me]." 
After moving back to Georgia, Samuel continued to pursue her love of environmental journalism.
"On any given day, I might be out covering a hearing or a protest or a public meeting, and filing a daily news story about that," said Samuel. "Other days, I might spend more time researching a longer story I'm just starting out on, or I might be reading a lot of studies or talking to people on the phone… It's one of those days where I'm wearing nicer clothes and being in an office, but really my best days are in something really muddy, crashing around and getting mosquito bites."
Her job involves constant collaboration and planning.
"For someone like me who's a beat reporter, I'm following all kinds of different things on my beat," said Samuel. "In some ways, it's a constant, ongoing conversation between me and my editors: what is happening tomorrow and [where] should I plan on going? Do you want me to do a story ahead of time setting up that this is going to happen? How much coverage should we plan for it?"
One of her favorite stories was about sea turtles on the Georgia coast, whose numbers have actually climbed in recent years. 
"The Georgia coast is one of the places where loggerhead sea turtles nest," said Samuel. "This past summer, it was the best year ever for them since [scientists] started tracking them! Especially doing environmental reporting, I don't always get to do happy stories but this ended up getting to be a happy story. […] There is a lot of reporting that goes into it, but on the other hand, I got to go down to the Georgia coast and hang out with very excited people and see baby sea turtles hatching."
She especially loves covering water: rivers, coasts, climate and all the implications of it.
"My very favorite topic is water," said Samuel. "Our entire existence depends on there being enough fresh water and it's not something that you think about that much but it's super important. […] Our economy needs water. Access to water can be a social justice and environmental justice issue. Water, of course, plays into reporting on the nature and the wildlife of Georgia. We have really high aquatic biodiversity especially in the Georgia mountains and streams up in the Blue Ridge Mountains and the Appalachian foothills."
Whether she's covering water or wildlife, Samuel finds journalism extremely rewarding. 
"[My job is] sort of this weird excuse to call people up and ask them questions, and that can be really fun," said Samuel. "It's always very rewarding to find that people are often very willing to open up and often very happy to share their experiences or share their knowledge or expertise, so there are really fun and world-expanding interviews we get to do. […] It's hard to get bored when every day can be so unpredictable and different."
Samuel has a positive outlook about journalism.
"We hear a lot about the dire future for the news industry. A lot of that's happening in the newspaper world, and it's really important and worrisome. Obviously, I'm biased as a reporter but I think the more reporters out there the better, because they'd all get information," said Samuel. "It's been a different story, I would say, in nonprofit newsrooms which are growing a lot and in public radio. […] Information is important and the more people out there getting unbiased information and uncovering things that some people might not want uncovered, the better."
All in all, Samuel encourages young journalists to believe in their work. 
"Believe in your own voice," said Samuel. "If you're seeing something that's wrong and somebody tells you it's not, that doesn't mean it's not. Even if you may run into much older journalists or editors who may second-guess you, it's always good to trust your gut and question everything."
About the Writer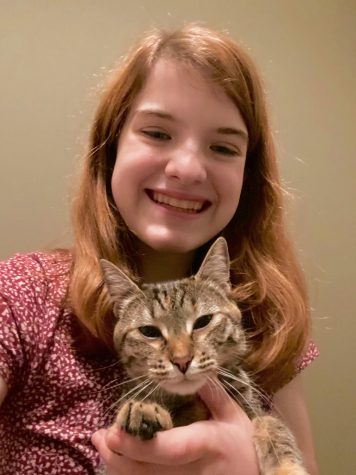 Catherine Cossaboom, Editor
Catherine Cossaboom is a senior and editor of the Blue & Gold. In her free time, you can find her solving way too many math problems, going on wandering walks to make friends with the deer in her neighborhood, and training her kittens to compete at the next Kentucky Derby. In five years, she hopes to be traveling across the country, running math circles, writing columns, and turning math into a performance art to empower girls to take on the world's problems. This is her third year on the staff.