From NPR to Ologies: Podcast Recommendations by The Blue & Gold

Writers for The Blue & Gold often spend a lot of time reading the news when they aren't writing it. This also extends to listening to podcasts, whether they are podcasts about news, history, or other social topics. More than ninety million Americans have listened to a podcast in the past year, and The Blue & Gold is sharing their favorites here.
Listening to podcasts can be an enjoyable activity that many students at Chamblee Charter High School may find entertaining or educating. In this article, current and former members of The Blue & Gold recommend their favorite podcasts. These selections range from German-language interviews and comedy, 1800s horror stories, different -ologies, and National Public Radio series.
Marley Brock, who is a former editor of The Blue & Gold, listens to a podcast almost every day of the week. Brock listens to podcasts about news and politics through the Apple podcast app.
"Most weekday mornings I listen to NPR's 'Up First,' which is a 10-15 minute summary of the most important stories for that day. I also like the NPR politics podcast, which I think is just called the NPR Politics Podcast," said Brock.
In addition to these NPR podcasts, Brock enjoys to listens to the progressive political podcast Pod Save America and a podcast from the BBC about global news.
"Another good [podcast] is Pod Save America — although that's only if I have some free time because their episodes clock in at about an hour and a half. And then when I get tired of hearing about the same four Trump stories over and over, I'll mix it up with the BBC Global News podcast," said Brock.
While a student a CCHS, Brock would read the New York Times morning briefing email every morning but has transitioned to listening to podcasts after graduating last year.
"I usually listen to podcasts while I'm walking to or from class […] it's much easier — and safer — to walk and listen than walk and read," said Brock. "It's super important to stay informed on what's happening in the world, especially given all the craziness going on right now. Plus, you can listen to a podcast while driving or doing something else if you don't want to take the time to sit down and read articles. "
Ashley Veazey, who is a senior and the current photo editor for The Blue & Gold, listens to podcasts that are entirely in German. She listens to these podcasts on Spotify about once a week.
"I don't really listen to English podcasts, as I have yet to find a good one. I listen to two really good German podcasts which are 'Hotel Matze' and 'Fest & Flauschig'," said Veazey. "One of them is more of a comedy. 'Fest & Flauschig' is two comedians that banter back and forth. The other one is more of an interview-style podcast with certain German or European artists, authors, or musicians."
These podcasts are not only educational or entertaining but also allow Veazey to practice her German listening skills, as Veazey has been learning German as part of the magnet program at Chamblee.
"From what I comprehend of them, they are very good. But it's also nice to be able to listen to German […] I would recommend [these podcasts] to any German-speaking student," said Veazey. "I would say [students could listen to these podcasts] with any kind of German comprehension. You don't need to be super proficient in the language. It's more listening and picking up what you can. To understand it completely, I would say post-AP students would probably be best." 
Lucy Roberts, who is a junior and staff writer for The Blue & Gold, names "This American Life" and "Lore" as her favorite podcasts. She mainly listens to these podcasts by herself when in traffic.
"I listen to 'This American Life' pretty regularly, from NPR. 'This American Life' is probably my favorite podcast, but I also listen to 'Lore', which is about 1800s horror stories but they actually happened. […] They'll talk about how these stories devolved into local myths. They'll do exorcism and witch stuff, it's really cool," said Roberts.
Roberts likes listening to podcasts for several reasons, for reasons many students might be able to relate to.
"[Listening to podcasts] is calming and when you listen to other people's stories, I feel like it just sets things into perspective. […] There are over 600 episodes of "This American Life" and each episode has one theme, but is then divided into three different acts. So if you don't like one story you could easily find another one," said Roberts.
Stella Garrett, who is a junior and editor for The Blue & Gold, listens to many different types of podcasts. She listens to podcasts when she is commuting to and from school.
"I listen to a lot of different genres of podcasts. I really like this one travel podcast called Reroute and it's by these two vloggers that I like. And then I really like David Dobrik's podcast, Views. It's really funny. And I also like all of the NPR podcasts," said Garrett.
Alice Bai was the editor-in-chief of The Blue & Gold until graduating last year. Bai enjoys listening to podcasts while getting ready in the morning or walking to class.
"I like listening to NPR's 'Up First' podcast because it feels like a pretty good briefing on some of the biggest news highlights for the day that isn't too long. The stories they talk about also come up in the longer form on their radio broadcast sometimes, so it's fun if I'm tuned in and get to hear some more detail about a story," said Bai. "'Ologies with Alie Ward' and 'TED Radio Hour' are two other ones that I enjoy, just because take pretty casual but interesting approaches to a lot of different topics." 
Bai also has different methods for finding new podcasts to listen to.
"Everyone has different tastes, so I think there's a lot of trial and error when it comes to finding good podcasts you want to continue listening to," said Bai. "I know that I'll scroll through and find tons of podcasts that look interesting, and then change my mind about them later once I've listened to some of it, so taking lots of recommendations and trying out some new podcasts helps increase the odds of finding one that sticks."
Hope Williams, who graduated from CCHS last year, has "Ologies with Alie Ward" and "99% Invisible" as her favorite podcasts. She was on the staff of The Blue and Gold for two years. Williams listens to her podcasts on Spotify and most often listens to podcasts while she is multitasking or on school breaks.
"My all-time favorite podcast is called 'Ologies with Alie Ward.' It's an educational podcast about any field of study ending with the suffix '-ologies.' It's super fun and the host makes even the most mundane topics fascinating by interviewing experts in that field," said Williams. "My favorite episodes from that podcast include Classical Archaeology (all about ancient Rome), Phonology (linguistics), and Conservation Technology." 
Williams also listens to "99% Invisible," a podcast about design and architecture.
"Another favorite podcast of mine is '99% Invisible.' […] The episode topics for '99% Invisible' are generally focused on different aspects of design and how design affects different parts of our lives," said Williams. "I recently listened to an episode of the show called 'Invisible Women' about how sexist and skewed most data collected is that doctors and companies use to develop products and make policy or healthcare decisions. For example, almost all car crash safety testing has been done for a male passenger in mind."
The majority of podcast listeners at The Blue & Gold listen to their podcasts on the music and podcast streaming platform Spotify, which has more than 100,000 different podcasts. In addition to listening to their favorite podcasts, students can also use Spotify to explore new genres.
"If you're interested in finding a podcast, Spotify has a whole section that sorts them into genres and that is how I found the ones I listen to. They're based on my different interests," said Garrett.
Taking time to learn new things outside of school should be a part of every teenager's life. Podcasts are a great way to do this. Keep these recommendations in mind next time you pick up your earbuds.
"I think that these podcasts I've named, as well as most podcasts out there, help the listener find value in learning for fun," said Williams. "In high school, it's so easy to lose sight of the value of learning and to focus solely on grades, but I've found that podcasts help remind me how lucky I am to be able to learn about the world outside of my life as a student."
About the Writer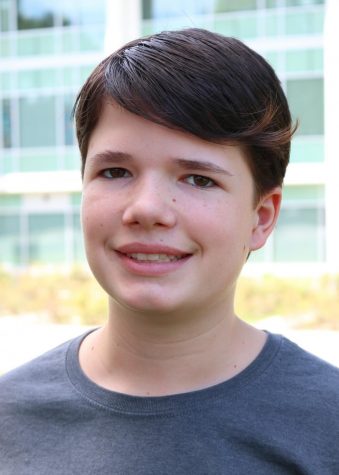 Keegan Brooks, Staff Writer
Keegan is a sophomore and staff writer. Outside of school you can find him representing the Debate Team, eating pizza, or participating in Environmental Club.