To Be Impeached, or Not to Be Impeached? That Is the Question
Impeachment: a charge of misconduct against an officeholder. According to the U.S. Constitution, a president may be impeached for "high crimes and misdemeanors." And this may possibly happen to current US President Donald Trump, following a phone call with Ukraine.
Some of Chamblee High Schools most politically oriented have been following the impeachment inquiry as it happens, and others not so much. Junior Nicholas Oselette has a very basic understanding of what is occurring at the moment.
"Yeah [I've been following the inquiry] a little bit," said Oselette. "I just know that it's been going on for a while, and I feel like its getting closer to actually happening, and people are kind of taking it more seriously."
Senior Sania Hassan, on the other hand, has been following it a bit more closely by looking at the news day to day.
 "I've been reading articles about it," said Hassan.
But even those not paying close attention sometimes still have knowledge about what led to the inquiry to begin with, including sophomore Bryce Starks, who had to think for a moment before answering.
 "Yes! This is the Ukraine stuff. He was talking to the Ukrainian president about something shady," said Starks. "Does it have to do with Biden? Yeah, Biden's son."
Starks was correct. After a July phone call Trump had with Ukranian President Vladimir Zelensky, a whistleblower reported that Trump was tying foreign aid to a Ukranian investigation into Joe Biden's son, Hunter, who had worked at the Ukrainian company Burisma. The current investigation is looking into whether or not Trump's alleged actions amount to a quid pro quo (or, more plainly, bribery).
But, unfortunately for Oselette, he managed to miss the mark slightly on what the inquiry is all about. 
"I'm not really sure, but didn't it start with like the Mueller Report and the collusion with Russia and then the phone call with like the Ukranian people," said Oselette. "And it was like they said like derogatory things about the rapper in Sweden [referencing US singer ASAP Rocky] that got arrested or something. It was a lot."
And along the lines of being misinformed, students also tend to have a misconception about impeachment. Many feel that this itself means being removed from office, but on the contrary, the House of Representatives votes on whether or not to impeach a sitting president, and then the Senate holds a trial and votes to either acquit or remove the president from the Oval Office. But Hassan does not feel this will happen.
"I don't think so, sadly," said Hassan.
Starks also felt he will not be removed from office, but was more articulate in his reasoning.
"I do not think that they will remove Trump from office only because his presidency is already 75% done, and it's too much trouble for too little reward," said Starks. "The US is the most powerful country in the world, we know that, and if there is a power shift, we can be seen as weak."
But on the other hand, sophomore Kyla Maloney does indeed think Trump will be impeached and removed from office.
"Yeah I do [think he will be impeached]," said Maloney. "Because it's been such a headline in the news and people are taking notice. I think in the past we didn't take the whole thing [email scandal] with Hillary Clinton seriously, and then they found out that it was true."
What the House and Senate vote aside, Hassan personally hopes that Trump will be voted out of office, but worries about what will happen next.
"It would be sick if he got impeached, but it would absolutely suck if Mike Pence was our president for some time," said Hassan.
Starks felt he had the perfect solution to this.
"Oh my god, impeach him, please. And then kick Mike Pence out there too because he's f****** crazy," said Starks, "What he said in his campaign is that he wants to [give] electroshock therapy to the gays."
But on another note, Hassan felt it was enthralling to witness American history being written.
"It's cool to be apart of history books, though," said Hassan.
About the Writer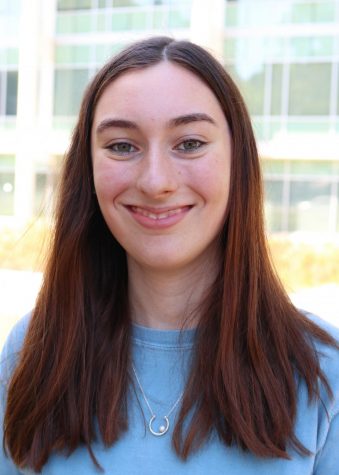 Sophie Maxwell, Staff writer
Sophie Maxwell is a junior staff writer. Outside of school, you can find her binging a sitcom on Netflix, drinking way too much coffee, or volunteering with Beta Club. This is her second year on the staff.