Fake Happy: Finding the Perfect Song
Hang on for a minute...we're trying to find some more stories you might like.
My music taste has always been a little bit of everything. It's been whatever record is spinning while I sit doing homework in my dad's office or whatever comes up on my "Daily Drive" playlist on Spotify as I drive to school. But I know the basic genres, however vast they are: anything from Don't Dream It's Over and Maneater to Jordan Peele's Us soundtrack — a surprisingly interesting theme to drive to. I have about 50 favorite songs for different occasions or moods, each filling a different hole in my lonesome and deprived teenage existence where sometimes the most entertaining thing I do in a week is picking which song I'll listen to in between brushing my teeth and going to bed.
But I think I've found it. The be-all-end-all for all your Ava Lewis playlist needs. A song so full of every aspect of music I enjoy plus the added perk of just being a verified bop and a half. Paramore's 2017 hit Fake Happy has made it through each trial and passed with flying colors. Allow me to elaborate on every point it has earned in this dreadfully extensive competition.
I'd give it a listen before we delve in. 
The Beginning: Soft, Acoustic, and Slightly Alternative
See Tessa Violet, dodie, Sleeping At Last, Tom Rosenthal
It's an odd beginning for a song; its beginning is strikingly different from its end or middle. But I think all that does is add to the fun modge podge that is the Perfect Song. It's acoustic guitar and fragile vocals that introduce the underlying mood of the song extremely well, reminding you that despite the soon to come headbangs and screamed lyrics, this song is sad. It's almost celebrating the camaraderie of shared anxiety and the companionship that comes with forced smiles and undying optimism, like with the line "I'll bet everybody here is just as insincere". The song itself could mirror just that. But here, it's raw and unaltered, part of what makes songs by artists such as dodie so brilliant. It's a perfect outlet for songs that are able to access those insecurities and emotions, like how dodie explores depression through songwriting in a much more forward fashion that usually lasts the whole song. With Fake Happy, this is all you get before a fake smile is plastered on to sing the rest of the song.
The Shift: The Sound of Retro Rhodes Piano
See Saint Motel, The Guess Who, Steely Dan, Tears for Fears
At 0:38, we hear a medley of piano signaling the song's shift from low-key sad ballad to high-key powerful pop anthem. The beat is able to ring in an entirely new feel to the song and is infectious as it is entertaining, leaving you jumping in your seat as it rings through your car speakers. Similarly to songs by Saint Motel — known for "Cold Cold Man" and "Sweet Talk" — and past hits like "Head Over Heels" by Tears for Fears, the instrumental aspect of the song adds another layer to an already creative piece, and makes it all the more catchy.  
The Chorus: Queens of Pop
See Taylor Swift, Carly Rae Jepsen, Ariana Grande
Part of what makes this song so infectious is its catchy lyrics and beat, something so many of Swift's and Jepsen's songs have in common. The topic can be simple but if there is a memorable line or series of notes, the subsequent beat drop will keep you listening. This comes with the song's chorus and pre-chorus, most impressively in "Oh please don't ask me how I've been, don't make me play pretend, Oh no, oh what's the use?" and the final chorus repeating with a slightly different and intense beat change that keeps me belting in my car every single time. Consider the iconic and headbanging lines of Swift and Grande: "He looks up grinning like a devil" of Cruel Summer or the final "Just keep breathin'" of breathin, both key, memorable lines before the return of the chorus and arguably best parts of the song. Hayley Williams's vocals in this section make it seem effortless.
The Scope: That Song From TikTok
See TMG, mxmtoon, Lizzo, Yung Gravy
Something unique about this song, as shown by its many interpretations and interworkings as shown here, is its scope in this sense. Someone who has been using the app TikTok at least since the summer might recognize the line, "If I smile with my teeth, bet you believe me" which is usually paired with a video of the person smiling on the beat or comically making an ugly face or otherwise. The audio goes by many names, most famously "TEETH" by Nathan is famously used on TikTok also for cosplayers on the app. Similar to songs like prom dress and Mr. Clean, TikTok gives lots of exposure to musicians and getting dubbed a "TikTok Song" can give a song lots of popularity and acclaim, and if not that, at least it gets the artists a few more listens on Spotify or even a place on the "tik tok songs that lowkey hit" playlist.
The Message: Knowing Your Audience
See Twenty One Pilots, Fall Out Boy, My Chemical Romance, Paramore!
For any song to truly appeal to me, it has to fit my depressive teenage requirements and be at least a little upsetting. Fake Happy rings all too true for so many high school students or people in general, but especially rings true to me at this point in my life. Sometimes the only way to cope with something is to put on that face of 'Fake Happy' or "[…] draw up my lipstick wider than my mouth" just to keep people from asking and so you can distract yourself enough to heal and get through the day. But that doesn't make it any less painful. When exposed through the arts to these seemingly lonely aspects of life, it makes anyone listening feel a little less alone and a little more okay with what life entails. Any way to make something fun and entertaining out of something less than happy is a good idea in my book, and this song does just that.
About the Writer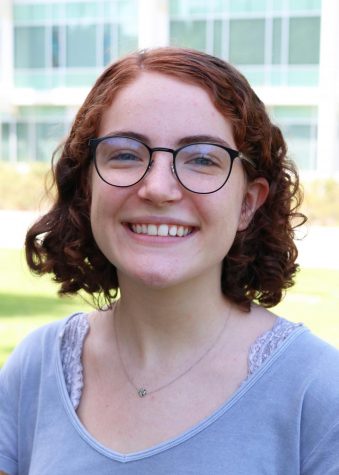 Ava Lewis, Editor in Chief
Ava Lewis is the Editor in Chief of The Blue & Gold. Outside of journalism, you can find her reading anything by Alice Oseman, drinking copious amounts of tea, and waking up at two a.m. to write down an idea for an article. This is her third year on the staff.