Chamblee Alum Discusses State Department Duties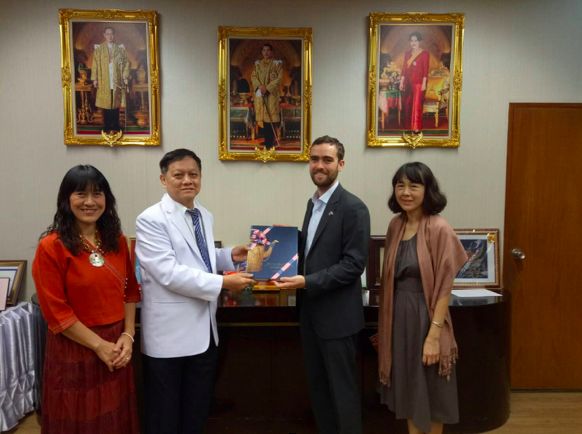 Daniel Jacobs-Nhan, a member of Chamblee's class of 2005, came back to CCHS to speak to students about his career, which has presented him with opportunities to do meaningful work in exotic locations. In his time as a Foreign Service Officer at the U.S. Department of State, Jacobs-Nhan has worked in China, Myanmar, and Thailand, where he is currently the section chief at the U.S. Consulate General in Chiang Mai. He believes that CCHS prepared him well for where he is now.
"I think probably everyone in this room, just based on the fact that you're here at Chamblee, should be interested in working for the State Department and probably could work for the State Department, just based on the skill sets that you get here," said Jacobs-Nhan to the crowd in the auditorium.
After graduation, Jacobs-Nhan attended Rhodes College in Memphis, Tennessee. However, he did not choose international relations or political science for his major, as one might have guessed. He studied his high school passion: history. The state department was not on his radar until he had nearly graduated. 
"I wanted to find a way to serve my country," said Jacobs-Nhan. "A foreign service officer came to Rhodes College and talked about the foreign service. And that was the first time I had ever heard of it. I really did not have a lot of overseas experience, I had not traveled outside of the U.S. a lot, but it sounded interesting, so I figured 'Why not, I'll just give it a try.'"
Jacobs-Nhan believes that the selection process for Foreign Service Officers is a very beneficial part of the department, as it gives no advantages to applicants due to their connections. The selection process involves a written test and a day-long job interview to measure a candidate's ability to work as a Foreign Service Officer.
"It's different from what a lot of people think it is," said Jacobs-Nhan. "My dad didn't think I could get a job at the State Department. He would say, 'You don't have any connections, we don't know anybody in D.C. We don't know any powerful people, you're never going to get a job there.' But that's a total misunderstanding of the process. It's actually really meritocratic. If you have the skills, if you speak any foreign language, it will give you additional points on this scoring system they have for deciding who to hire. The process was based on what you know, not who you know."
After his success in the selection process, Jacobs-Nhan received his first assignment. He was stationed in Yangon (formerly known as Rangoon), Myanmar (formerly Burma), where he helped both U.S. citizens as well as Burmese citizens.
"I was there for two years, I was there from 2011 to 2013," said Jacobs-Nhan. "Before I went, I was able to study Burmese for seven months, so I could definitely have a conversation. While I was there I was a consular officer, so I was responsible for assisting U.S. citizens who needed a passport or had been arrested or had an accident while they were in Burma, but I was also responsible for interviewing people who wanted to come to the United States."
However, Jacobs-Nhan happened to be stationed there during a very unique event, which led to a shift from his normal schedule and responsibilities.
"While I was in Burma, I also had the incredible experience of working on the visit of President Obama when he came and visited Rangoon, which was the first time the U.S. president had ever visited Burma," said Jacobs-Nhan. "So Burma had been a very closed off country since the late 80s, when they had cracked down on student protesters. Even before that was a very closed off country, but in 2011 [and] 2012, they really started to transition towards democracy, which benefits the United States. We want democracy here, and we democracy overseas as well, because it promotes peace, it promotes stability, and it makes for good partners, so we wanted to help Burma make that transition to democracy. As part of that President Obama visited Rangoon."
As a presidential visit involves lots of additional planning and security measures, the embassy had many extra duties. However, an impromptu sightseeing trip threw a wrench in the perfectly crafted schedule and forced Jacobs-Nhan and his colleagues to perform under pressure. 
"When the President visits another country, especially a country like Burma, it is a serious operation," said Jacobs-Nhan. "There were probably about 1000 people – American citizens – who came into Burma to work on this visit, and at that time there were probably only 30 to 40 Americans at the embassy in Burma, so it's a huge influx. And it's weeks and weeks of preparation, so you have this really elaborate schedule. But when President Obama was in his car on his way to a meeting, He saw the Shwedagon[a large pagoda in central Yangon] out the window and said, ' I want to visit that place,' and when the president says he wants to do something, we make it happen. So at the meeting I was at, somebody ran in and said, 'We need to put together a visit to the Shwedagon, we have 45 minutes.' They grabbed me and two other more senior folks from the embassy. We hopped in a Burmese police car and went to the Shwedagon."
As he was one of the few Americans there that spoke Burmese, Jacobs-Nhan adapted to the leadership role that was thrust upon him.
"There's these stairs – there's probably about 300 or 400 steps from the ground up to the Shwedagon – so I was running up and down the stairs, helping the Secret Service bomb dog team sweep the area, I was translating for them," said Jacobs-Nhan. "The President came and it was really a great cultural experience."
Despite the immense stress that this event caused for Jacobs-Nhan, he believes that it was ultimately beneficial to him personally and professionally. Additionally, it represents one of his favorite aspects of the job: the ability to be a part of something greater than himself.
"I think, you know, every time you're in an experience like that, just try to embrace it and say, 'How can I take it and learn from this experience in order to be ready for the next stressful experience,'" said Jacobs-Nhan. "And then the other thing is that as a State Department official, you get to the chance to work on really incredible things like this. I worked for this department for a year and a half when this occurred, and I had the chance to directly contribute to President Obama's successful visit and building stronger ties with Burma and supporting their peaceful transition to democracy, which helps the United States, so that was just an incredible experience."
His assignment in Myanmar came to an end, after which he spent two years in the U.S. Consulate General in Shanghai and another two years in Washington, D.C. before he was sent to his current position as consular section chief in Chiang Mai. Before sending its officials off to new places, the State Department ensures that they are well-equipped to serve by providing them with language training. Just as he learned Burmese before traveling to Yangon, Jacobs-Nhan spent time studying Thai before leaving D.C.
"Before going to Thailand, the State Department gave us language training for 10 months," said Jacobs-Nhan. "Receiving language training is a huge benefit of working for the State Department. It was 10 months, and all you do every day is study for five hours. That's your job. So you study for five hours and then you have about three hours of homework and outside of class study."
Jacobs-Nhan found that learning Thai was easier than learning languages in high school and college, as other classes did not draw his attention away from his language studies like they had before. 
"I think it demonstrated to me how you can really focus on learning language and it's a lot easier than if you're distracted by all of your other classes," said Jacobs-Nhan.
When he arrived in Chiang Mai, Jacobs-Nhan took on his new position – as one of the leaders of the consulate – eagerly. Many of his responsibilities were similar to those in Myanmar.
"There, I am the head of a consular section," said Jacobs-Nhan. "So that means I have a team of six Thai folks and one other American, and we are all collectively doing what I mentioned earlier: assisting us citizens, and then interviewing folks who want to travel to the U.S. for visas.
However, he has been involved in some initiatives that are much more unique than what he did in his previous positions. He showed the students a picture of himself on a stage, gesturing to a slideshow that was entirely in Thai.
"Here, I'm giving a presentation to a group of Thai police and other kind of government staff, and it's about assisting victims of sexual assault," said Jacobs-Nhan. "Thailand has a lot of tourists who travel there, and while most of them have a great experience, a very small number of do experience difficulties, and an even smaller number are sexually assaulted. So we want to help the authorities there to be able to provide a victim-centric approach and help anyone who has been sexually assaulted in an understanding way and in a way that gives them choices and options."
Just as he enjoyed being a part of something greater than himself when President Obama visited Yangon, he felt proud of this wide-reaching initiative that will benefit U.S. citizens travelling in Thailand. 
"I think that's been exciting for me because it's a chance to kind of make changes that, hopefully, will last beyond my time there," said Jacobs-Nhan.
Jacobs-Nhan loves both contributing to a better future for the country where he is serving as well as learning from their citizens.
"I think one of the best parts about this career is being able to work with people from other countries," said Jacobs-Nhan. "Every single day, I'm working with these folks in Thailand and learning from them. Learning about their country and learning about their experiences, and it's just a really amazing opportunity."
About the Writer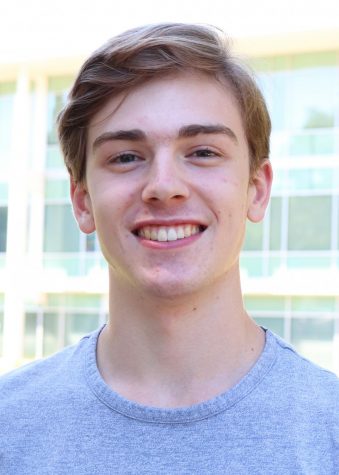 James Hardy, Staff Writer
James Hardy is a junior and staff writer for the Blue & Gold. In his free time, you can find him playing water polo, attending Model UN conferences, and buzzing in at Quiz Bowl competitions. This is his first year on the staff.