Chamblee Teacher Named State Tennis Coach of the Year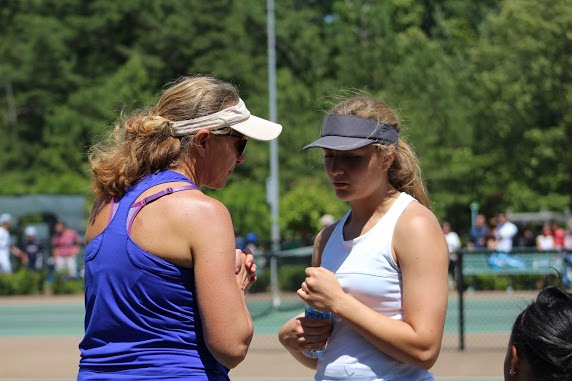 After coaching both the girls' and boys' tennis teams to state championships last season, Chamblee Charter High School's very own Larisa Tulchinsky has been recognized for her leadership and unwavering support for her players: from the National Federation of State High School Associations, she was recently awarded the honor of Girls' Tennis Coach of the Year in the state of Georgia.
Tulchinsky, who also teaches AP Calculus and AP Statistics, along with coaching the Chamblee Math Team, has been coaching both the boys' and girls' tennis teams ever since she took over the role in the 2015-16 school year.
"[The] previous coach left the school and he took [a] position at another school, so [the] school was looking for a new tennis coach," said Tulchinsky. "Both of my daughters were at this time on the team, so I didn't want the team to just disappear because [the] school [would] not be able to find a coach, so I agreed to take over."
In the four seasons Tulchinsky has been coaching, the girls' team has already won three straight state championships from the 2016-17 season to the 2018-19 season, and the boys' team won the state championship in the 2018-19 season.
"She definitely deserves [State Coach of the Year] with having two separate state championship teams," said junior tennis team member Samantha McCrery. "That's a really big feat, and not a lot of coaches here can say that both of their teams won State in the same year."
Senior team member Maddy Trinh shares the same sentiment.
"The team and I are so proud of her. She does so much for us, and I could not imagine a coach more deserving of this award," said Trinh.
As a coach, Tulchinsky values team synergy and cooperation.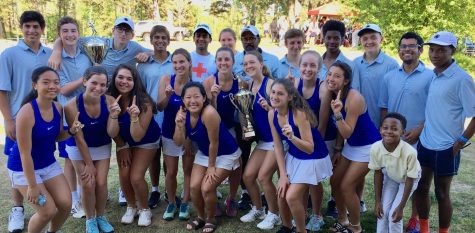 "The most essential piece of my coaching philosophy is team building. […] When the team works together, that's when I believe you will be successful. […] Our players support one another and care for each other, and that is the most I could ask for," she said.
Tulchinsky believes that players perform better when they are being positively encouraged versus when they are being excessively critiqued for their mistakes.
"If you tell them, 'Okay, enjoy what you're doing, enjoy your match,' then they relax, they feel better, and they play better. It's not [the] time to talk about what they did wrong, it's only time to talk about, 'Oh, you see what you did [just] right now, you see it was your best strategy, just continue with it.' And you tell them to be [themselves]," said Tulchinsky.
According to some of the team members, one of Tulchinsky's greatest qualities is her compassion for the players and how much she cares to look after them.
"She's really caring to us," said McCrery. "I know a lot of people see her as like a really tough teacher who expects a lot of you, and [while] she does expect a lot of us, she knows that it's also a lot of pressure. So she understands when we have our moments and […] and she knows that we're trying our best, and she just gives us all the support in the world," said McCrery.
In addition to what she does on the tennis court, Tulchinsky also makes sure that she is doing her best to help her players off the court and in school, including monitoring their academic performance as well as even offering free tutor lessons in math.
"I love that Coach T[ulchinsky] doesn't just care about what happens to the team on the court, but she invests in us off the court. She tutors and helps a lot of my teammates, including myself, in math and she always makes sure that we have good mindsets and attitudes. I think this discipline off the court helps the team do better in matches," said Trinh.
According to Tulchinsky, students may have a hard time focusing on their matches if they're too busy stressing over schoolwork, so she does what she can to make sure that her players do well in school.
"I realized that some of my players do not focus on their matches if they struggle with academic classes, said Tulchinsky. "I started to offer free tutorial for all of my tennis players in mathematics and monitor their success in all subjects. Together with each player, we make a plan on how to help them to be successful and confident in all areas, not only sport."
With the new tennis season just starting back up, Tulchinsky and the rest of the tennis team will hope to have a repeat of last season's state championship run.
"I have very high expectations for the girls' team this year just based off of how hard we are working in practices with [Tulchinsky] and the extra work we put in on weekends with match play and academy drills," said Trinh. "With the talent and hard work we're putting in, I would say we can make it very far in state and even⁠—knock on wood⁠—be four-time state champions."