The Drowsy Chaperone: It Won't Be a Snooze!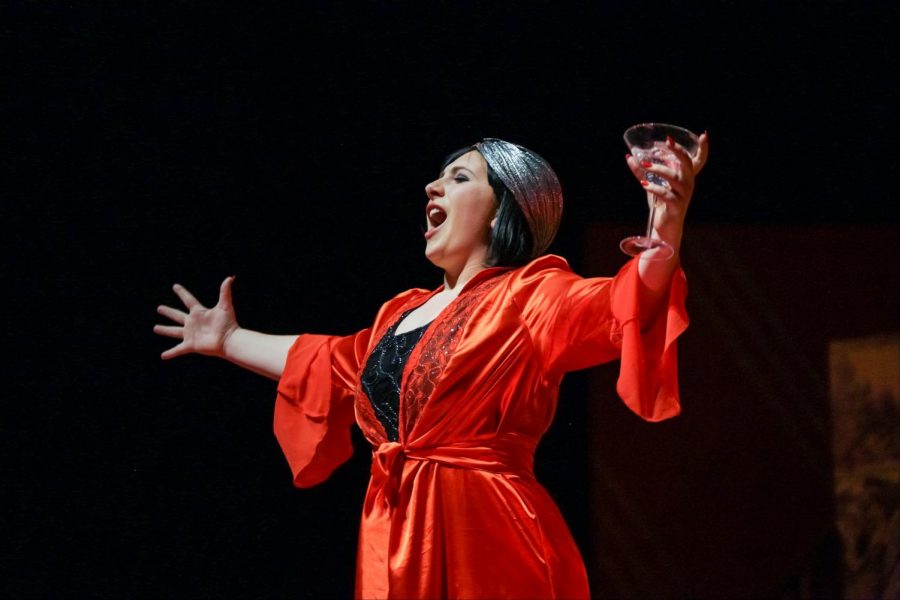 The following is an article about Chamblee OnStage's production of The Drowsy Chaperone, which will take place on the following dates:
Thursday, February 27 at 7 pm.
Friday, February 28 at 7 pm.
Saturday, February 29 at 2 pm.
Tickets are $10 and can be purchased here.
Chamblee OnStage welcomes all to their annual musical production this year: The Drowsy Chaperone. The musical's story revolves around the narration of a musical theater fanatic, who, by "breaking the fourth wall," addresses the audience directly to tell the story of his favorite musical.
"So there's a man in a chair who is talking to the audience about his favorite show, The Drowsy Chaperone," said ensemble member Anna McKinzey. "He plays the record, and the record comes to life, and that's our show: he's talking about this musical that he loves, so he puts on this record, and as the record plays, you see the musical happening."
Therefore, this play is broken into two separate plots. There is the story of the musical theater fanatic describing his favorite show, and then there is the show itself.
"It's a musical set in the 1920s. It revolves around a wedding, but something goes wrong. That's about all I'm going to say," said cast member Sam Grant.
After dedicating countless hours to this production in order to ensure that the show enjoyable, the musical's cast and crew feel opening night will run without hitch.
"We prepare for the show through a rigorous rehearsal process that takes a large time commitment," said the male lead, Jeremy Carlson. "Due to a lot of effort from everyone involved, we are ready at this point. I'm looking forward [to] opening night!"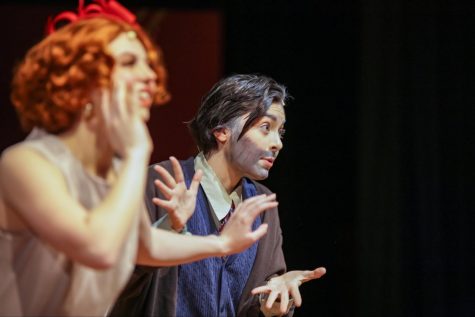 The musical had been described as lighthearted, which the cast and crew feel makes it more enjoyable to watch.
"It's a really fun musical. Like it's super fun to listen to, and it's very colorful and bright and exciting," said crew member Smrithi Satish. 
McKinzey believes that right off the bat, the audiences will be hooked to the musical's plot.
"The first part of the show—the first song—is where we introduce all the characters, and then you get little scenes of how they interact with each other," said McKinzey. "There's a character Kitty who wants to be the leading girl […] but she sucks. She can't sing. She can't act. She can't dance, [and] it's just really funny and [her actress, Kathryn Penn], does a great job, so that's my favorite part."
Grant is likewise very excited for opening night, and finds there are multitudes of reasons to see the show.
"If you already have a friend that is in the musical, which is actually kind of likely seeing as there a 110 people involved in it, then it is a great way to go out and support them," said Grant. "But if not, it's a very, very, very good way to distract yourself from life in general. Just a little bit of an escape almost from, say, calculus homework."
But most importantly, Grant feels that people should come out and support Chamblee OnStage because it builds a sense of community.
"The one thing that I like most about the musical is how it almost brings together the school as a community," said Grant. "Tons of people who you wouldn't really expect to go watch a musical theater production do wind up showing up to support people. So it's a fun and engaging event that really helps to bring the school together."
About the Contributor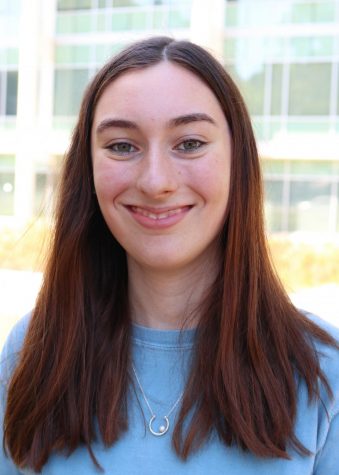 Sophie Maxwell, Staff writer
Sophie Maxwell is a junior staff writer. Outside of school, you can find her binging a sitcom on Netflix, drinking way too much coffee, or volunteering with Beta Club. This is her second year on the staff.