Chamblee Bullsharks Make a Splash at State
Following their first-place finish last year, the Chamblee swim team swam their way to state again this year. The state swim meet, which also includes diving, took place February 7 and 8 at the Georgia Tech Campus Recreation Center. The Lady Bullsharks came in second place, while the Bullsharks, the boys' team, clinched eleventh place.
Unlike many other high school sports, swimming is highly individualistic, especially at this high level of competition. As a result, individuals qualify to represent their schools at the state meet. 
"To qualify [for state], you have to swim during the season, and there are qualifying times for each event," said head coach Lori Reynolds. "If you hit that qualifying time in an event during the season, then you qualify individually for state. Now we do have to qualify for relays, but I can put anybody [on the relay team] that I want as long as the relay [team] at one point in time or another qualified." 
Additionally, because of the individuality of the sport, most swimmers on the state team did not train with the school. In general, they are all members of club teams, like Swim Atlanta and Dynamo, so the swimmers train with them. Will Decker, for example, practiced at Dynamo leading up to the meet.
"[My club team] prepared for this meet because the times actually count for USA Swimming, [the national swim governing body in America]. So we kind of tapered down and catered [the workouts] towards this meet," said Decker.
Mary Adam, who swims with the Spartan Aquatic Club, also mentioned that her club focused on honing technique before the state meet.
"We tapered down and focused more on details like dives, exchanges and turns. Just making sure you are consistent with all of the little details and doing less like strengthening work," said Adam.
According to Reynolds, at this stage in the season, she mainly focuses on creating a good lineup for the meet and inspiring the athletes to do their best. 
"I just tried to come up with the best lineup to utilize the kids and their talents in the best way possible to score the most points possible. I mean you know they are seasoned swimmers; they know what they are doing. It is just a matter of getting them fired up and getting them focused and realizing that we had another shot at taking the state title," said Reynolds.
The state meet lasts two days, with the first day focusing on preliminary races. Those who make a certain time are able to compete in the finals the next day. Furthermore, 1-5A schools compete together. That said, a winner is reported for 1-3A  and 4/5A schools separately. 6/7A schools compete over the same dates, but their events are completely separate. 
"[Chamblee is] in the 1-5A session which is not as competitive as the 6/7A session, which is after us, and is mostly made up of schools that are inside the perimeter," said Decker.
Looking forward to next year, Reynolds is excited about the youth of the girl's team.
"The best part of it is that out of the group of girls who swam for state, there were no seniors; they are all coming back. So I am definitely excited about that," said Reynolds. 
Furthermore, Reynolds is also hoping that more divers will be able to compete at the meet next year.
"What I'd also like to see is our girl divers being able to compete. We had two boy divers this year, and diving counts in your overall point. Andrew Stowe placed fifth, so he gave the boys a head start with 18 points going into state. And freshman Micah Neely who should be able to place next year."
Adam offered the goal she has for the girls' team next year.
"[My goal is] definitely to win state because we don't have any seniors on our team this year," said Adam. "So, as we all age up we're all going to get faster going into next season." 
About the Writer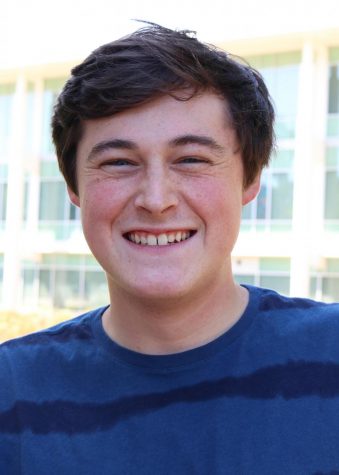 Oliver Hurst, Staff writer
Oliver Hurst is THE senior staff writer. You can find him going to Fernbank, talking about his dog, and binging a show on Netflix. This is his third year on the staff.