Practice Makes Perfect: Ultimate Frisbee Club Prepares for Tournaments
Ultimate Frisbee was invented by a group of high schoolers fifty-two years ago in New Jersey, and Chamblee students have continued on this tradition with our own Ultimate Frisbee Club. Not many popular sports have been created so recently, much less by high schoolers.
Out of all of the sports Chamblee has, our Ultimate Frisbee Club may be one of the least talked about. Differing from other sports at our school, the Ultimate Frisbee Club is not officially school-sponsored and is a student-led team. Right now, the Ultimate Frisbee Club is joining together with other nearby schools to create a joint team as part of the Atlanta Flying Disc Club. 
If you don't know exactly what Ultimate Frisbee is, senior Brendan Bassett provides a succinct explanation of how the game works. It is a non-contact sport played between two teams.
"Ultimate Frisbee is a sport in which you're trying to get a Frisbee disc into an endzone. It's like a mix between soccer and football. You can throw the Frisbee to a player, but once you have the Frisbee, you can't move, said Bassett. "You have to pivot and try to get around the defender to throw it to the next player, so you basically just throw it player to player down the field until you're in the endzone and that's how you score points."
Led by senior and long-time Ultimate Frisbee player Connor Mark and sponsored by Chamblee Coach Uzoh, our school's Ultimate Frisbee Club consists of around sixteen students. Practicing on Monday and Wednesday afternoons, along with weekend practices with other schools, the team is currently preparing for a series of tournaments beginning in March.
At weekday practices, the team will normally do a combination of warmups, drills, and scrimmages.
"Usually we start the first ten to fifteen minutes with stretches and warmups, then we do one or two drills. And in the second half we go straight into a scrimmage," said Ultimate Frisbee team captain Connor Mark. "That really helps all the players just learn the game"
The majority of students on the team are new to Ultimate Frisbee, but others have been playing for years. Each of these players have their own reasons for joining or being inspired to join. Freshman Toby Russell joined because it was less intensive than other sports and he found it fun.
"I joined because it wasn't a super-intensive sport and it's actually really, really fun. And I enjoy it a lot," said Russell. "It's a great sport to do if you don't want to be committed to soccer, or any really big sports. And so if you want to just do a low key sport and have a lot of fun, Ultimate Frisbee is it."
Senior Brendan Bassett joined because he had been Ultimate Frisbee for a while, and this year now had the time to join our school's team.
"I've been throwing Frisbees for a while, ever since I've lived in Atlanta. For like ten years I've thrown Frisbees. When I was in Boy Scouts, we would always play Ultimate Frisbee and fun team building activities," said Bassett. "It's always been a thing I do, so when I had the opportunity to join the school team, I took it."
Sophomore Duncan Todd had enjoyed playing Ultimate Frisbee in middle school informally, so he decided to join the team when he got to high school.
"In eighth grade, I played just pickup, informal [Ultimate Frisbee] a lot, and it was really fun.
I enjoyed it, then when I heard there was a club I said 'I want to join that. I want to do that.'" said Todd.
This school year is Connor Mark's first time serving as captain of the Ultimate Frisbee team, which is a new experience for him.
"This year, being captain of the Ultimate Frisbee team is representing our school. Since we are a fairly new program, we are combining teams with Dunwoody, Riverwood, and North Springs. so being captain ensures showing up to the combined practice and showing leadership in that aspect." said Mark. "As well as during the weekly practices, leading and managing all of the players."
Connor Mark has been playing Ultimate Frisbee since eighth grade and is working on growing and training the team this year.
"I actually started in eighth grade, when the Frisbee team was stronger. I started in eighth grade, every day after middle school I came and practiced. But as time progressed, we didn't recruit as much as we should have and we pretty much had to restart the program last year and that's when we started playing joint teams," said Mark.
Not being school-sponsored has led Ultimate Frisbee to being a club sport.
"So, technically it's a club, it's not school-sponsored, we practice off of school property, but we do compete with other school's club-teams. So, in the sense that we compete with other schools, it's a team, but it's really not school-affiliated," said Bassett.
This, along with the fact that other sports teams are using the practice fields, forces the Ultimate Frisbee Club to practice off of school property at the Huntley Hills Elementary School field.
The sport is also self-referred and non-contact, leading members of the Ultimate Frisbee team to appreciate the game's good sportsmanship and friendliness.
"Everyone is really nice, everyone is supportive. If an opposite team throws a nice pass or scores a nice goal, then you congratulate them. No one's bitter, no one's a sore loser, there's a very good spirit of the game," said Bassett.
About the Writer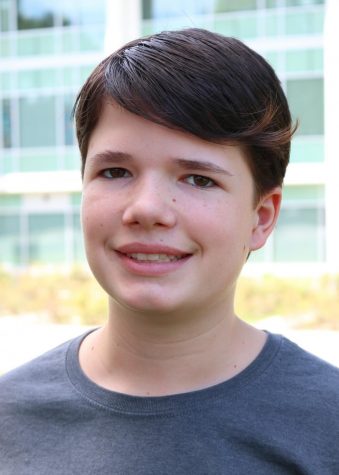 Keegan Brooks, Staff Writer
Keegan Brooks is a junior and staff writer for the Blue & Gold. In his free time, you can find him reading, attending debate tournaments, surfing the Internet, or learning about numismatics. In five years, he hopes to be exploring entrepreneurial pursuits and hopefully finish the shows that he started watching, but never finished. This is his second year on the staff.