The Quarantine Diaries: Binging with the Blue & Gold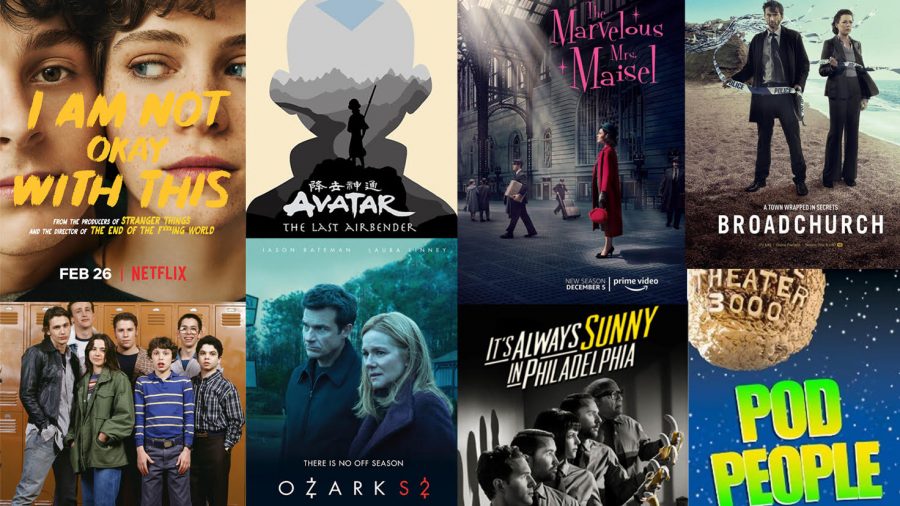 The Blue & Gold Staff
March 20, 2020
In a time of uncertainty, hand-washing, and the seemingly everlasting cycle of online assignments, sometimes the best thing to do is take some time for yourself and indulge in something many of Chamblee's students have come to know very well: binge-watching. The Blue & Gold staff has taken this opportunity as we work from home to curate a list of binge-worthy shows with whatever you may be looking for to pass the time during your quarantine session, including hilarious comedies, exciting dramas (even of the K-Drama variety), and nostalgic, feel-good series. Hold on to what normalcy you can with this list and enjoy the comforting sitting back and watching an entire series in one sitting.
"Freaks and Geeks"
Found on: Amazon Prime (but you could probably borrow it from other websites *hint hint*)
Freaks and Geeks is one of my all-time favorite shows ranking alongside some major classics. My dad actually introduced me to the show during my freshman year of high school. This alone is kind of funny because if you've ever watched Freaks and Geeks you'd know that it doesn't really have father-daughter vibes. There's only one season (perfect for binge-watching) so we flew through it really fast and I've probably watched it at least four times since. Freaks and Geeks is one of those shows that is just a little bit too relatable. The characters are extremely real, making it impossible not to root for their triumphs and cringe at their pitfalls. The best thing about Freaks and Geeks is that it is inexplicably comforting. Maybe it's because I watched it when I was 15 and I needed to see someone as awkward and confused as me on TV but regardless of that, these are confusing and overwhelming times, kind of like adolescence, and are similarly unavoidable. If you want to watch a show that's genuine and funny, this is the one for you. And if you're still not convinced to give it a try, I'd like to mention that one of the characters is played by a 20-year-old James Franco.
Stella Garrett, editor
"Ozark"
Found on: Netflix
To preface this, I'd like to say that I get it: this isn't the time for dull color tones and bleak stories. I know that what a lot of us want right now are colorful, upbeat shows about characters doing the right thing, winning the game, getting the guy/girl. Woohoo. But just hear me out, because while Ozark certainly does contain a lot of monochrome cinematography (seriously, everything feels like it's tinted gray or blue) and more than its fair share of disaster, it's so much more than that.
It starts off mildly. Marty Byrde (Jason Bateman) is a financial advisor with a pretty normal life: he lives with Wendy, his normal wife (Laura Linney), and their two normal kids in a normal house in a normal suburb of Chicago. In other words, it's boring. That is, until his biggest client, the nefarious Navarro Cartel, discovers that his partner was skimming millions from their account. Now, I don't know about you, but I wouldn't say it's a very wise decision to cross an international drug cartel. Needless to say, something like that would turn your life completely upside down, that is, if it doesn't end it. So here we have Marty, a timid, unassuming guy, and his aggressively average family thrust into the headlights of the cartel. You really have to feel for him, I mean, what do you do in that situation? He didn't know what his partner was doing, does he – along with the rest of his family – deserve a bullet in the head?
So Marty does what he can: he buys them time. He spits out a lie about a hidden opportunity in the Ozarks of Missouri, calls it a goldmine for money laundering, and the cartel laps it up. They give him a chance – one chance – to repay what his partner took. But if he can't, well, tough luck. His family's lives hang in the balance.
It's offseason in the Lake of the Ozarks. Things are deceptively quiet. Starting now, you don't come up for air. Ever. The aggressively normal family turns into animals, each becoming cunning and instinctive in the ways you least expect. White bread suburbia is long gone, but the Byrdes are built differently. They're built to adapt, to survive every challenge that the cartel, local criminals, and law enforcement throw their way. Ozark is captivating from start to finish. You'll find yourself sitting upright and tapping your feet as Bateman and Linney escape each trial and tribulation by nothing but the skin of their teeth. Both deliver spectacular performances, their characters' anxiety and fear emanating from the screen in every scene, masterfully portraying Marty and Wendy's balancing act of almost breaking down, almost giving in.
But it's not all doom and gloom, and Ozark isn't just a show about a family getting punched in the gut over and over again. It's a show about our greatest strength and the most powerful part of the human spirit: our ability to persevere. So right now, when everything seems like it's getting progressively worse, I don't know of a better message to send. Sure, it's bleak and gloomy, the family is always just a hair's breadth away from death, and they don't always(or ever) act very ethically, but in its own strange way, Ozark is about hope.
James Hardy, staff writer
"It's Always Sunny in Philadelphia"
Found on: Hulu
Always Sunny has been running for 15 years as the perfect "anti-sitcom". It takes the idea of a classic sitcom, a situational comedy where every character changes and learns from their mistakes, and turns it on its head. Every character is a complete piece of garbage, and it's great. The plot of the show is pretty simple. A group of five awful people (one of whom is THE Danny Devito) own an Irish pub together and are put into situations that most sitcoms get put into, but go about the situation in the worst way possible. For example, in an early episode, someone tries to buy their bar so they can knock it down and build a different building on top of it. In a normal sitcom, the characters would probably try a wacky fundraising thing, right? In Always Sunny, three of the bar owners try to become Jihadists and send a video threatening the person trying to buy the bar. At the same time, the other two characters are trying to steal and kill the same person's dog. This episode is a great example of the shenanigans the gang does, and it's not even in the top half of the crazy stuff that they end up doing throughout the show.
Always Sunny is a great show that portrays a satirical view of reality, and with the amount of episodes across 14 seasons, it's impossible to get bored of it. Most episodes either have a fun gimmick that they make fun of, or they just rip into a current political topic. While it isn't a feel-good show, it's definitely a hilarious must-watch.
Shay Martin, staff writer
"Avatar: The Last Airbender"
Found on: Legally, you'll have to buy it. It used to be on Amazon Prime, but it has since disappeared. If you can't buy it, hit me up.
I'll be honest: growing up without a TV has definitely shaped my current show-viewing habits. Historically, I haven't been a big binge-watcher, but during the transition from middle to high school, Avatar: The Last Airbender (the animated series, NOT the movie) definitely proved me otherwise. In fact, it is one of the two shows I have ever properly binged–the other one being nine seasons of British sitcom (and soap opera?) Doc Martin, which you'll never, EVER find me writing about.
Needless to say, going into high school made for a pretty rough time in my life, and in a time where I was desperately seeking any semblance of escapism, A:TLA was there for me. It is such a genuine and heart-warming show that I'm sure it'll help anyone grappling with the quarantine blues. And better yet, with only three seasons, it is completely binge-able in the several weeks that this quarantine will (hopefully) last. 
The premise is this: in the fantasy world of A:TLA, there are four nations, named after the four elements: water, earth, fire and air. Some humans also have the ability to manipulate, or "bend" these elements to their will, and an Avatar, reincarnated throughout history, has the ability to bend all four elements: in A:TLA, our Avatar is Aang, a 12-year-old reluctant hero who has woken up from a hundred-year sleep to discover that all his fellow Air Nomads have been killed in a genocide attack by the ruler of the Fire Nation, who has launched a world war in attempt to expand his dictatorial rule. I'm sure you've heard of the classic line, "Everything changed when the Fire Nation attacked." That's where this is from. 
Sounds like a pretty bleak premise for an animated series, right? But that's exactly what makes this show so great. A:TLA, while being a childhood staple, is probably most well-known for dealing with some relatively dark topics, making it a show that can certainly be enjoyed by young audiences–but is, in my opinion, best understood by older ones. While it does focus on friendship, the found family trope and being true to yourself–all that fluff–topics like imperialism, the horrors of war, gender and ableist discrimination, systemic marginalization and childhood trauma are also addressed, perfectly juxtaposed with the show's overall lightheartedness. 
Still, what really shines about A:TLA is its lack of hackneyed, cliched character tropes. I really can't name one static character (except maybe the cabbage man, a running gag who makes his way into almost every climactic scene). 
When the show introduces its season one "villain," the bratty, Draco Malfoy-esque Prince Zuko of the Fire Nation, it's almost impossible to imagine that he goes through an insane redemption arc. But with the help of his uncle, Iroh (arguably the best character in television history), he does just that–transforming him into one of the most sympathetic characters of the show. Even protagonists like waterbender Katara have their morally ambiguous, revenge-crazed moments. A:TLA's authenticity, time and time again, lies in that it proves that people aren't just one thing. 
I could go on and on about how this show has improved my life, but it really all boils down to this: A:TLA is an incredibly uplifting show about overcoming adversity in pursuit of peace. It's a show so perfect (100% Rotten Tomatoes rating, baby!) that I'm not even sure if we deserve it. But in a time like this, where there is more than enough adversity to face, its impact is instrumental–and much needed.
Iris Tsouris, editor
"I Am Not Okay With This"
Found on: Netflix
It's no question for many of my friends and those who know me: I am still obsessed with Stephen King's IT and am still (very) obsessed with the two movies most recently released in its honor. As seen in our last crowdsourced recommendation article, (see here for a list of spooky Halloween recs) the movie meant so much to me as a teenager facing the fears of growing up in a sometimes horrific world and learning to embrace in some cases how fun horror can be. Since then I've exposed myself to a variety of thrillers and horror movies, falling in love with the characters and getting oddly excited over what makes humans — and creatures — do what they do.
Because of my love of the IT series, it was no question that as soon as I saw Sophia Lillis and Wyatt Oleff — who played Beverly Marsh and Stanley Uris in the franchise — would be starring together in a new Netflix special, I had to watch it. 
Based on a graphic novel written by Charles Forsman — the same author behind the Netflix hit The End of the F****** World — I Am Not Okay With This focuses on the life of Sydney Novak (Lillis) as she navigates her identity and existence after her father's suicide and discovering her telekinetic powers. The show starts in a Carrie-esque fashion, with Sydney walking down the street in a homecoming dress, drenched in blood as sirens echo in the background. This eerie and foreboding start to the show foreshadows its ending and sticks with you as it progresses with awkward moments, high school parties, and the familiar struggles of discovering yourself and understanding the world you live in.
The first season is a perfect and healthy binging length, seven twenty-minute episodes all released in late February. For me, the show was like a Young Adult novel: short and sweet, but still very emotionally moving as it deals with deep topics such as suicide and sexuality. And some of the most important aspects of the show for me personally were supported by this approach. One of the biggest things this show did for me was portray an LGBT+ main character in a way that made her seem just as she is: a normal girl whose life is not defined by her sexuality but is still a part of her worth recognizing. The show doesn't make it a humongous plot point but rather shows her for all the other things she also is: a supportive older sister, a caring friend, a struggling daughter, and even a telekinetic teenager. This show is so real compared to the depiction of high school seen in High School Musical or Riverdale, and its authenticity is sobering in a time of uncertainty and fear like we are now. It really shows how worth understanding the sometimes overlooked teenage mind can be. And the final episode is pretty killer.
Ava Lewis, editor-in-chief
"The Marvelous Ms. Maisel"
Found on: Amazon Prime
When it comes to TV, I tend to go for darker, more dramatic shows, but in times like these, I think most people are looking for a good laugh. The only problem there is that I'm notoriously picky when it comes to comedy shows. Time and time again I've been told that if I suffer through the first two seasons of a comedy, the rest are fantastic, but if I'm not blown away by the first episode, I normally stop watching (see: The Office, Schitt's Creek, The Good Place). So if you're like me and you're tired of suffering through hours of mediocre jokes to get to some supposed holy grail, then I've got a show that proves its comedy prowess in the first ten minutes: The Marvelous Mrs. Maisel. 
The show centers on Midge Maisel (Rachel Brosnahan), a wealthy Jewish housewife in 1950's New York City who abandons home life for a career as a stand-up comic. Brosnahan is the real star of the show; whether she's delivering lines on stage or simply interacting with her friends and family, her sharp wit keeps you entertained for an entire hour-long episode. But Maisel doesn't just serve you substance with no style to back it up. The cinematography and production design sweep you away to a colorful, bright world of old-time Manhattan, and I have to say it is probably one of the most elaborately atmospheric shows I've ever watched. Every scene is set on a picture-perfect backdrop that makes me feel nostalgic for a time that took place over 40 years before I was even born. I can't even imagine the budget for this show because if you analyze every costume, song, camera angle, and prop, they're all executed marvelously. So even for my fellow comedy cynics out there, I promise that Ms. Maisel will leave you laughing at every quip and astounded by every shot. You don't even have to sit through a lackluster pilot season: just click play on Episode 1.
Foster Cowan, editor
"Itaewon Class"
Found on: Netflix
If you're willing to overcome the one-inch tall barrier of subtitles, Itaewon Class is the show for you. After I watched Bong Joon-ho's fantastic Oscar-winning film Parasite, I found myself watching all of his other movies, as well as a few other fantastic Korean movies (Oldboy, Train to Busan). So, while I was scrolling through my Netflix home page, looking at the shows the algorithm recommended for me, Itaewon Class caught my eye, despite being in a language I can't speak a word of.
Now, I'll be entirely honest – the first episode and a half didn't blow me away, and Korean drama episodes are long – each episode of the show clocks in at just over an hour. But I'm glad I stuck through the exposition, because the show very quickly proved itself, with all of the buildup culminating in a really compelling premise for a show that was just begging me to continue watching. So, I did. I'm only about a third of the way through the show right now, but I already know I'll love all of it.
The show, based on a webtoon of the same name, is about the life of Park Sae-royi (Park Seo-joon). The story begins in his high school years. He aspires to become a police officer, and he passes the entrance exam with flying colors. All he has to do is finish high school and get his degree. Park Sae-royi's father works for Jangga Group, a massive restaurant and food company. So, of course, conflict arises when Park Sae-royi meets his new classmate, Jang Geun-won (Ahn Bo-hyun), the heir of Jangga Group, and the class bully. Park Sae-royi's strong sense of right and wrong urges him to stand up for the victim of Geunwon's rage by intervening and punching Geun-won in the face. Unfortunately, this results in his expulsion, as the administration doesn't want to get on the wrong side of Jangga Co.
Eventually, Sae-royi and his father begin plans to make a pub of their own. But these plans are foiled when Sae-royi's father is killed in a tragic accident. Eventually, Sae-royi is convicted of a crime and sent to jail. As an ex-con, this disqualifies him from ever being a police officer. So, once he gets out, he turns to his next best option – continuing his father's dream of starting his own pub.
Saeroyi has no clue what he's doing, and everything goes wrong at the start – but his friends and his conviction pull him through the issues that come at him. While watching Itaewon Class, I always find myself rooting for Saeroyi, hoping that he can overcome whatever obstacle faces him and his pub. While it certainly has its fair share of tropes and corny moments, the show is just a nice story about dreams, goals, and aspirations, which is a nice break from the doom and gloom of the news headlines right now. I think Itaewon Class and its cast of lovable characters are just what I needed. Characters like Jo Yi-seo (Kim Da-mi) and Oh Soo-ah (Kwon Nara) are really compelling. Additionally, the show includes a transgender character and a black Guinean-Korean, both of whom are given very compelling characters and storylines, rather than being included simply as token characters (usually Korean dramas don't even include them at all)! But it isn't just the story and characters – the show is shot beautifully, the color grading is great, and I really love the original soundtrack. The theme song is super catchy, and the soundtrack also includes songs by some pretty prominent K-Pop singers, including BTS member V, The Rose member Woosung, and solo artist Crush. And also Ben Folds, for some reason.
I certainly recommend Itaewon Class to anyone who is willing to overcome the barrier of subtitles. The release schedule was originally 2 episodes a week, basically preventing binge-watching by not providing the viewer with everything at once. But there's good news – as of March 21st, all 16 episodes of Itaewon Class are available to watch on Netflix, right now! There's no reason to hesitate, binge away!
Carson Ankeny, staff writer
"Starkid Musicals"
Found on: YouTube
This is not technically a tv show, but it is a series of musicals that were filmed and uploaded onto Youtube for free by the producers. Starkid has been going strong for more than ten years and has made a name for themselves through their excellent parodies, as well as some original features. There are currently twelve full-length musicals on youtube, featuring everything from Batman to Harry Potter. With a few exceptions, they can be watched in any order. 
If you are a Harry Potter fan, I would recommend starting with A Very Potter Musical. It's the first musical made, so the film and audio quality is a little poor, but the jokes and songs more than make up for it. The musical is a parody mashup of all seven books of the series and features everything from a hidden swimming pool to a tap-dancing Voldemort. This is the first in a trilogy and the next two are pretty good too, though the final entry was slightly rushed due to a lack of rehearsal time. The other must-see parody musical is an Aladdin parody called Twisted. This tells the familiar story through the point of view of Jafar. 
If you prefer something more original, try The Guy Who Didn't Like Musicals. This is one of the most recent productions and the start of a currently ongoing trilogy that focuses on horror themes. It is slightly darker than the earlier stuff, but still has plenty of humor and lighthearted moments. It is also one of the view musicals that embraces the oddness of people randomly bursting into song.
Whichever musical you start with, binge-watching Starkid is an excellent way to pass the time. If you really get into them, their youtube channel also features a variety of Behind the Scenes clips and archived live streams. Also be sure to check out Tin Can Bros, another theatre group that also puts free musicals up on Youtube and features many of the same members.
Vivien Orellana, staff writer
"SKAM"
Found on: Email [email protected] for the link. (You can also check out Dailymotion or Youtube)
Are you missing out on valuable high school experience due to COVID-19? Do you wish to live this high school experience vicariously through a group of Norwegian teenagers? Look no further! SKAM is a four-season, mini-episode drama about a group of Oslo highschoolers. Each season centers around a different character and their day-to-day life. 
Ava and I fell in love with this show freshman year because of how accurately it represents 21st-century teenager vibes. You can tell that the writers are young, unlike most teen sitcoms/series writers that are 40 years old and probably have never interacted with a high school student. I mean, have you SEEN Tall Girl? 
SKAM episodes are only twenty minutes each, which makes it easy to binge. You can also watch the seasons out of order because each season brings new issues and love interests. So, whether you start from the perspective of Sana, Eva, Isaak, or Noora, you'll be entertained. 
If I haven't convinced you yet, just think about the last time you walked through an IKEA. The blue and yellow color scheme, modern, tasteful furniture, the smell of Swedish meatballs wafting through the air… Every time I watch SKAM, I am reminded of IKEA. There's something about the Scandinavian aesthetic that really strikes a chord.
Ashley Veazey, photo editor
"Broadchurch"
Found on: Netflix
If you're looking for an upbeat, lighthearted show, then keep on scrolling. But if you (like me) enjoy crime shows, British accents, and beautiful scenery, then Broadchurch might just be the show for you.
I found this show with my dad the other month, and I was skeptical. Most of the shows that he says we should try watching, I don't find too appealing (a very hearty no thank you to Ken Burns: Civil War), but I was pleasantly surprised that we both could agree on this show.
From the very first episode, this show captures your intrigue and certainly keeps you guessing and on your toes. This show takes place in the small, idyllic English beach town (literally not even there's like 30 people) of Broadchurch, where crime is virtually non-existent. That is, of course, until 11-year-old Danny Latimer is found dead on the beach and the race is on to catch the killer. 
The detective in charge of the case, DI Alec Hardy (played by an actor who was apparently one of the doctors in Doctor Who), has just recently begun working in Broadchurch and is paired up with DS Ellie Miller (who wanted the job that was given to Hardy). And boy let me tell you the dialogue between the two of them is so funny. Miller is a sweet mother of a boy Danny's age and a baby (my guess is little Fred was an accident), while Hardy is a constantly grumpy and has absolutely no social skills, making for interactions with him to be very awkward.
As the investigation begins, no one's secrets are safe, as they try to figure out what is and isn't connected to the case. Lives are torn apart and wild accusations are made, but which one of the townspeople is truly the killer, and which ones have just done some bad stuff? You'll have to watch to find that out.
Overall this show is a 10/10 and exactly the kind of show to binge. In fact, I watched all 24, hour-long episodes in like less than two weeks, and that's when we had school!
Sophie Maxwell, staff writer
"You"
Found on: Netflix
Note: The following review is about the first season only
You is a great show to binge if you're into engaging, suspenseful shows with a side of satire. It's a psychological thriller that can be intense at times but also charming and humorous when it isn't completely creepy or eerie. It follows a bookstore manager named Joe Goldberg who falls in love at first sight with a customer named Guinivere Beck (Beck for short). It sounds like a cheesy Netflix romance drama at first until Joe's comments about Beck become slightly off-putting and he goes from stalking her social media to finding her address online and stalking her outside of her apartment window.
You see, Joe isn't your typical love-struck main character. The main premise of the show is that he follows Beck around without her knowing and manipulating things in her personal life to work in his favor so that he can get with her, and he doesn't stop there. He goes to the psychopathic extremes to get what he wants (no spoilers!) and the show is told from his perspective so you get to understand his mindset and thought process while he's doing all these things. While the whole idea of the show is that Joe is trying to get Beck to fall in love with him, the show mostly centers on how he achieves his goal and less on the actual goal itself.
The show does handle adult themes and can get pretty intense and violent at times, but it does a good job of balancing the unsettling aspects with humor and a little bit of actual romance (even if it is completely manufactured by Joe and his tactics). Joe is surprisingly a pretty funny and self-aware narrator and there are moments when you might even find yourself sympathizing or even rooting for him.
The show does a good job of keeping you invested in the characters, even the more minor ones. There are a couple of side-plots within the show, the most prominent being with Joe's troubled child-neighbor, Paco, who has an abusive stepfather. The "Paco" side-plot, in particular, exposes a more caring, human side of Joe that you don't see when he's being a complete psychopath.
The show currently comprises of two seasons with ten episodes 40 to 50 minutes in length each, which makes it perfect for binging. When watching season one, I found myself unable to put my phone down because of how addictive the show was and how each episode left off on a cliff-hanger. I'm personally not usually into shows like You so I was skeptical when I first watched it, but I was thoroughly impressed and would definitely recommend everyone to give it a try even if it doesn't seem like it's up your alley.
Henry Diep, staff writer
"Blown Away"
Found on: Netflix
To be honest, I'm not much of a Netflix person. I've honestly only watched one show this entire year and this is it (you can find me procrastinating on YouTube instead), but the one show I did watch was pretty good, so I'll go ahead and recommend it here. Blown Away is a glassblowing competition show between ten of the best glassblowers in the country. It's an art form I knew absolutely nothing about, and it's pretty fascinating to see how the artists put together pieces using equipment I've never heard of and make artwork that is so fragile—yet so dynamic. 
It's honestly such a wholesome show because the characters are so diverse and intriguing. You'll meet Janusz, who goes out of his way to make artwork themed for his 6-year old daughter, and Edgar, who's only 22 but has a ton of confidence to go with it. There's also a lot of dialogue about inclusivity for women in the industry, and the women on the show are some of the most dynamic personalities, such as Momo, who draws on her Japanese childhood influences, and Deborah, who basically owns the entire hot shop. 
You don't watch this show to follow a compelling storyline or to unearth a crime; it's just a reality-style competition show that knocks out one contestant per round. But it seemed to me that there was a lot more to it than that, as I enjoyed getting to know the contestant's personalities and becoming culturally literate in a specific niche so many of us know nothing about. I came to appreciate how risky the art form is and how incredible the final creations were, and it was so engaging to watch the artists find their styles, all while working with a medium that can (and will!) break any second. Seeing the final results—from risky, balancing sculptures to chalices packed with a political statement—was so awe-inspiring and expanded my understanding of what artists can be.
Overall, the best part of this show for me was that there were no gimmicks. You came here to watch some contestants make art, and that's what you're going to do. There's no crazy editing and split screens and overly dramatic music, so it truly feels like you're present with them, and it makes the show feel wholesome and real. So if you want to watch something light, fun and eye-opening, try Blown Away this stay-at-home-season.
Catherine Cossaboom, staff writer
"Star Trek: The Next Generation"
Found on: Netflix, Hulu, Amazon Prime
With seven seasons and a total of 178 episodes, Star Trek: The Next Generation is the perfect show to binge during the apocalypse. Set in the 24th century, the show follows the adventures of the USS Enterprise crew exploring the galaxy as part of Starfleet and the United Federation of Planets. A wonderful blend of sci-fi exploration and action, along with moral and political dilemmas, the show is one of my favorite series. For those wondering how this series connects chronologically with other Star Trek series or films, the truth is that I have no idea – this is the only Star Trek television series I have watched. 
In terms of the characters on the show, the Enterprise is led by Captain Jean-Luc (played by Patrick Stewart) with other main characters including William Riker, Data, Worf, Geordi La Forge, Deanna Troi, and Dr. Beverly Crusher. Throughout the show, the crew of the Enterprise not only explores galaxies and space systems at warp speed, but also serves as the flagship of Starfleet. They interact with alien species, help prevent conflicts, go on rescue missions, and do scientific research. Along the way, they always try to follow the Prime Directive, which is the "guiding principle of Starfleet, prohibiting its members from interfering with the internal and natural development of alien civilizations." The Klingons, Romulans, Ferengi, Cardassians, and Borg are all alien species you will quickly become accustomed thit if you start the series.
One of the things that I like about the series is that each episode has a moral dilemma or social component to it. Some shows are essentially just action and fighting, but Star Trek: TNG has interesting philosophical arguments and dilemmas about whether or not to get involved with an alien species or the potential ramifications of each decision. 
In terms of time requirements, the 178 episodes last more than one hundred hours, so it is a series that will last you quite a while under quarantine. If you are looking for recommendations of specific episodes, there are too many for me to pick specific ones, but you should check out WIRED's binge-watching guide at https://www.wired.com/2015/02/binge-guide-star-trek-tng/.
Overall, I love the show for each episode having a wonderful plot, and the perfect combination of action, adventure, science, and morality.
Keegan Brooks, staff writer
"The End of the F****** World"
Found on: Netflix, Amazon Prime
With all the panic in the news recently, settle in and remind yourself that at least you didn't commit a series of crimes with your girlfriend after convincing yourself that you're a sociopath. That might be, well, the end of the world. 
The show, based on a comic series of the same name, is available on Netflix and Amazon Prime. As of the time of publication, there hasn't been any news of a third season, meaning you can get through the entire series relatively quickly. 
When I first watched this show, I binged it over two days and waited over a year for the second season. The first season is very fast-paced and there aren't that many episodes, so waiting this long seemed nearly impossible. But the original writing, quirky aesthetic, and complicated characters reeled me right back in as soon as the second season premiered. 
Teenagers entangled in crime, romance, and the throes of young adulthood may seem tired, especially considering the tropes exhausted by Netflix's original content. But this show is a genuinely enjoyable, off-beat adventure into two characters' complicated relationship with each other and the people around them. 
For those who've never heard of this series, TEOTFW follows two British high-schoolers on a particularly high-stakes road trip, with one looking to find her estranged father and the other hoping to (finally) commit murder. Based on a comic, this blend of dark comedy and drama is an artistic look at characters seemingly destined for misery. Without spoiling anything, though, this title is definitely worth the watch, and after two seasons, you may question the truth of its title.
Lucy Roberts, staff writer
"Parks and Recreation"
I know that Parks and Recreation is a common, well known show, but it is one of my favorite shows of all time Set up as a mockumentary – think The Office and Modern Family, Parks and Rec follows the lives of some (mostly) passionate government workers in the fictional city of Pawnee, Indiana as they experience the frustrations of good ole American bureaucracy. Filled with lovable main characters that genuinely strive for the betterment of the people in their own town (especially Amy Poehler's Leslie Knope), Parks and Rec can provide a brief respite from the negativity and death circulating around the world today, especially during the Covid-19 pandemic. 
That said, I will admit that it is not a perfect show; most people agree that the first season is certainly less than amazing. But, if you stick with it, I am certain you will fall in love with each of the wonderful characters in the show, and maybe even see yourself in a couple of them, whether it is the stoic, staunch libretarian Ron, goofy Andy, or seemingly apathetic, (mostly) people-hating April. Not to mention, with seven seasons this comedy will certainly provide lots of laughs and entertainment for at least a large portion of social distancing. 
So, if you haven't watched Parks and Rec before, I urge you to try it out this pseudo-break. I can mostly promise that it will provide some much needed laughs and distractions. And even if you've seen it once, watch it again. I'll admit that I have rewatched it many many times and each time I do, I fall in love with these characters and storylines more and more. 
Oliver Hurst, staff writer
"Gilmore Girls"
Found on: Netflix
Although it came out almost two decades ago, Gilmore Girls is one of the most relatable tv shows I've watched in a long time. I can't help but fume at Emily Gilmore for her rude comments and incompetence at times or laugh at Lorelai Gilmore's inappropriate jokes at the dinner table. However, my favorite character of the show is definitely one of the main protagonists: Ivy-League bound, goody-two-shoes Rory Gilmore. She's literally who I want to be in life, as she navigates her way through a preppy private school all the way to an elite Ivy League school while going through normal teenage complications and being raised by her single mother. Her intelligence and determination motivate me to want to do things in life, and not just sit around and watch Gilmore Girls. All of the characters have their own fascinating personalities and backstories that make you want to watch more. Luckily, there are seven seasons and lots of drama, while also being available on a Netflix screen in the comfort of your own home.
Ashika Srivastava, soon-to-be staff writer
"Mystery Science Theater 3000"
Found on: Amazon, Netflix, Shout Factory, probably youtube.com, videotapes in the basement
While I could certainly write copiously about the benefits of watching recent HBO series Watchmen and The Outsider (and, honestly Chernobyl), I will not now. If this "thing" goes long, then I suspect I will. But for now, we need a good laugh.
Mystery Science Theater 3000 has provided me with more laughs and inside jokes and references than any other show in my long life. That is saying something considering I've seen every Monty Python, Carol Burnett Show and SCTV episode. It's premise is dumb: an evil scientist and his henchman blast a normal guy into space in order to experiment on him by sending him cheesy movies to watch. However, the normal guy can't control when the movies begin or end because he used parts from the spaceship to build robot buddies who low-key torment him (and also somehow have consumed massive amounts of popular culture from earth). Its low budget sets, cheap effects and seemingly one-take shots during filming mirror the B-movies the guy and his robots are forced to watch. It is like watching a bad movie with three clever friends and then getting skits before or after each commercial break.
With me so far? Look, I get it: life is too short to watch bad movies, Mr. Avett. There are so many good movies I haven't seen yet! I agree in part, but will also argue that a MST3K episode featuring Manos, the Hands of Fate is just as culturally relevant as, say, Aguirre, the Wrath of God (or even Star Trek II: The Wrath of Khan). Watch them and then tell me you don't agree. I double dog dare you.
Fans of MST3K understand that there are now three versions of the show. The original seasons which feature its creator Joel as the normal guy. Then several seasons when Mike replaced Joel, and now the newer version which Netflix has revived. I have not seen the new Netflix incarnation, so I can't comment on it. But here are my recommended episodes from the earlier versions in no particular order. Some are available on either Netflix or Amazon Prime. Others require… some digging.
The Day the Earth Froze
This nonsense from Norway or Sweden (or Finland) deals with a witch who freezes everything and will only unfreeze everything if this guy makes her a machine capable of making anything (probably only to be used to make gold, so it's a profit deal). The saturation of the colors alone make this movie feel like a fever dream. Add poor dubbing or poorer dialogue, and we've got a movie ripe for riffing. The MST3K crew do their best to do their worst. Classic musical numbers, too! Not for fans of Frozen.
Pod People
One of my all-timers, this seems to be a Czecholslavakian rip off of ET the Extra Terrestrial, only the filmmakers added a music studio, an RV, a hard drinking uncle, and murderous intent. The protagonist is a boy possibly creepier than the alien itself. The alien looks like Snuffleupagus and an Ewok connected and can make toys float. There's an amazingly terrible "pop" song being recorded that leads to Joel and the bots satirizing it, which might be one of my favorite things of all time. Hilariously bad. Not for fans of Mac & Me 'cause this is worse.
The Blood Waters of Dr. Z
No offense to you, but this movie is so dumb, you and I could write a better one. The "plot" is about a frumpy doctor who has no friends or love interests, so he decides to get even with the world by – you won't see this coming, I bet – turning himself into a human fish monster. He then walks around slowly with a spray bottle to turn other animals into "giants." He does capture a pretty female and attempts to turn her into his bride with predictably disastrous results. Just gross, (literally) plodding, and oddly hypnotic. Not for fans of The Little Mermaid.
Manos, the Hands of Fate
Maybe the lowest budget film the MST3K tackles. Feels very much like an early 1970s student film shot in a few days outside some desert town where an uncle's cabin was available for free as a set. Hard to tell if it's day or night in most shots. Uh, let's see: a family (mom, dad, girl, dog) get lost looking for the "valley lodge." They stumble upon a cabin and its caretaker Torgo, who is looking after the place until "the master" returns. Against all rational thought the family opts to stay the night, Torgo gets creepier, women in white gowns awaken and wrestle, the master and his eyebrows and robe return, and… well, it doesn't matter. The soundtrack is entirely poorly recorded bongos and a loop of four organ notes being played over and over and over and over. Not for fans of proper legs. You'll see why. Best line riffed: "I put a piece of chewed gum on your pillow."
Lots of others to choose from: Catalina Caper, Godzilla vs. the Sea Monster, Wild Rebels, Time of the Apes, Puma Man, The Final Sacrifice. Best of all, the episodes yield fruit the more you watch them. You'll catch comments you didn't hear before, and get references you didn't understand before. I am literally watching some of these episodes for the 12th time (now with my 11-year-old) and picking up on stuff I never knew about before. Thank me later.
Fred Avett, advisor