Passing the Baton: Beloved Orchestra Teacher Retires After 26 Years of Service
This spring, Chamblee bade farewell to one of its most beloved teachers, orchestra director Earl Kuutti, who retired after 26 years at the podium. As he looks back at an illustrious career at CCHS, he feels that, at its core, Chamblee is just the same as it was when he started.
"I feel like it's always had some great teachers and a lot of great kids," said Kuutti. "I will say there were times when things seemed tougher. There has definitely been a little bit of up and down, but I've always felt like Chamblee is giving a really strong education to the kids. There's been some fine teachers [who have left], but I still think we're doing what we've been doing so I'm not like 'Oh the glory days of Chamblee are gone,' or something like that. I mean that it has gotten tougher to do some things, but it's not like I look back, because for me personally, this is the strongest and biggest that the program has ever been."
This isn't just important to him as a teacher. It's significant for his family, as well. His daughter, Lisl, graduated from Chamblee several years ago and is now a professional cellist. He believes that her success in college was heavily affected by her experience at CCHS.
"My daughter Lisl attended Chamblee," said Kuutti. "So that was very special that she could attend the school I was teaching at, but also I think that Chamblee was really good to my daughter. You know, she's a professional artist and professional cellist now, and she was ready for college because of the high intensity of Chamblee, and she was ready artistically because of what we were doing in the school. And it really pushed her. It really pushed her and made her a better person."
Before coming to Chamblee, Kuutti had been teaching in multiple schools at once, moving from elementary school to elementary school throughout the day.
"When I first came to the county, they gave me like four elementary schools and I usually had one period of high school or something," said Kuutti. "I was doing four schools a day. Teaching sixth and seventh graders for a half hour each. That crazy schedule, I mean, nobody does that schedule anymore."
Despite how hectic it all seems in retrospect, he doesn't recall being overwhelmed.
"It must have been work but I don't really remember it as work," said Kuutti. "I mean it was busy and crazy. Now looking back I'm like 'Wow man that's crazy,' but when I was doing it and I just figured that's what you did."
One of those elementary schools was Kittredge Magnet School, still in its infancy, where Kuutti himself created the orchestra program. He saw the way it changed Chamblee firsthand.
"Yeah, I mean, they were about ready to close Chamblee down," said Kuutti. "And Dr. Martha Reichrath basically talked the county into [it], saying, 'Hey you know this could be a great place. You've started magnet programs, It'd be a great place to put the magnet high school.' And I think, you know, it's really helped. At that point, particularly, that really helped keep the building open, more students coming from Kittredge because enrollment was really down, back in that time period in the mid-90s. So as the Kittredge kids came up, that really helped."
One of his favorite aspects of Chamblee seemed to be the community. In his career here, he has seen friends come and go.
"I've always respected and enjoyed the friendship of Mrs. Barnes," said Kuutti. "And I get that some of the long-timers have gone, and not so much retired, but, you know, maybe moved on. I always liked and got along well with Steve Rubino and Herr Neuhaus."
Sometimes, they even came back.
"And then some of the staff next door were students at some point, you know, some of them were even my students," said Kuutti. "[Like] Mr. Ely, and he's a band kid but still I really appreciate him because, you know, I knew him as a band kid, and then he came back to teach here and he's been assisting the band the whole time."
However, they don't have to become a teacher here to contribute. Kuutti believes that one of the strongest aspects of the community is the large group of alumni that give back to the school through the Blue and Gold Foundation.
"Chamblee has quite the teachers and former teachers and former admin, you know, who are supportive, [who] help support the Blue and Gold [Foundation]," said Kuutti. "And with parents and students, you know, there's a lot of support in the community and alumni."
At the end of the day, it all comes down to his closest coworkers. Sharing a building has brought the fine arts staff together. Now, they occasionally share lunches as well.
"I really feel very strongly that the fine arts faculty is just a great group to work with, and some of them have been here for, you know, several years," said Kuutti. "I think it is one of the best groups of supportive faculty, and there have been [others] before, but it's just really easy to work together."
This is particularly important because of the overlap among orchestra and the many other fine arts classes. Many artistically-inclined students are involved in more than one and must balance their schedules accordingly.
"I mean we had large group [LGPE, a judged performance] for me on Monday night," said Kuutti earlier this semester. "We always do a level six full orchestra so I had kids who were, you know, stars on Thursday, Friday, Saturday, [in The Drowsy Chaperone] that were with me on Monday night doing our large group performance at Lakeside. What a week they had, but they were there, you know. And that's part of this community."
That Monday, March 3 performance was a particular point of pride for Kuutti.
"When we had that final performance, my final large group performance elevation on Monday, that was 26 years of superiors," said Kuutti. "We've played level six full orchestra for most of the last 20 years. so for 20 years, we've received superior ratings."
When asked about a particular achievement for the orchestra in the last 26 years, he chose to broaden the scope.
"Now, it's not like I'm saying I had this one great year or something like that," said Kuutti. "Every year, we did that, so everybody who's ever played with me. That really speaks to consistency and, you know, always having enough good kids in the program to pull it off."
Furthermore, this streak of superior ratings was achieved while still challenging the students to play more difficult pieces.
"You know, I've always asked the kids to play up," said Kuutti. "You know, I could easily pick some easier music, but it wouldn't really gain us anything."
For Kuutti, this is one of the greatest parts of teaching orchestra.
"Say I want to do a certain piece, a certain hard piece," said Kuutti. "Like, we did William Tell Overture. I mean, it's a tough piece. And I'm like, 'Okay, let's do this.' And then we do it. We say, 'Okay, let's do what it takes to make this piece happen.' And then we do it. That's rewarding. You don't really know if you can pull it off. But there's a certain point, where I'm like, 'Well we're doing this.' Just the fact that we pull out a masterwork and say we're gonna play it. And we have fun, of course, mixing genres and stuff, but it's fun to challenge them and then see them pull off a strong performance."
However, the difficulty of the music doesn't make performing any less enjoyable.
"Most of the time on stage, I'm, you know, I'm having fun," said Kuutti. "You know, it always gets a little stressful but most of the time, I'm having fun. And again, most times, the kids are too."
Although he initially started teaching to support his career as a professional cellist, it soon began to take precedent over performing.
"As a high schooler then, I decided I wanted to be a musician, so I wanted to be a cellist first," said Kuutti. "But then I realized, 'Well, that's great, but you also need, like, a job.' It kept me doing what I wanted to do: music. Music was first, but it quickly evolved into me teaching and playing more on the side."
Through the years, he has continued to practice and play at various other events.
"I [still] play professionally, freelance cello playing," said Kuutti. "It's really, you know, Christmas pageants, cantatas, maybe a show once in a while. Playing for fun and making some money too. Weddings and stuff like that. But it keeps me playing. And it's fun to play. And to do that with friends and, you know, make a little side money too."
As his teaching career comes to a close, he is looking forward to being able to perform more often, among other things. One particular realization about his career has made the freedom of retirement even more enticing.
"You think about it, and once you're a teacher, you've spent your whole life in a school building," said Kuutti. "Which is great. I mean, it's [been] a great career, but from kindergarten to now, I've been in the school building. So the way I look at it, for 190 days, you know, people are telling me where to go. And now I just don't really have that requirement, so [I'm looking forward to] that relaxation."
It's not all R&R, though. Kuutti also hopes to spend more time outdoors.
"I've roped up and, [with] ice axes and crampons on my boots, I've summited Mount Rainier. I've climbed in Alaska," said Kuutti. "That's the kind of thing I want to try to do a couple more times. A lot of outdoor stuff. I'm a mountain biker. I've done, like, team triathlon stuff, I was pretty good at the trail half marathon. Kind of getting out of shape, but I hope to get back into it."
In our interview, it seemed fairly easy for Kuutti to come up with things that he is looking forward to after teaching. The only question that truly stumped him was: If he was able to, would he change anything about his career?
"That's a tough one," said Kuutti after some thought. "It's been a real good ride."
About the Writer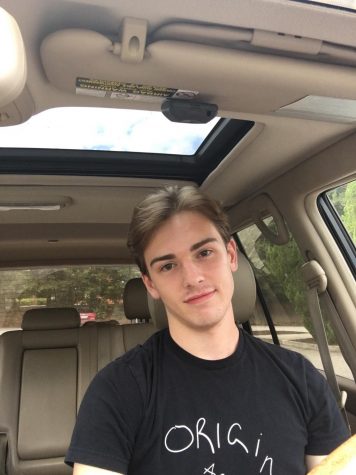 James Hardy, Editor
James Hardy is a senior and editor of the Blue & Gold. In his free time, you can find him memorizing baseball stats, exploring local parks, or driving aimlessly instead of finishing his college applications. In five years, he hopes to have finally read the stack of books sitting on his desk. This is his second year on staff.