Chamblee Says "Hola" to New Spanish Teacher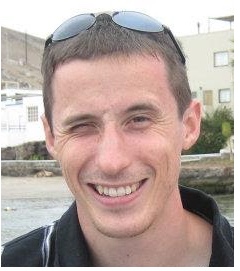 The 2020-2021 school year commences a year of changes for Chamblee: new schedules, a new learning style, and plenty of new teachers.
Amidst the whirlwind of change is Brigham Eubanks, a new addition to the World Languages department at Chamblee and, incidentally, the only male Spanish teacher.
While Eubanks is new to CCHS, the same cannot be said about his experience as a teacher.
"I taught Spanish in middle school for ten and a half years in New Jersey, and that was what I did right out of college," said Eubanks. "I also taught a few college courses as a part time lecturer."
As a middle school teacher from New Jersey, Eubanks must now adapt to the culture and environment of a new school as well as the experience that comes with teaching high schoolers, something that he is finding enjoyable thus far.
"I've enjoyed [teaching high schoolers]," said Eubanks. "I was impressed, in particular, by several individual students that contacted me and let me know that they really had a serious interest in learning a language, and this is obviously going to be something more impactful [to them] than simply a grade, so I appreciate their effort and their serious interest."
Chamblee's plans to begin the school year virtually have also affected Eubanks's transition to a new school. 
"I had about three months' worth of virtual teaching in New Jersey because we go until the end of June there," said Eubanks. "So the whole [virtual learning] thing is not unfamiliar to me, but there's obviously an added level of difficulty or challenge when you're starting out a school year with that, and beyond that, you're starting in a new state and in a new school."
Beyond the technical difficulties of virtual learning, Eubanks must adjust to teaching a language, a subject that requires oral communication, virtually.
"There's a lot of challenges," said Eubanks. "Language classes really need a lot of interaction. I plan to make a lot of use of breakout rooms, and hopefully the students take advantage of that to practice the vocabulary that we're learning."
With the goal of exploring the Spanish language to the best of his ability, Eubanks earned a degree in Interpretation from Rutgers University in New Jersey.
"My degree is actually in Interpretation," said Eubanks. "Interpreting is another field to go into if you learn Spanish, but really just any job you have. Because there are so many Spanish speakers, it's really useful."
The benefits of studying the Spanish language gradually revealed themselves to Eubanks throughout his early life and eventually drew him to teaching the subject.
"Every job that I've had, as an adult, has had something to do with Spanish," said Eubanks. "Even if I was still in school. I would pick up the phone at a legal service place, or I was doing interviews at hospitals just because there were so many Spanish speakers around."
Eubanks hopes to convey these benefits to his students so they too can explore all the opportunities learning the language has to offer.
"When I talk about the usefulness of Spanish with my students, I really mean it," said Eubanks. "Pretty much the main reason I wanted to learn Spanish was just seeing how many Spanish speakers there are. […] So, I really just wanted to pursue it on all different ends."
However, studying and implementing the Spanish language is not limited to just an academic or professional context for Eubanks.
"Even outside of the professional capacity, a lot of the implementation of my Spanish has been in the church context," said Eubanks. "So that's good for people that want to be involved in serving others, whether it's church or other organizations. When there are people that speak Spanish in your community, if you want to be a community servant, then that's a very helpful talent."
Eubanks' interpretation skills have also made their way into some of his hobbies.
"Translating hymns is actually something I get into," said Eubanks. "It's a bit of a niche hobby. [Also] song translation, which is, in my opinion, one of the more complicated translation tasks. It's like a puzzle, and it requires a bit of artistry."
His other hobbies allow him to delve into further passions outside of school.
"At 5:45 this morning, I was in the gym playing basketball with some guys," said Eubanks. "Basketball is not my favorite sport, but I'm into athletic activity so I run a lot and play baseball, so that's a hobby of mine. [Also] spending time with family; I got two little kids."
Overall, Eubanks agrees that the transition has been difficult, but knows that he is not alone in his journey.
"It's been adventurous, but there's been plenty of support," said Eubanks.
About the Writer

Ashika Srivastava, Staff Writer
Ashika is a junior, and this is her first year on the staff. In her spare time, she enjoys reading countless amounts of books, watching Bollywood movies, and participating in too many extracurricular activities. In five years, she hopes to be studying biomedical engineering while also living her dream of being an ice cream taste tester.