A GLeaM of Hope: Chamblee Senior Inspires Girls in Math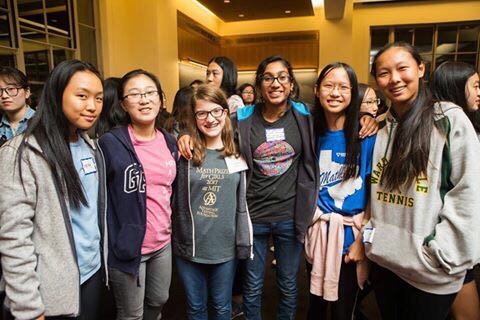 Education. The right to vote. Healthcare. These are just some of the rights women have fought for over the years. Now in the twenty-first century, they face a new challenge: the gender gap for women in STEM (science, technology, engineering, and math) fields.
Not all hope is lost for these women, however, because of students like Chamblee senior Catherine Cossaboom who are working to make a change for women in their communities.
Cossaboom, captain of the Chamblee Math Team and member of the Georgia State Math Team (Georgia ARML), is the founder of GLeaM (Girls Leading through Mathematics), an online community that has a mission to empower and inspire girls in math.
Cossaboom began work on GLeaM near the end of her sophomore year and has since gained 150 members. 
She started the program after coming to terms with the difficulties faced by women and girls in male-dominated STEM fields such as mathematics, through her own experiences.
"When I joined the state math team in eighth grade, I was one of the youngest people on the team. I think there were about three or four girls on a team of 45 people," said Cossaboom. "We became really good friends because […] we sought each other out, but at the same time you often felt like you were kind of diminished."
Cossaboom's teammates were often taken aback by her knowledge of mathematical concepts when considering her age and the fact that she was a girl.
"At one point I had to interject in a bunch of boys that were having a discussion […] and they looked kinda shocked [as to] how this eighth-grade girl would know what's going on," said Cossaboom.
Cossaboom's experiences as a girl in a STEM field became her driving force when creating GLeaM, and she didn't want other girls to encounter the same hardships she had faced when she was younger.
"I felt like a lot of girls don't have the same drive or motivation to do something when there are so many obstacles in their way," said Cossaboom. "I […] wanted to create a community that was able to be that haven for people to know that there are others who have gone through this and that they can help you through it."
The main focus of GLeaM as of now is posting weekly articles on various mathematical topics and providing a plethora of resources to girls who may not be aware of them. 
The online program includes 35+ articles, delving into concepts like what the fourth dimension has to do with Monster's Inc and the million-dollar problem known as the Riemann Hypothesis, and has developed into a community: an outlet for girls from Singapore to Kansas to contribute to forums, comment threads, and social media outlets. GLeaM is even partnered with the worldwide organization inteGIRLS, and Cossaboom is excited to explore other opportunities, such as authoring her own book, through this partnership.
Cossaboom also hopes to plan an event of her own soon for the Atlanta area but recognizes the immense amount of effort that would be involved.
"I'm really hoping to plan an event, but […] that would be a whole process, which I'm super excited for, but I don't know if I'm going to start it right now on top of college applications. I do have a lot in store for later this year," said Cossaboom.
For now, Cossaboom advises girls who are having difficulties in their predominantly male STEM environments to find supportive people who build them up, instead of tearing them down.
"I think it just comes with making the right friends and surrounding yourself with positive people," said Cossaboom.