2020's Expanded Playoffs Are Good for Baseball
One of the things that I love most about baseball is its history. Streaks, curses, and records stretch back to the 19th Century, when each team had two pitchers and players drank before, and even during, games. A personal favorite factoid of mine is that at the time of the Chicago Cubs' last World Series win, before their legendary 2016 title run, the Ottoman Empire still existed. It's always amazing to see a streak like that get broken – decades of heartbreak, finally ending as a 6'1", 225 lb catcher runs to the mound and jumps into the pitcher's arms like a golden retriever puppy who doesn't realize how big he is.
Of course, in a year like this, some unprecedented stuff was bound to happen. But this time, a lot of fans aren't too pleased. For the second time in baseball history, a team with a losing record is headed to the playoffs. Wait, scratch that. Teams, plural. The Milwaukee Brewers and the Houston Astros, with matching 29-31 records, are the first teams under .500 to make it since the Kansas City Royals clinched in the strike-shortened 1981 season. It feels weird, doesn't it? The MLB has never been a league that rewards mediocrity, usually letting only 10 teams continue to play into October. In contrast, the NBA and NFL allow 16 and 12 teams into their postseasons, respectively. So what made them relax the requirements?
When quarantine began just a few weeks before opening day, the MLB, following the example of Adam Silver's NBA, shut everything down and tried to rebuild the season. It failed. With months to come up with a plan, the owners wasted unbelievable amounts of time squabbling with players over salaries, pushing the new opening day further and further back. When they finally found common ground, there was only time left for 60 games, a far cry from the normal 162 played from March to September. Commissioner Rob Manfred knew that he would have to make some changes. Most significantly, he expanded the playoffs to allow 16 teams.
Now, I want to preface this by saying that I am no fan of Rob Manfred. He's a lawyer-type who seems to hate the sport, he's failing to market the league's stars like the NBA and NFL do, and his response to the Houston Astros' cheating scandal still makes my blood boil.
But he did do one thing right in 2020. A short season like this often rewards luck, while true talent can be left in the dust. Recognizing this, Manfred made sure that the lucky still have to face the talented on the road to the World Series.
Thanks to the new format, the past few weeks have been absolutely riveting. Teams who, in a normal season, wouldn't have been close to contending were fighting tooth and nail for the 7th and 8th seeds. True underdog candidates, like the Miami Marlins and Toronto Blue Jays, have emerged. Most importantly, every game felt like it mattered, and not only because of the increased weight of each game in the standings. Normally, those unexpected teams would have dragged their heels through September, knowing there was no hope of a playoff run. Instead, their fanbases are the most energized they've been in years.
Is it perfect? Definitely not. The first round consists of a set of three-game series, which are very prone to upsets. Many people have rightfully pointed out that the Los Angeles Dodgers(43-17) should be given a bye round instead of three risky games against the aforementioned Brewers, who shouldn't be in the picture at all. On the other hand, the current system is far from perfect. For example, look at the 2015 Pittsburgh Pirates. They finished second in their division behind the St. Louis Cardinals with 98 wins. 98 wins, in any other division but their own, would have earned them first place and a spot in a five-game playoff series. However, nothing good ever happens to the Pirates, so their season ended in a one-game playoff loss to the Chicago Cubs. Sure, a three-game series can be fickle, but anything can happen in a single game. Although the new format would allow mediocre teams into the playoffs, it wouldn't punish competent teams for their geography.
Many of the issues aren't beyond repair. Adjusting the schedule to allow for longer first round series matchups and bye rounds for top seeds would further reward the best teams and give them better odds, while still giving others a chance at October glory.
The downside of baseball having such a storied history is that people are never willing to let it change. It took monumental efforts to expand the playoffs from 6 to 10 teams in the first place; now will be even harder. However, the benefits – increasing viewers and discouraging tanking – are too great to ignore. Manfred has made a lot of bad decisions in his tenure as commissioner, but this is his chance to make up for some of them. Keep the expanded playoffs and let baseball change with the times. 
About the Writer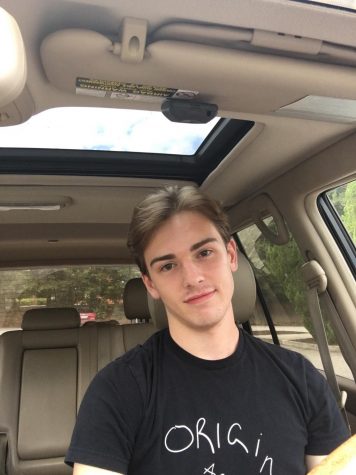 James Hardy, Editor
James Hardy is a senior and editor of the Blue & Gold. In his free time, you can find him memorizing baseball stats, exploring local parks, or driving aimlessly instead of finishing his college applications. In five years, he hopes to have finally read the stack of books sitting on his desk. This is his second year on staff.