Virtually the Same: Chamblee Clubs and Extra-Curriculars Find New Life Online
While school may be completely virtual, some Chamblee students are still finding ways to meet and participate in the clubs and extracurricular activities that they loved in previous years of high school. Whether it be a political club or performance, extracurriculars are continuing virtually. 
"So I think that being able to still participate in these clubs is still really great, since we're all inside, we're all in quarantine, we're all doing school online. There's not a whole lot of opportunities to do these sorts of activities where we're still learning, or we're still doing things that are improving our character and improving our own knowledge, but we're able to do them in a non school environment, and that's why I think extracurricular activities are good in general," said Carson Ankeny, President of the Chamblee Model United Nations team.
The Women's Political Club is one of these extracurriculars, and in the year of a presidential election, it was almost essential that this club meet. Luckily, through Zoom, they are able to hold discussions about the election and current state of American politics, allowing the education of young voters to continue this year.
"As a non-partisan club, we don't affiliate ourselves with a particular candidate, but club members are allowed to talk about which policies they agree/disagree with. We also encourage everyone who can to register to vote our help out at the polls," said Club Officer Morgan Warfield.
Some clubs require interaction outside of the school to truly function. This is why the Model UN Team is registering for a virtual conference next month, to be hosted by Emory, and remain entirely online.
"For Model UN, there's this conference coming up that Emory is hosting that's all going to be completely virtual. So I think that that's a really great way to still be able to have that Model UN experience while still being safe and not spreading the virus around or anything," said Ankeny.
The transfer to virtual learning will of course have a negative impact on many clubs, with the unpredictability of computers. The Chamblee Thespian Troupe has had some trouble being able to perform over zoom, due to the lag between students over Zoom. 
"It's harder to plan things because Thespians is a theatre based club and it's really difficult to perform online because of laggy internet and limited resources," said Julia Johnson, a member of the Thespian Troupe. "but there are more opportunities for people to catch up if they miss something because we are planning to start recording our meetings."
Overall, Chamblee clubs and extracurriculars are continuing to function as if they were still in school. While there may be some hiccups, students are still able to attend the clubs that they love, without any risk to their own safety.
"I think the club is functioning pretty similar to our other years. We still have a good amount of members, and everyone is active on the zoom calls, which is really appreciated. We anticipated that it would be a little awkward, but fortunately, that hasn't been the case," said Warfield. 
About the Contributor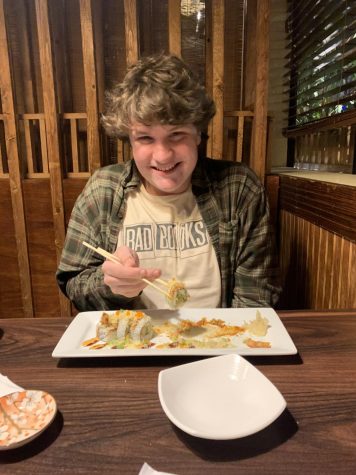 Shay Martin, Staff Writer
Shay Martin is a senior, and this is their second year as a writer for the Blue & Gold. Outside of school, they enjoy watching movies, walking their dogs, and listening to music. In five years, they hope to be doing something with writing, no matter what it might be.