From Shifting the World to Shifting Playlists: How COVID-19 Has Changed Students' Musical Preferences
With recent conditions and events under COVID-19, it's safe to say that most Chamblee students have spent more time at home than usual. With this newfound time, one noticeable trend observed by many students over quarantine has been how their preferred genres of music have changed since March.
"I would say my playlists have changed a lot over quarantine. I think it's mostly because I have more time to find and listen to new artists," said junior Ava Meisner. "I also have TikTok to blame; quarantine has allowed me to be on the internet a lot more than before."
For some others, quarantine has pushed them to revisit some older songs as opposed to or in addition to discovering new music.
"I've definitely regressed my taste to music that makes me feel a bittersweet nostalgic kind of feeling because I listened to it during specific phases [or] periods of my life, like my emo phase and then freshman year or fall of last year," said senior Lizzie Smith-Purcell. "[But I've] also discovered lots of new obscure artists because I've had lots of time to spend hyperfixing on Spotify."
So what are Chamblee students currently listening to and how does it differ from the music that they listened to pre-quarantine?
"Hip-Hop [and] rap, alternative, and R&B were my favorite [genres] before quarantine. Now my favorite genres are alternative, nu metal, hard rock, and space/indie rock," said senior Chaz Edmond.
For Edmond, his shift in music taste came from wanting to find artists similar to another artist that he discovered during quarantine.
"It started when I got into the group 'City Morgue' who primarily make rap music," said Edmond. "As I got deeper [into their music], I noticed how heavily influenced they are by metal and rock so I decided to find similar artists. Eventually, the music I was discovering was primarily rock or subgenres of it."
Similarly to Edmond, Meisner's music taste has also shifted toward alternative and rock music over the past couple months.
"Before quarantine, I listened to mostly indie and some pop. Some of my favorite artists were the Lumineers, Hozier, Lana Del Rey, and Harry Styles," said Meisner. "I definitely still listen to them, but lately I have been listening to more alternative and alternative rock—I've even found myself dipping into the punk scene."
Smith-Purcell has found herself getting more into punk music as well, coincidentally.
"[My] favorite genres before quarantine were like indie, hyperpop, and R&B but now they're like indie, hyperpop but even more of [it], punk, and shoegaze," she said.
As for the specific artists and albums that the students have been listening to and exploring more of over quarantine, the list includes the likes of Corbin, Arctic Monkeys, Phoebe Bridgers, and more.
"City Morgue, Duster, Title Fight, and Corbin are my favorite artists right now. 'Contemporary Movement' by Duster, 'As Good as Dead' by City Morgue, and 'Mourn' by Corbin are my favorite albums," said Edmond. "'My Poison Arms' by If I Die First is my favorite album [that has been] released over quarantine."
Meisner's list, meanwhile, includes many different rock bands, both old and modern, as well.
"My favorite artists right now are Deal Casino, The Backseat Lovers, Arctic Monkeys, July Talk, and Cage the Elephant. I've also been listening to I DON'T KNOW HOW BUT THEY FOUND ME, The Strokes, The Walters, The Regrettes, and The Growlers. My favorite album right now is either 'Social Cues' by Cage the Elephant, 'Deal Casino' by Deal Casino, or 'When We Were Friends' by the Backseat Lovers," she said. "'After School' by Melanie Martinez is my favorite album or EP released during quarantine."
Smith-Purcell's list of current favorite artists, on the other hand, has not shifted as much and mostly consists of artists she has already been a big fan of, such as King Krule and Phoebe Bridgers.
"So like every fall for the past ~4 years, I have a very long phase where I only listen to King Krule and Phoebe Bridgers and nothing else because their voices are probably the best thing ever. They are both so good I could talk about them forever," she said.
However, her list does feature one new artist that she discovered recently.
"[My friend] told me about IC3PEAK which is this Russian electronic duo […] and I think they got banned from Russia or something, but I like them. They're good to listen to when I'm doing homework and need to focus because it's super loud," said Smith-Purcell.
Regardless of exactly what students are listening to, music remains a significant part of their everyday lives, and change in music preference is yet another effect COVID-19 has had on students' daily routines.
About the Contributor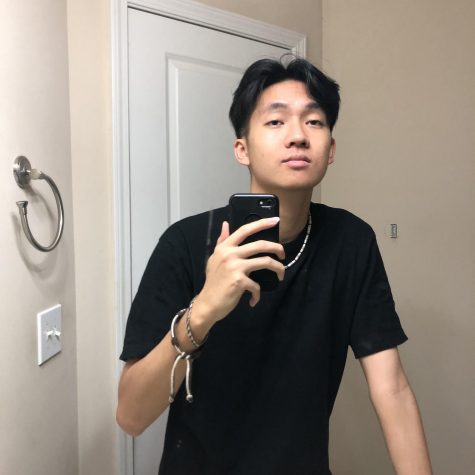 Henry Diep, Staff Writer
Henry Diep is a senior and staff writer for the Blue & Gold. In his free time, you can find him patiently waiting for a J. Cole and Kendrick Lamar album to drop, searching for new music to listen to, and emotionally investing himself into the outcomes of basketball games. In five years, he hopes to have possibly graduated from high school. This is his second year on the staff.