Masks Required: Halloween Adapts to Quarantine
The following article is part of a series on how students are celebrating Halloween in 2020. For more articles on the topic, click here.
Halloween is a very social holiday. People trick-or-treat and throw parties, and generally spend the night of October 31 in groups. But due to the ever-present COVID-19 pandemic, Halloween traditions are being forced to change.
Senior Olivia Roberts had been planning to throw a Halloween party, but her plans were upended by the quarantine.
"I wanted to have a party. That was kind of a plan of mine, but then the quarantine happened, so that really just won't work," said Roberts. "That's a bummer just because it's senior year, and I probably won't have another opportunity to have all my friends together for this super fun holiday, but it is what it is."
Instead, Roberts is planning for a small Halloween.
"I'm going to spend the evening with my boyfriend. I think we're just going to go to Main Street in Tucker, […] I know that a lot of the people in Tucker are adjusting fine to quarantine as of recent, and businesses are back up for most of these places," said Roberts. "And then, we'll probably just come back [home] and watch movies and eat candy."
Phinn Adams, a junior at Chamblee, says that each year, their neighborhood takes advantage of Georgia weather, holding an annual party at the neighborhood pool, before beginning trick-or-treating.
"One of the big things that happens in my neighborhood is at the pool, basically like 100 people come and we vibe for an hour or so and there's pizza," said Adams. "This is where the trick or treating usually starts, […] I like to go trick-or-treating with my friends because I don't get to hang with them often."
But, Adams says, that's not happening this year.
"This doesn't really work during [the quarantine] because it's literally just a bunch of people in a small place and that's like the opposite of good," said Adams.
They'll instead hold a smaller get-together, to limit social contact.
"Something I am starting with my friends is watching a scary movie. We are going to sit in someone's backyard and watch a movie with a projector, so we can stay socially distanced and still vibe with each other," said Adams.
Xiu Xiu Nash, a senior at Chamblee Charter High School, has two traditions that take place around Halloween.
"There is usually a mini Halloween party in Clacks Corner Park and then a short parade for the little kids and mothers with strollers," said Nash. "[The party] is not very compatible [with the pandemic] because it's shared food, tons of babies, and tightly packed roads […] so as sad as I'll be for not getting free food, I hope it's canceled this year for the wellness and safety of the children and parents."
However, Nash says she also has a more doable tradition in this irregular year.
"I usually go to Uncle Shucks corn maze with a few friends," said Nash. "[That] may be more compatible since you don't interact with many people. You pay for your ticket and then you're off to explore the maze on your own. If you plan it correctly it's almost empty."
Nash still isn't completely decided on how she wants to spend this Halloween, but her priority is safety.
"This year I might just stay in on Halloween and play games," said Nash. "As far as Uncle Shucks, I might just go with my boyfriend instead of a group of friends. I want to be very safe for me, my friends, and loved ones."
About the Writer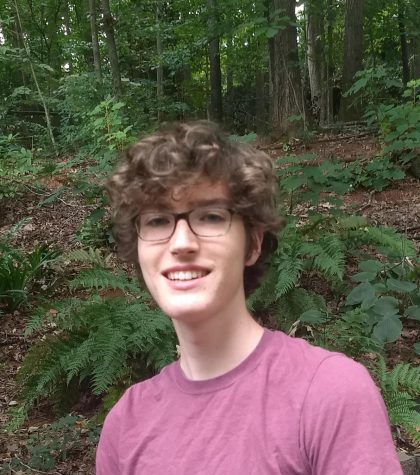 Adam Pohl, Staff Writer
Adam Pohl is a junior and first-year staff writer. Outside of the paper, you can find him watching more baseball than is healthy, playing card games, and forgetting to fold his laundry. In five years, he hopes to be done with math and science classes and studying humanities at a university.