"Setting" Up for Success: Volleyball Coach Earns 300th Win
Since she began coaching Chamblee's varsity volleyball team in 2008, Coach Lorri Reynolds has experienced a plethora of successes. The most recent of her achievements was recently capturing her three-hundredth win as a coach. However, Reynolds' love of the game began long before coming to CCHS.
"I started playing volleyball when I was in middle school, played all throughout high school […] then got recruited to play in college […] for Florida Southern," said Reynolds. "We actually went to two Final Fours, so it was pretty successful."
During her time at Florida Southern, Reynolds' team not only finished in the Final Four, but also made it as far as second place. After graduating, Reynolds began to teach while staying near the sport.
"My first coaching job was actually my first teaching job, which was in Florida as well," said Reynolds. "I spent two years there, then I went back to my college and was a graduate assistant at Florida Southern for two years, and then I moved to Atlanta, and then I coached at St. Pius for a couple years, I coached at Duluth for a couple years, and then I came back to teaching, cause I had been out of it for a while, and I got a job at Chamblee."
Throughout the years, her feelings toward volleyball have remained the same.
"I've just always loved the sport, […] it's fast, it's competitive, it's […] got some good strategy," said Reynolds. "I've just loved the idea of, you know, developing kids, and I just like to win, I don't care what it is."
That mindset is apparent when looking at her resume. In the years since joining Chamblee's team as coach, Reynolds has enjoyed her fair share of winning.
"[I'm most proud of] all the region championships that we've been able to accumulate, certainly our Elite Eight finishes [at state championships], we've had several of those," she said. "I guess just the fact that we've got such a great reputation in the state, we're just a little 5A school, and I think, volleyball-wise, we're very respected, you know, throughout the state […] I'm pretty proud of that."
As a self-described "little 5A school," Reynolds is proud of Chamblee's record against opponents from larger schools. 
"Coaching at Chamblee, I would say, […] one of the highlights definitely was, you know, beating some of these big 7A schools," she said. "We've gone in, last year, […] we were thirty-seven [wins] and five [losses], we beat every top team, really, in the state, and even though we only made it to the Elite Eight, we ended up getting beat in the Elite Eight by the team who won state.
Reynolds isn't preoccupied with the past, though. She's locked in on this season, which has been substantially more difficult than most.
"It's been a tough year, obviously, because of the COVID situation. My kids that do play club in the offseason, their season was cut short. We were, you know, unfortunately, one of the counties that were held way back as far as starting the season goes," she said. "We came to the party late, and […] although we've been practicing, it's certainly not the same as competing, so the fact that we've been able to beat some decent teams, and, you know, still salvage a season is a highlight."
The shortened season has been especially hard on the newcomers, who have had to adjust more quickly than they expected.
"I've got some really young kids, some sophomores that are playing for me right now, and, you know, my challenge is going to be getting them up to speed really, really quickly, because we're finishing our regular season tonight [October 9], and region tournament starts next week," she said. "Our first competition was on September 29, so we've only been able to play seven matches, which is really tough considering all these other schools and all these other counties have been playing since the beginning of August."
Despite the difficulties, Reynolds has high hopes for her team.
"My goal, at this point, is just let these kids play, have a respectable season, you know, make it to state again, and then, […] see what happens," she said. 
Although it couldn't have been done without her at the helm, Reynolds believes that Chamblee's success in volleyball can be partially attributed to strong support from the community.
"I definitely want to mention my appreciation of my administrations over the years and how supportive they've been of not only just me, but my program in general. […] I'm really proud that we are one of the top sports at Chamblee, and continue to be," she said. "I feel like I've had a really good career at Chamblee."
About the Writer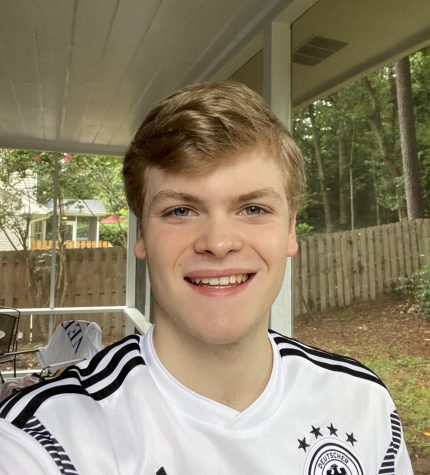 Thomas Rice, Staff Writer
Thomas Rice is a junior, and this is his first year on the staff. In his spare time, he enjoys swimming far more than is enjoyable, rewatching the same four shows over and over again, and watching basketball. In five years, he hopes to be celebrating a Hawks playoff series win at some kind of college.