Blake Snell, Gerrit Cole, and the Great What If
"Here they are, one strike away, one out away."
Somehow, the ever-professional Joe Buck keeps his voice steady for the call as Daniel Hudson sets up for the pitch.
"3-2."
Hudson releases a slider that drops off the face of the earth, fooling Michael Brantley, the Houston Astros' last hope, into whiffing for strike three. Buck can't help but surrender to his emotions.
"THERE IT IS! THE WASHINGTON NATIONALS ARE WORLD CHAMPIONS FOR THE FIRST TIME IN FRANCHISE HISTORY!"
My favorite thing about the end of the World Series is the variety of facial expressions around the field. The Nationals' young phenom Juan Soto drops to his knees, arms outstretched, and looks to the heavens in a moment of pure bliss. Veteran first baseman Ryan Zimmerman glances around at his teammates, as if to confirm that this isn't just a dream. The aforementioned Hudson pumps a fist and heaves his glove into the air as catcher Yan Gomes wraps him up in a bear hug.
But for every action, there's an equal and opposite reaction, and no face is better proof than that of Gerrit Cole. The Astros' ace waited in the bullpen for his chance to close out Game 7. That chance never came. He warmed up, sat back down, warmed up again, and sat down again as manager A.J. Hinch held off on giving him the ball. The Astros' 2-run lead became a 4-run deficit, and he watched, slumped over in his seat, as the underdog Nationals celebrated on the field.
In his postgame interview, he spoke highly of Hinch and the rest of the team, but he had already swapped his Astros' cap for a gray Boras[Scott Boras, his agent] Corp. hat, sending a simple message to the rest of the MLB: Get me out of here. Less than two months later, he left Houston to sign a $300 million contract with the New York Yankees.
Almost a year removed from the Nationals 2019 victory, Joe Buck is on the call again for Game 6 between the Tampa Bay Rays and Los Angeles Dodgers. Spoiler alert.
"THAAAAAT'S STRIKE THREE! DODGERS HAVE WON IT ALL IN 2020!"
Again, the reactions. Dodgers pitcher Julio Urias shakes his fists at the sky as the pent-up pressure in Los Angeles is released into the night through a cacophony of fireworks. I've watched this clip many, many times now, and there's one thing I find particularly interesting. Before seeing close-ups of L.A.'s stars, like Corey Seager, the World Series MVP, or Clayton Kershaw, the longtime Dodger who finally completed his quest for a ring, we see another reaction. It's something familiar, something we've seen before, but also a bit unexpected in the midst of the celebratory dogpiling of Urias.
Blake Snell, the Rays' starting pitcher, is slumped over the dugout railing. Poor guy, he doesn't look too happy. So why would Fox Sports decide that this is what we need to see right now, not the ecstatic faces of L.A. as they end a 32-year championship drought?
Much like Gerrit Cole, Blake Snell is a victim of the what if. Their careers are indelibly marked by the miscalculations of others. For Cole, the incident was A.J. Hinch's decision not to bring him into Game 7. What if Gerrit pitched in relief? Could he have shut down the Nationals? Would the Astros be hoisting their second banner in three years? But for Snell, the incident was the reverse.
In Game 6, he was untouchable from the start, making L.A. look clueless for 5 straight innings. Mind you, this is the best offense in the MLB and he sat them down again and again with remarkable efficiency when they were chomping at the bit to close out the series. Blake Snell was a playoff legend in the making. But when he gave up a bloop single – only his second hit of the game – to Austin Barnes in the 5th, Rays' manager Kevin Cash called the bullpen and the rest is history. Now, this is a terrible, almost all-time bad decision that Kevin Cash made. Understanding why it's bad is helpful, but you can continue reading without that knowledge and still get the point. If you'd like to learn what Kevin's thought process might have been, as well as why people are calling for his head, this video by Jomboy Media breaks it down very well.
So yes, this was a bad decision. It seems like Cash found an unhappy medium between using analytics and ignoring them, and it burned him. What if he had left Snell in the game? Would he have continued to dominate? Would Tampa have forced a crucial Game 7? The easy thing to do is to pin this on Kevin Cash, but at the end of the day, the numbers game is just how the Rays play baseball. They trust their statistics every day and twice on Sunday and they won't ride the hot hand, even on the world's biggest stage. And to be honest, I get it, just a little bit. This is the strategy that got them here – to the top seed in the American League, to playoff wins over the powerhouse Yankees and redemption-seeking Astros, to a 1-run lead in Game 6 against a team whose payroll is three times their own – it would be folly to give up on it now. But this isn't about whether or not it was the right decision. What's done is done. This is about what lies ahead.
These decisions don't happen in a vacuum. They don't just decide the fate of a game, series, or season. They define the relationships between players, managers, and organizations for years to come. Blake is signed through 2023, so he won't be cramming everything in a suitcase and sprinting out of the clubhouse like Gerrit Cole did in Houston, but his future in Tampa isn't so certain anymore. 
What we saw wasn't a simple difference of opinion between him and Cash; it was the exposure of Blake and the entire Rays' organization as polar opposites. Tampa has a system for everything, and the players are cogs in their well-oiled machine. But Blake isn't just a cog, he's a Cy Young-caliber pitcher who has earned the legendary playoff moments he came so close to. This won't be the last time we see the ideological mismatch rear its head and the Rays will continue to play the way they've been playing for more than a decade – by making decisions like this one. How many more incidents will it take before he wants out?
About the Writer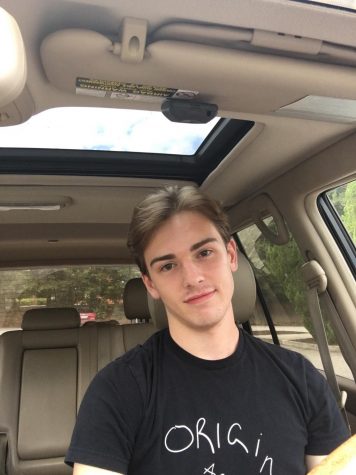 James Hardy, Editor
James Hardy is a senior and editor of the Blue & Gold. In his free time, you can find him memorizing baseball stats, exploring local parks, or driving aimlessly instead of finishing his college applications. In five years, he hopes to have finally read the stack of books sitting on his desk. This is his second year on staff.