Cross Country Reflects on a Successful, Socially-Distanced Fall Season
"When there's just gonna be so many memories of 2020 that people are not going to want to have, cross country is going to be a success and that's going to be a highlight for all of us," said Jennifer Tinnell, Chamblee History teacher and Chamblee Cross Country Coach.
Due to the COVID-19 pandemic, fall sports underwent serious changes this season. While school became virtual, sports were unable to shift to an online medium, leaving DeKalb County and Chamblee Charter High School to ponder the ways to have successful fall sports.
Cross country was one of the sports allowed to continue in-person this fall. In order to be allowed to practice and compete, the team had to follow strict guidelines. However, running with a mask on was not a feasible option for runners, meaning masks were only required before and after running during practice.
"We had our temperature checked at the beginning of practice[…]and masks on during warm-ups. Then, you could take them off when you run and, as soon as you came back, you could drink some water and then put your mask back on. There was one period where they made us fill out this Google form closer to the end of the season which was basically just asking questions like 'Have you had a fever? Have you been in contact with anything?'" said junior Shrita Reddy, a Chamblee Cross Country runner.
Many of the runners felt the guidelines were necessary but quite easy to follow during practices and meets. The only problems came from habits formed pre-pandemic, such as group running.
"I thought they were easy to work around. I mean it wasn't too hard to keep your mask on and just […] spread out. The biggest change running-wise is everyone's used to running in a group. So, we did end up doing a lot of group running without even realizing it and [had to] try to stay spread, but somehow we always ended up back together," said Reddy.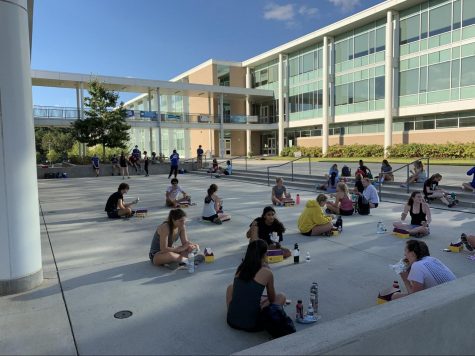 Like many fall and winter sports at Chamblee, cross country had to have a smaller team than usual to keep the sport safe. This included only allowing Varsity runners to be part of the team, leaving out JV.
"JV actually wasn't allowed to compete this season, just because of COVID restrictions for the meets, and that made a lot fewer people at every meet," said junior and runner Clara Silvestri.
The Varsity team included only about 30 runners, split evenly between girls and boys. While the coaches knew they were well under the limit required, meaning the team could have had a few more members, they believed the small size was needed to ensure a safe season for everyone involved.
"We followed DeKalb County guidelines and we also tried to just follow some common sense. We know our cross country kids, and they are a pretty tight-knit group of friends. We were going to have to limit the number that we could actually have out there because we know that they're going to want to be as close to each other as close as possible," said Tinnell. "So, we probably could have kept a few more kids, but that would have just been harder to manage and we really did take being safe very seriously. I really do think we did a very good job at trying to respect the adults that were involved [and] the kids that were involved, knowing the kids had to go back to their families."
Cross country is technically a fall sport, but practicing for the season began long before the colder season, with summer practices and individual training.
"Kids were running on their own and there were also summer practices where kids that typically had run for Chamblee in the past and a few new people [ran] […] because for cross country, you can't just start to train once school starts, you definitely need to be building up and getting in shape," said Tinnell.
While practicing during the summer was successful for the team, it stopped as DeKalb returned to the fall semester. Due to the county policies, no in-person practices or competitions were allowed in August. Chamblee Cross Country only began practicing in September at the school, losing about 4 weeks of practices.
The team was excited to start practicing, but the unusual school schedule and setting did cause some concern for the team in the beginning. Along with the shift to virtual school, students had to drive to Chamblee, when usually they would already be at school for practice.
"I was definitely concerned about being able to navigate virtual school and then having to hightail it over to [Chamblee], you know, 30 minutes to get to school every day. But what we did with that is once we decided that we could actually have a season, we communicated with the kids. […] We actually practiced at school three days a week. […] Not only the coaches have to get to school, which was hard, we also knew not all these kids live near Chamblee. They come from 30-45 minutes away. So we knew that was asking a lot of them as well," said Tinnell.
The coaches also initially worried about a potential change in the team due to the change in the schedule. With fewer meets, they knew some runners would be less enthusiastic about practice, but they hoped that the added benefit of social contact would counteract the fatigue of practice.
"You know, I know that like [for] most sports, the least favorite part for kids in sports is practice. Most kids don't like to practice. They want to compete. […] We want to play another team because we want to see that we're better than you, so not having as many meets I think took a little of the fun out of it for the kids," said Tinnell. "But what we did as a cross country team and what I think our kids were able to do was [..] reassess: 'Okay. Well, maybe I didn't use to really like practice, but now I'm not around my buddies and my friends five days a week all day long, so actually having practice 3 and 4 days a week [is fun].' I mean, it became a highlight for them."
The shortened schedule of the season mixed with the smaller team size did cause some changes to the normal motivation and enjoyment of the team, however, according to last year's junior captain, Diego DeAlba.
"I feel like it was a little bit of a harder [season] this year. I take it very seriously, but I know a lot of people that use it for fun. They come to hang out with their friends and that helps motivate others as well.[…] So [it was] a little bit demotivating at times because it felt more restrictive. It's like you're here. You can't screw around. You have to take this very seriously," said DeAlba. "I felt like that demotivated me a little bit and a couple other classmates as well. It was just like we lost a huge chunk of what made cross country cross country."
Just like the practice schedule, the meet schedule was shortened to include as many meets as possible while still being safe. With only one month of meets before the state meet, succeeding at the meets was necessary for the team to qualify. The first meet of the season was October 3.
"Every four days, we would have [meets] so the coach didn't want us to run at every single meet because we could risk getting injured. Normally, it's definitely more than seven [meets] because it's from September to November. We would have had a lot more meets, [so] it felt really short from October to November," said DeAlba.
At the meets themselves, precautions were in place. Teams attending were smaller in size and masks were required during the meet. However, due to the lack of masks while lining up to run and after the races, some runners felt meets could have been dangerous during the pandemic.
"Honestly, it probably could have been a lot safer. So you wore masks but then once you got to the starting line, obviously you took your mask off. […] I remember the first meet had maybe 20 teams, maybe more, of seven girls just like totally lined up with no masks. Which I mean sounds really dangerous, and it probably was, but I guess there was really no other way," said Reddy. Then, [wearing] the mask when you finish running [was a rule], but that wasn't really heavily enforced so you would see some teams had just like completely no masks. […] I don't think anybody ended up getting sick from any of those but it definitely could have happened."
While cross country is a serious, reputable sport at Chamblee, it was still a team sport. Along with practices, the tight-knit team participated in team dinners and other events during normal seasons. Many even had fun stories from after practices last season, such as DeAlba's story of creating an ice bath in a truck to cool down. Due to the pandemic, the team was unable to have such an extensive social side.
"Usually we would hang around and even after practices, sometimes people would do stuff. We tried to do that more sometimes this year, but we weren't able to do it as much as last year. There's a picture that I think Coach Reynolds posted on her Instagram that showed a group of us in my truck because we put a tarp over it and we made an ice bath," said DeAlba.
Despite the social aspect of cross country suffering for many of the runners, the team was still grateful to have a season full of practices and meets to spend together.
"I'm just really glad that it still happened. I think it's really fun and it was a good way to see people again but still stay safe because we were following those COVID restriction guidelines. I'm glad it happened," said Silvestri.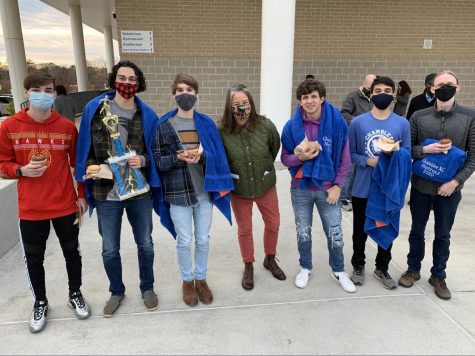 Despite the dramatic change in the fall season, Chamblee Cross Country continued its success of last year, and qualified for the state meet in November. While the program is known to be highly successful, a change in the competition region did pose a new challenge to the team.
"We're in a different region this year, so there are three new teams that we had to run against, Decatur High School, St. Pius, and Northview, and all three of those programs are really really strong schools. […] We knew at the beginning of the season that we were going to have to really work hard to even get to State so the fact that we did qualify for State was awesome. It showed the hard work of the kids and the dedication." said Tinnell.
In the past when going to State, Cross Country would travel to the meet the night before and stay at a hotel together. This, of course, was unable to happen this year.
"We were bummed because it did change. We didn't go down the night before and get a hotel because obviously three and four girls and boys in hotel rooms [is] not socially distancing. We didn't get to go out to dinners. […] The kids definitely missed having that time to be able to be in a hotel room, knowing that Coach Tinnell is going to come take your cell phones and tape your doors, and all those are really silly things, but those are the things you kind of remember as you get older," said Tinnell. "We definitely lost the memories but the fact that we qualified for State, hustled up there the morning of, and then the kids did as well as they did. I think it was just all around it a big success."
At the state meet, Varsity Girls received 12th place and Varsity Boys received 16th place, all in a region with past state champions. While the season may have looked extremely different than the past, the season was one that the team and coaches were proud to have experienced. Not only did the runners and families work hard to have a successful season, but they were able to stay COVID-safe and successfully qualify for the state tournament.
"I really also want to say thanks to Mrs. Barnes and Mr. Williams and Coach Reynolds for all of their support and trying to make sure that athletics got a fair shake at [a season] because they could have just not trusted us. They could have said no, we just can't do it. It's just not safe, but they trusted the coaches to do what was right and to do it the safest way," said Tinnell. "I'm thankful that cross country has such a strong reputation and program, supportive parents and hard-working kids that wanted to make this season work in spite of all of the changes that we had to make to keep everybody safe."
About the Contributor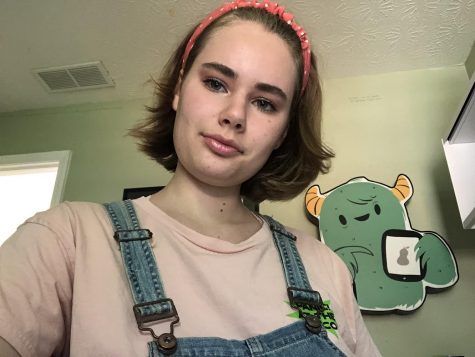 Sirianna Blanck, Staff Writer
Sirianna Blanck is a junior, and this is her first year in Journalism. Outside of school, she likes spending time with her many pets, watching movies, and playing video games. In five years' time, she hopes to still see movie theaters while driving instead of billboards for Disney+.