Picture Perfect: Students to Submit Personal Photos for Yearbook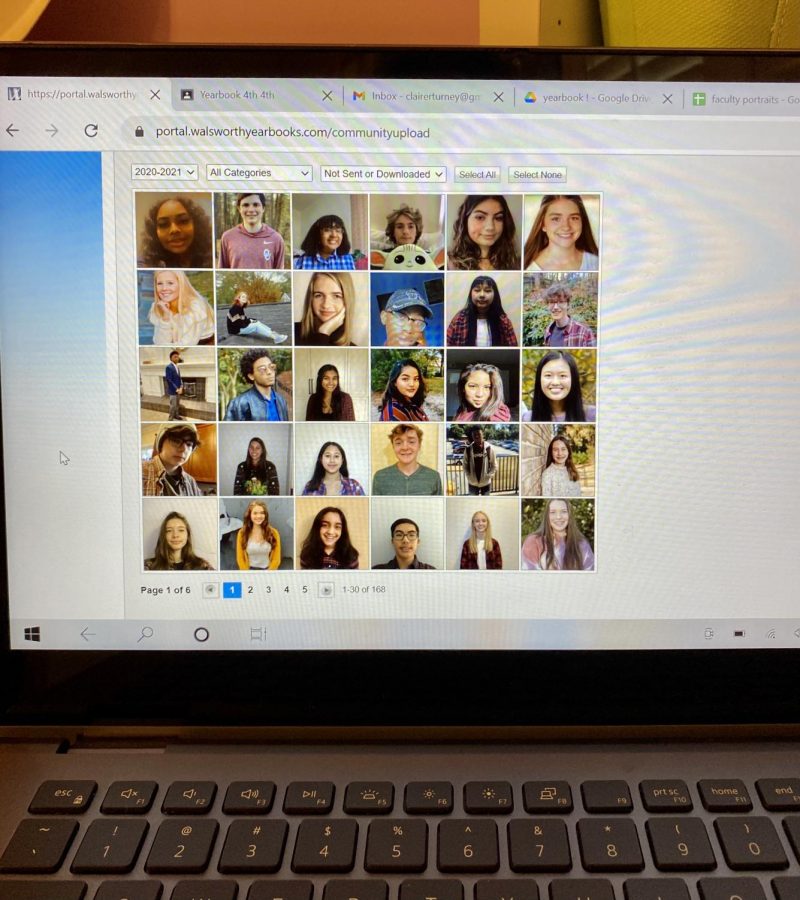 Whether it is through capturing a year's worth of photos or highlighting major events, Chamblee's yearbook, the Chamhian, has never failed to provide students with a much-needed trip down memory lane at the end of the year.
Each year, CCHS students and faculty get their pictures for the yearbook taken during Picture Day, held in the auditorium: they are then processed and edited by Cady Studios. This year's circumstances, however, have altered the process to fit Chamblee's current virtual environment, leaving the yearbook staff with added responsibilities. The deadline to submit this year's yearbook photos has currently been extended to December 20.
Junior and yearbook staff member Mia Wood explains the new process for submitting photos for the yearbook.
"This year, we're having students submit their photos through the app Yearbook Snap," said Wood. "Through the app, we'll be able to attach a name and a grade to every student and put them into the yearbook pages as we normally would."
This is not the only way to submit photos, per Yearbook Editor-in-chief Claire Turney.
"People are submitting their home selfies through [the Yearbook Snap app] on their phone or through the yearbook website online," said Turney. "Then we get them and we have to convert them to a different file type and just line them up like normal."
The CCHS Bulldog Bulletin newsletter also shares some steps to ensure a smooth uploading process.
Take or pick a school appropriate picture for your portrait in the school yearbook.

Go to yearbookforever.com and type in Chamblee High School.

Click on community upload (the password is: bulldogs).

Upload your chosen picture.

Type in your legal first and last name.

Click submit.
While this does completely apply to the underclassmen, the class of 2021 should only go through this process if they have not already taken their senior photos.
"The seniors get their senior portraits taken at Cady Studios every year, so for the most part, the senior section panel pages should be the same," said Turney. "[However], some kids haven't been able to get their pictures taken at Cady just because of COVID-19 or because it is far away. Usually, we have a remake for those kids at school so they can put on their fake tuxedos and gowns and get their senior portraits taken. But obviously, that is not an option this year, so those seniors have to do what all the underclassmen have to do, which is uploading their own personal portraits."
The freedom of being able to upload a personal photo for the yearbook also comes with its setbacks for the staff.
"We're losing a lot of uniformity we used to have and probably picture quality as well," said Wood. "But it's probably the only way we could have uploaded pictures for every student in the [yearbook]."
Another complication of the process is students who do not submit new photos for this year's yearbook.
"We know there are some kids who aren't going to submit photos," said Turney. "And if they are sophomores, juniors, or seniors [who have not taken their pictures at Cady Studios,] we can use their photo from last year. For the freshmen, I just think there's going to be a lot of not pictured."
Despite the uncertainty behind the quality and quantity of photos submitted, the yearbook staff agrees that this year's yearbook photo variety is an advantage to the chaotic process.
"In years past, it kind of seemed like a lot of people didn't care very much about the yearbook except if they were in one of our pages," said Wood. "Letting everyone take their own portrait photos is a way to bring a little more personality into every single picture, and I think it'll be a good way to bring us all together as a school, despite being in virtual classes. Obviously, the photo quality of every picture won't be as good, but it adds more surprise to the yearbook in general."
Yearbook staff member Deanna Sharpe sees it as an opportunity for expression that students would not normally experience.
"Normally, due to the peculiar dress code like the [covering up your shoulders regulation], the girls are typically more limited when it comes to fashion," said Sharpe. "So I think it's fun to see how differently they express themselves outside of school."
As the deadline to submit photos quickly approaches, Wood provides some tips on how to take a good photo at home, This includes a reminder for juniors to follow Chamblee's tradition of dressing to fit the annual theme for junior photos.
"I would say to take the opportunity to add some of your personality into it," said Wood. "For example, Ms. Branca has a witch hat on in her photo. Other than that, try to take your picture in good lighting. I took mine outside and during the day, and it turned out well. Also, juniors should follow the junior theme and wear flannel."
Sharpe provides some pointers of her own, in hopes of helping others with their photos.
"Try to make the photos like, clear, take them at a unique location, make sure it looks candid, don't make it a selfie because they're usually not selfies, and try taking them with multiple Chamblee students [if you'd like]," said Sharpe. "Pictures of like two [or more] friends have been very common."
About the Contributor

Ashika Srivastava, Staff Writer
Ashika is a junior, and this is her first year on the staff. In her spare time, she enjoys reading countless amounts of books, watching Bollywood movies, and participating in too many extracurricular activities. In five years, she hopes to be studying biomedical engineering while also living her dream of being an ice cream taste tester.