How Morgan Warfield Stitched Her Way to Success
In a time when hundreds of small businesses are closing every day nationwide, Morgan Warfield, a Chamblee senior, decided to throw caution to the wind and open up a crochet clothing business of her own: Hooked Looks. What began as a hobby evolved into a thriving company with numerous shipments to twenty-five states across the country. Her professional craftsmanship, bold use of color, and whimsical designs leave no question as to why countless people have purchased one of her multitude of creations.    
"I always thought it would be interesting, but I don't think I ever truly considered it until […] the day I did it because I realized like 'Oh I actually have some type of talent,'" said Warfield. "[…] I've always been interested in fashion and things, like at school I like to dress sometimes like I have a business meeting to attend. I have nowhere to be, but that's just how I am. So, I've always been interested in fashion, so […] to be able to create my own, that was fun and to be able to share it with others is even more fun."
After months of quarantine, Warfield decided to take the necessary steps to turn her beloved hobby into a thriving business.
"I think it was around May," said Warfield. "I started to actually like create things and put it on a website. I didn't release it yet, but it was because I wanted a way for myself to make money and I haven't been allowed to get a job ever, even before the pandemic, and I was like, 'Okay, if I can't get a job, I'm going to make myself a job,' so that's how that started. I created my catalog. At first I just made a whole bunch of things that I liked and I would wear and I took those pictures, and then from there I just kind of, I uploaded it, and I told people about it and I let it grow naturally after that."
Of course, Warfield didn't start Hooked Looks solely for the profit. To start a business, one must truly enjoy the process.  
"It's really relaxing. It's really stress-relieving for me," said Warfield. "It's a good way to spend my time. I used to crochet a lot when I was younger and then I started it back up over quarantine because I had nothing to do, so it's a nice hobby. Yeah, and it's very rewarding to create something and have a finished product at the end. So like you know painters paint and they have a beautiful painting, well I crochet […] and I have new clothes to wear and I love clothes, so yeah."
That being said, financial security is a welcome added benefit.
"[…] I kind of just like seeing the money in my account," said Warfield. "I like knowing it's there and if I ever needed to buy something I could. I mean right now I don't really have anything that I need. The only thing that I spend money on is more yarn so it's just a cycle of self investment is what I call it."
At the beginning of Warfield's business endeavor, her knowledge of crocheting techniques was basic. It took hours of research through a variety of sources to hone her skills into what they are today. 
"So when I initially learned when I was eight years old I learned from a book, but when I restarted doing it over quarantine, it was YouTube tutorials," said Warfield. "So that's how I got the basics from, like, you know, 'How to single crochet' YouTube tutorials. And then when I wanted to make a shirt, I didn't like any of the tutorials that were in English, so for some of my more intricate things that I figured out how to do, the tutorials are actually in Portuguese and I just figured it out. I can't speak Portuguese, but if you say, like, numbers or crochet terms, or you know, just crochet jargon in Portuguese, I know what you're talking about, which is an odd skill but I can do that. So that's how I taught myself to […] do, like, frills and different shapes of bra cups and things like that."
Creating a successful company isn't easy. Starting any business comes with its specific set of challenges. 
"Oh, one of my biggest things was sizing and pricing," said Warfield. "So, you know if you go to a department store like Macy's or something: small, medium, large, extra-large, they're all the same size. Well for me it's a little different, because it takes more time to do a larger thing obviously and it also takes more materials and I'm not a machine so I can't do it as efficiently as wherever Macy's gets their clothes from […]. So in the beginning, I had this major personal ethical dilemma and I really didn't want to charge more for things that were larger because I just felt like that wasn't right, so I don't charge more for things that are larger, which is not the best economic decision in any way because, like, I'm definitely losing money that way, but I mean, I'm fine with it. Having this business is still something that I enjoy so I think it's fair to the customer if I do it like that even though it's not particularly fair to me, if that makes sense."
Not only does Warfield have to deal with the challenges of running a business, but she has to manage it all as a full time student as well. Luckily for her, online school has been a massive time saver.  
"I mean I have a set schedule I follow every day and if I don't follow the schedule it gets thrown off and nothing gets done," said Warfield. "So with school, it's been amazing that it has been online for me, personally, just because I can designate time. Like when we were at school it took me forever to get home and then I spent my whole afternoon doing homework, but now I can do school and then right after school I immediately start doing my homework. That maybe takes two to five hours, I guess, so by five o'clock [or] six o'clock, I'm done with work, I eat a snack, and then I crochet from that point until I go to bed, so maybe like 1 am. I mean, it's a lot, but I like it. It's fun and as long as I follow my schedule I'm fine. I mean, my grades have been good. I haven't been too stressed about anything. I just have to do what I decide I'm going to do."
Though her time as an entrepreneur has been short, Warfield has picked up a few worthwhile tips and tricks about scheduling, sales, and self-confidence.
"Have a business plan and just do it. Like, I definitely was hesitant and I was nervous because it's like, 'Okay, what if this goes horribly and I embarrass myself,'" said Warfield. "So I remember when I first started out I was too nervous to even shoutout my page or anything because I was scared people were going to be like 'Hey what is Morgan doing, this idiot.' But no, it wasn't like that at all. People will definitely support you and I think that's what I didn't recognize. I didn't know anyone from my school or personally […] that had ever done anything like this before, so yeah, I think just doing it. Don't be scared because you'll overcome things as they come. You'll get customers as long as you work hard, you hashtag your posts, and, you know, share them with others. People see your stuff. As far as a business plan thing, yes, definitely do that. Because, I mean, personally I didn't have one. I was just like, 'I'm going to do it,' and I'm still kind of like that. I think you should track how much time you're spending on things and what you're spending on materials, definitely. I mean, I've started to do that now, but when I first started I was like, 'It's fine I'll just do whatever,' and that's not how anything works. So get that situated before you start spending money, definitely."
Even though the currently cold weather may seem like a dead period for the sales of a crocheted clothing business, Warfield has a couple of deals to consider. As the weather gets warmer, Hooked Looks sales are projected to only increase. 
"I have a few things in the works," said Warfield. "So someone reached out to me to do a collaboration for some spring collection for something, I don't know. I need to get the details on that. I have a huge order for a bunch of these headbands […] to a hair salon, so she's going to sell them in her store and [..] it'll have my branding and everything, so that's pretty cool. […] Besides that, I think I'm going to try and create some new earring designs and some new shirts for spring because it's getting hotter again, which means time for more crop tops and bralettes, which is what I typically make, so yeah, that's what I want to do."
As for the future of Hooked Looks, Warfield plans on taking her business with her to college, albeit on a slightly smaller scale. 
"[…] So after graduation, obviously I'm going to college, but I planned to do a type of college line, like with college colors and stuff so that people could customize it for their school," said Warfield. "And then, whatever school I'm going to, I was going to make a whole bunch of stuff before I go that I could sell when I got there that was the school's colors, just so I can keep going. I think I am considering continuing in college, just not on as large of a scale. Like right now I ship all over America, which I'm very proud of myself for that, but in college I think it might be just the college community type thing. Like I might put a pause on the national sales just because I don't think I'd be able to keep up with it."
No matter how stressful or challenging running Hooked Looks can become, there's always one thing that makes the entire process worth it.
"I like seeing my customer pictures," said Warfield. "I love when people are like 'I love this so much' and then they post on their Instagram […]. That's really rewarding to see people actually enjoying what you spend hours on because the shirts take me like a day, but yeah that's definitely my favorite part. I love doing that."
If you'd like to check out Hooked Looks and make a purchase, the Instagram is @shophookedlooks, the Facebook is "Hooked Looks", and the website is https://hooked-looks.myshopify.com/.
About the Writer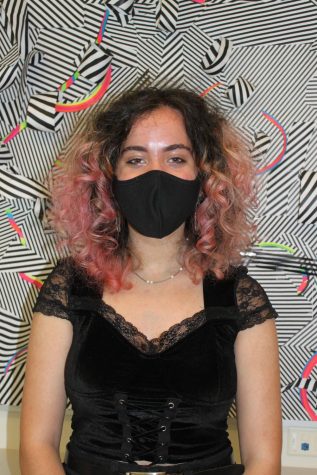 Sydney Leahy, Editor
Sydney Leahy is a senior and editor on the Blue & Gold. The movie that best encapuslates her highschool experience is "Panic Room" by David Fincher. In five years, she hopes to have earned the title of reclusive curmudgeon, living on in fables told by cowering neighborhood children. This is her second year on the staff.