Chamblee Scores First-Ever Esports Team
"I was just at the computer and saw an email, and Chamblee was asking if anybody wanted to take on the task of coaching the esports team because a few students emailed administration about having a team and so I decided to take it up. I love playing video games and I was like, 'Oh! They made this into a sport now?'" said chemistry teacher Deondrick Mack.
Mack has spearheaded a brand-new Chamblee community, one based around video games—specifically, competitive video games. The center of this community lies with the Chamblee Esports Team, a club where students practice and play video games in hopes of competing against other high schools.
As head and founder of the Chamblee esports team, Mack believes that bringing the sport to Chamblee has already brought together students with similar interests.
"Athletics is not for everybody," said Mack. "Getting this [esports team] and having esports available really makes more people feel included."
Vice President and Co-Captain Aditya Rao ('24) believes that the club serves to help students that may not want to participate in other after-school activities, such as sports or academic clubs, by providing them with a community of their own.
"I feel like [the club] has really brought together a whole bunch of people [that] wouldn't be part of an after-school activity," said Rao. "Maybe they have some problems in their life and esports kind of brings us all together. I've made a lot of friends and have had a lot of new experiences, and I'm really looking forward to the tournaments. I can see a lot of people expressing interest and can generally tell this club is going to take off."
With a positive mindset and a determined team, the team is already looking forward to an upcoming tournament, marking Chamblee's first competitive esports debut.
"The first competition will be in March, and we're working on the registration for that now," said Mack. "We have a few people signed up for Rocket League and a team for League of Legends. We need to build up the team to get more people on there so we can have [more] full teams. Right now, it's very sparse, but we have about 20 people signed up and from the 20, we have two or three teams formed."
When it comes to practicing, Mack and his team have already been following a system: getting the teams accustomed to working together.
"Once we form the teams, they just communicate how they're going to play," said Mack. "Especially right now, since we're not in the building, they kind of just have to say, 'Alright guys, let's go play Overwatch today.' And then they try to schedule a time to meet up and play online."
The team is currently working with the program PlayVS, a company partnered with the Georgia High School Association (GHSA) to bring esports to anyone interested in starting a team of their own. However, many popular games are not offered via PlayVS, which is keeping the team from expanding their game library.
"We're associated right now with PlayVS and they don't offer certain games that we want to play, [like] Smash Bros and NBA-2K, but we want to expand to other programs as well so that we can offer more games to everybody at Chamblee," said Mack. "We know there are a lot of kids who play video games that we want to offer in the future. Hopefully, we'll get to play those games in the fall season."
Luckily, Mack is looking into a more well-rounded program for the team.
"Outside of PlayVS, there's another [esports league] called High School Esports League and that one offers a lot more games," said Mack. "So [High School Esports League] is the one that we want to get involved with this fall."
As of now, any student with a personal computer or console can join the team by emailing Mack at [email protected] Unfortunately, this limits the team to students who have access to personal gaming systems, but the team is planning on being less restricted once school reopens.
"Right now, everyone is playing at their houses with their own systems," said Mack. "Depending on what the game is, we play more PC [personal computer] games, but Madden and FIFA are played all on consoles like the PS4 [PlayStation 4], so everyone can just use their personal system now. But once we get back in the school building, we can use the computers at school. […] We're even going to try and take over the library about twice a week, so we can all practice."
About the Contributor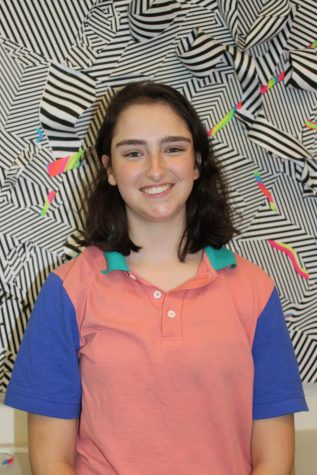 Lucy Samuels, Staff Writer
Lucy Samuels is a senior and has been working as a staff writer for two years. She sees herself in five years working for some sort of video game company. The show that represents high school to her is "Game of Thrones."