The Bonds Defense
With the 2021 Major League Baseball Hall of Fame voting concluded, it's time to step back and count the ballots. Here are some important numbers:
Four hundred and one. That's the total number of ballots cast by the Baseball Writers' Association of America (BBWAA), who ultimately decide which baseball greats will be enshrined at the National Baseball Hall of Fame in Cooperstown, New York.
Three hundred and one. That's the minimum number of votes a player needs in order to achieve Hall of Fame status.
Twenty-five. That's the number of eligible players that were on the 2021 Hall of Fame ballot.
Zero. That's the number of players who will be inducted into the Hall of Fame this year.
At first, it seems strange that not one player will receive a plaque at Cooperstown. But when you look closer at the candidates, it becomes more clear why no player was deemed worthy by the BBWAA. This year's ballot was composed of great players who rightfully might not achieve legend status, and legends who are surrounded in controversy.
The Hall of Fame is no stranger to this. The debate over whether a player's actions off the field should impact voting persists each year. And this particular ballot featured Omar Vizquel, one of the best defenders of the 2000s, who is facing domestic abuse allegations, and Curt Schilling, one of the best postseason pitchers to ever play the game, who is, well, a huge bigot.
Neither of these players' controversies affected how they played the game of baseball. But the same can't be said for this last subset of players, those tied to the steroid scandals of the late '90s and early 2000s. This group includes sluggers like Sammy Sosa, Manny Ramirez, Gary Sheffield, and Barry Bonds, as well as ace pitchers Andy Petitte and Roger Clemens.
But one of these names is not like the others. In this case, we're just going to look at Barry Bonds, the greatest baseball player of all time, why it's a travesty that he has been on the Hall of Fame ballot for nine years without receiving the 301 necessary votes, and why he should be inducted in 2022, his last eligible year.
Let's take a look at Bonds' career.
He first arrived in the MLB with the Pittsburgh Pirates in the 1986 season, where he played 113 games in center field with a .746 OPS (on base percentage + slugging percentage) to finish sixth in National League Rookie of the Year voting. He then followed this up with three more years of good but not spectacular baseball, before beginning his transition into the most feared hitter of all time.
In 1990, Bonds' numbers shot up, resulting in his first National League MVP award.
He replicated this season in '91, and then again in '92, earning another MVP.
That offseason, he opted to move west from Pittsburgh, signing a contract with the San Francisco Giants.
For the next eight years, from 1993 to 2000, he averaged 40 home runs per season, with his OPS never dipping below 1.000. League average OPS for these years was ~.755.
Then 2001 happened. That year, Bonds hit 73 home runs, a record that has yet to be broken, and began a four year long reign of terror that will probably never be replicated, because Barry Bonds' years of 2001 to 2004 are simply the most dominant ever.
During that four year stretch, he amassed 573 hits including 209 home runs. As pitchers began refusing to give him anything to hit, for fear of his unparalleled discipline and power, he smashed the record for most intentional walks in a season in '02, and broke his own record the next two years. He won the MVP award all four years.
Bonds then played three more seasons, breaking Hank Aaron's all time home run record in the process. When his contract with the Giants ended following the 2007 season, he retired from Major League Baseball as a fourteen time All-Star, eight time Gold Glove and twelve time Silver Slugger winner with two Batting Titles and an incredible seven MVP awards.
By the numbers, it's clear that Bonds is the greatest to ever do it. But, of course, the elephant in the room with these outlandish statistics is the simple fact that Bonds was convicted of using performance enhancing drugs to elevate his play.
I am certainly not alone in thinking that Bonds should be in the Hall of Fame despite his PED usage. The most common argument in favor of Bonds being inducted is that he was already a Hall of Fame caliber player before he began "juicing."
Testimony by Bonds' closest teammates and trainers states that his PED usage began after the 1998 season. And while the most thoroughly examined narrative of his doping does show evidence starting in '99, there is no evidence that suggests that Barry Bonds took any kind of steroid to give himself a competitive edge in the first thirteen years of his career.
By this line of reasoning, if you were to invalidate the years 1999-2007 from Bonds' stat sheet, which includes his storied four year campaign, you are left with the following numbers:
1917 hits including 411 home runs, culminating in a .966 OPS through 8,100 plate appearances.
While 8,100 plate appearances is on the low side for the average Hall of Famer, and thus many of his cumulative stats would be comparably low as well, he would still be among the top ten hitters of all time by OPS. Top ten, before he even hit the peak of his career, and top ten, before his numbers were modified with an asterisk to signify the impact of cheating. Top ten, in a Hall of Fame that currently has 333 members.
The only problem with this argument is that the "anti-Bonds" cohort realizes this, but simply does not care. In their eyes, Bonds' career was irreversibly marred by his usage of PEDs, and his eligibility for the Hall of Fame should simply be invalidated as a sort of punishment, regardless of the numbers he put up.
To understand why that way of thinking is unfair, we need to take a step back and get some perspective on the MLB during these years.
The period of time in Major League Baseball from the late 1980s through the 2000s is referred to as the "steroid era." Just as the second "Dead-ball era" of the 1960s was defined by the dominance of pitchers and lack of offense, the steroid era is defined by the juiced up sluggers and fireballing pitchers that took advantage of illegal substances to increase their muscle mass and testosterone output.
And while Bonds is the poster boy for the steroid era, he was certainly not alone in his PED usage.
Because let's face it: the steroid era was a period of exciting baseball. Hitters who blast mammoth home runs and pitchers who throw 100 miles per hour with ease draw fans. And home run chases, like the one in 1998 between sluggers Mark McGwire and Sammy Sosa, who both later admitted to using PEDs, are ultimately good for the growth and popularity of baseball.
So it's no wonder that Major League Baseball refused to hold players accountable, and by extension, encouraged PED usage to grow within their game. Led by Commissioner Bud Selig, they turned a blind eye to the widespread usage of steroids throughout the '90s, before finally instituting league wide steroid testing in 2003.
But while the MLB owners profited off the steroid era and Selig was praised for his leadership and ironically, himself inducted into the Hall of Fame, baseball greats, with Bonds at the forefront, have been left the fallout and blame of the '90s' epidemic of PEDs.
The steroid era was a polarizing time. It created great players, and then destroyed their legacies. And Barry Bonds was a product of it. He was the product of it. History should reflect this, and so should Cooperstown.
About the Contributor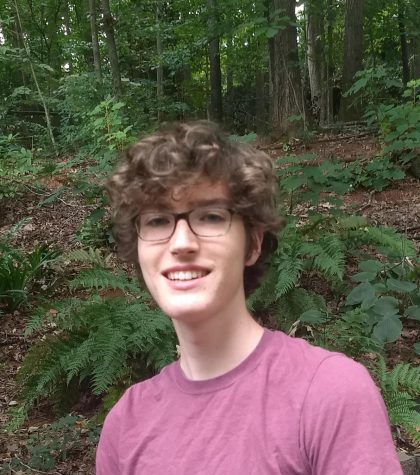 Adam Pohl, Staff Writer
Adam Pohl is a junior and first-year staff writer. Outside of the paper, you can find him watching more baseball than is healthy, playing card games, and forgetting to fold his laundry. In five years, he hopes to be done with math and science classes and studying humanities at a university.