The Washington Wizards' Worries and Woes
We are officially a little over a month into the 2020-2021 NBA season where most teams have played around 20 games already (varying team-to-team due to differentiating schedules and COVID-19 postponements), and one of the biggest disappointments of the season so far have been the Washington Wizards led by a duo of Bradley Beal and Russell Westbrook. Currently tied with the Timberwolves and Pistons for the worst record in the league, the Wizards have, to say the least, left more to be desired—especially considering that most fans thought of them as a clear playoff team to begin the season. I mean, their roster consists of not one but two all-NBA caliber players, so they should at least be somewhat competitive, right?
Well not quite, obviously. The most obvious cause behind the Wizards' woes lies in the team's weak supporting cast outside of Westbrook and Beal. Going into the start of the season, it was already apparent that the Wizards were going to be a pretty bad defensive and rebounding team just by looking at their roster. They lacked sufficient defenders at all levels of the floor—perimeter, paint, and just about everything in between—and 19 games into the season they are dead last in points allowed to the opposing team per game: at 121.2 points per game.
Thomas Bryant, the Wizards' starting center at the very beginning of the season, is already a slightly undersized and lackluster rim protector who teams often took advantage of in pick and roll offenses. While a decent offensive center with versatility as a finisher and shooter, he often looked lost on defense in addition to being too slow laterally to keep up with guards and too small to effectively guard or outrebound the more talented/decent centers in the league.
That being said, however, Bryant was still a decent center and his season-ending ACL injury only ten games into the season left the Wizards even more short-handed than before. The next man up, Robin Lopez, is a far downgrade—and that's no diss to Lopez, he's just a veteran big man who's out of his prime. Lopez, while a bigger body and able to provide a better rim-protecting presence underneath the basket, is still a defensive liability and not nearly as good of an offensive player; it's like watching a slow giant try to navigate his way around the court on defense.
Moritz Wagner seems to have recently been emerging as a more promising, younger center option off the bench as a hustle big with much better mobility and offensive game, but the problem is the Wizards' head coach Scott Brooks doesn't seem to trust him enough to give him consistent starter minutes over the veteran Lopez.
This brings me to my next point: Scott Brooks is a terrible head coach, and it's the Wizards' worst kept secret. Many fans have been calling for Brooks to be fired but to no avail. He's terrible at in-game adjustments, stubborn to a fault when it comes to trusting young players, and his playbook generally appears to be very lackluster with little versatility—which is a problem that dates back to his time with the Thunder where he was fired (so much so that the "Scott's secrit plays" meme was popularized all over the internet because it seemed like his playbook just consisted of Westbrook and Durant isolations)—among other reasons. I get that the Wizards' roster isn't optimal especially on the defensive end, but it is definitely far too talented to be sitting last in the league.
But going back to the problem of the supporting cast surrounding Westbrook and Beal, the Wizards' depth issues are not just limited to the center position. COVID-19 and injuries have further hampered Washington's already lackluster roster (in fact, the Wizards were one of the teams that suffered the most from postponements this season due to not having enough available players because of COVID-19 protocol) and players who should not be receiving minutes are, well, receiving minutes. I mean, when your team is forced to start, nevermind play, Jerome Robinson meaningful minutes, there is clearly a problem.
And for a player who just signed a 5-year, $80 million deal, Davis Bertans has been nothing short of disappointing. I like the guy, don't get me wrong, but the one thing he's being put on the floor for is shooting (because everyone knows he's not a good defender) and he's shooting the three-ball at a career-low 33%. He's downright practically unplayable when he isn't hitting shots, but Brooks still refuses to sit him at times.
The Wizards have also started Isaac Bonga in 7 of the 15 games he's played; if you don't see the problem in that, I don't know what to tell you. Raul Neto has also started five games for the Wizards this year and while he hasn't been terrible (he's actually been pretty decent on the offensive end and as a shooter), he should not be starting for any team in the league. He's also just a general defensive liability despite how serviceable he is on the offensive end.
And last but not least, Westbrook. He's my favorite player and though he hasn't been terrible this season or the biggest of the Wizards' problems, he definitely got off to a slow start to the season. He's shooting a career-low from the field at 41% (not including his rookie season) but on the bright side, he has been shooting over 70% at the rim and a career-high of 36% from three on 4.3 3PA per game. The problem is that it appears his mid-range game and athleticism have taken a step back. He just doesn't look the same on the court as he has in previous seasons, but much of this can be chalked up to injuries holding him back.
He has been sitting out on the second half of every back-to-back for rest and even admitted that he had been "playing on one leg" during a post-game interview against the Nets. The short-staffed Wizards clearly rushed him back from injury too early, and it shows in his performances. However, he also said that he feels much healthier now and his play has dramatically improved recently since coming back from sitting out a couple of weeks due to injury. This can be a key factor in the Wizards' turnaround, but only time can tell.
Two of the biggest bright spots for the team have been Bradley Beal and the rookie Deni Avdija. At the time of writing this, Beal is currently the league's number one leading scorer by a far margin at around 35 points per game with an efficient true shooting percentage of 58.4%. He has also stated that he plans to stay on the team and has no intentions to leave or request a trade, which is at least some good news for Wizards fans this season. Additionally, Avdija has shown flashes of brilliance and versatility as a promising young 6'9″ forward with playmaking, shooting, and defensive capabilities. The only problem is that his role on the team has been limited so far by Brooks as a spot-up shooter for the most part, but he is capable of so much more.
All this being said though, the Wizards do not have as much of a problem on the offensive end as they do on the defensive end—they are actually a great team offensively and average the fifth-most points per game in the league. I believe there's plenty of room for improvement on both ends of the floor for the Wizards still, and it's not too late into the season for them to make a turnaround (especially considering that all of their postponed games that they never got to play were against subpar-to-bad teams), but something's going to have to change. It has to start on the defensive end. If their defense somehow improves to be serviceable or within the top 20 in the league, I think they can definitely make some noise in the playoff race.
About the Writer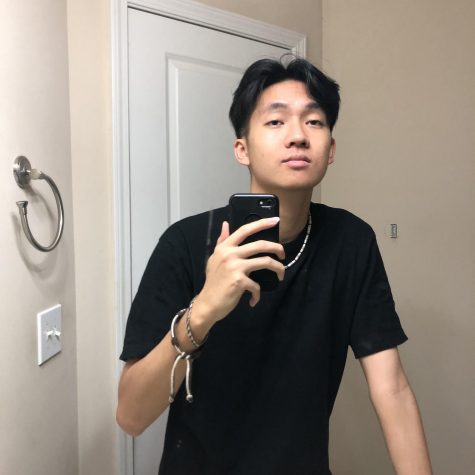 Henry Diep, Staff Writer
Henry Diep is a senior and staff writer for the Blue & Gold. In his free time, you can find him patiently waiting for a J. Cole and Kendrick Lamar album to drop, searching for new music to listen to, and emotionally investing himself into the outcomes of basketball games. In five years, he hopes to have possibly graduated from high school. This is his second year on the staff.