Chamblee Creatives Prosper in Scholastic Art & Writing Competition
Since 1923, the national Scholastic Art & Writing Awards have been sought after by many youth artists. This year, many Chamblee students submitted artwork, and twelve of them won the highest-level regional awards: Silver Keys and Gold Keys. The students who have received Silver Key status have their art displayed in a museum for a month, and the students who received Gold Key status are moving onto the national level of the competition.  
Natalie Brown ('22), Gold Key winner, was one of the many students who entered the competition this year without the expectation of winning. Submissions to the contest include paintings, sculptures, videos, visual art, and even cartoons. Brown is a photographer.
"My photography teacher, Mrs. Bell, had it as an assignment," said Brown. "I had heard of it before, but I didn't know that much about it until she told us we all [could] submit a photo."
Likewise, Courtney Combs (21), Silver Key winner and also a photographer, decided that she would submit this year after some prompting from art teacher Mattie Bell. 
"My art teacher, Mrs. Bell, told me to submit. She thought I would do well," Combs said. 
This was Combs's first year applying to the contest, but it was not the first time she had heard about it.
"I was going to submit last year. But, I ended up not having enough time to compile my images," said Combs. "I'm not taking AP Photo, but I am taking the exam. I took pictures from my [AP Photo] portfolio that I'm most likely going to use, and I just submitted some of those images. One of them won," said Combs.
Both girls were inspired by events that occurred this year for their artwork.
"I took a picture of my friend. We were in Little Five Points, and during the competition when we were submitting is also when the Black Lives Matter protests were happening," said Combs. "One of the reasons I chose to submit the photo was it showed my friend completely covered by her hair and by her hoodie, and then she has her hand over her mouth. I thought it was quite interesting, like how she posed herself like that, not even on purpose. She's wearing all black, but her surroundings are all yellow and super vibrant. I thought it was interesting how she contrasts with the background." 
Brown's artwork was a reflection on the state of the pandemic at the time she took the photo.
"It was the first time I had seen [the friend I photographed] in three months, and we decided to make a photo shoot out of it," said Brown. "I think I titled it 'Where's The Light That Never Goes Out.' I put the picture in black and white, and at the time, we thought COVID was slowing down, so I was thinking, 'Where is our hope that this is going to be over?' Her covering her mouth is her covering her way of speaking and expressing her opinions. So this is a 'Where is our hope?' and 'Where is our perseverance?' piece."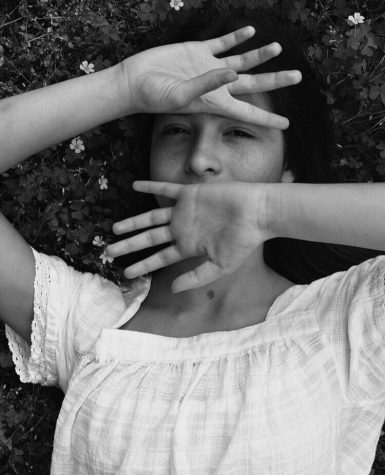 The artists have the freedom to go in any direction they would like with their piece. 
"Everyone has their own taste [in art.] It's not like sports or music where you know people are good [based on the players' analytics], and to have someone recognize one of my photos for something I'm passionate about is really exciting to be honored." said Brown  "It really is humbling to know that someone out there knows you did something good. In photography and art, everyone has their own taste, and most of the time, [they] don't like what you do, so it's nice to be recognized for something I'm proud of." 
COVID-19 had its upsides and downsides for the Scholastic Art & Writing competition, and while still being able to enter was an upside for Chamblee students, unfortunately, neither Combs nor Brown can visit their art while it's up in museums or go to the award shows in Savannah. 
"They did a digital gallery, so it wasn't horrible, but it would've been a lot better if we could do it in person," said Brown.
With this win under her belt, Brown is motivated to re-enter the competition next year. 
"I love these kinds of things and I've entered a couple of small [art competitions] not related to school. Nothing has come from that, so [I'm happy] to have a little confidence now," said Brown. "I definitely will [submit] next year."
Editor's Note: The Blue & Gold would like to acknowledge all students that won awards at this year's Scholastic Art & Writing competition. Here is a complete list of winners. 
Gold Keys
Natalie Brown – Photography
Jack Kahjavi – Photography
Camille Lizcano – Photography (4 Gold Keys)
Lucy Osborne – Photography
Iris Tsouris – Painting & Art Portfolio (2 Gold Keys)
Bryan Zhao – Drawing & Illustration
Silver Keys
Caleb Carleton – Digital Art
Courtney Combs – Photography
Carol Li – Drawing & Illustration
Camille Lizcano – Photography (5 Silver Keys)
Emilia Lowe-Pederson – Photography
Kathen Navarro – Photography
Elisabeth Smith-Purcell – Photography
Iris Tsouris – Art Portfolio
Honorable Mentions
Tiara Durham – Photography
Peirong Gao – Drawing & Illustration (2HM)
Hannah Hancock – Photography
Dulce Hernandez – Photography (2 HM)
Jack Kahjavi – Photography
Camille Lizcano – Photography
Emilia Lowe-Pederson – Photography
Hadley Lund – Photography
Lucy Osborne – Photography
Megan Philpot – Drawing & Illustration
Danna Reyes – Photography
Riley Robinson -Drawing & Illustration
Luna Rodriguez-Perez – Photography (2 HM)
Smrithi Satish – Photography
Elisabeth Smith-Purcell – Film & Animation
Evan Tomaras – Photography
Selma Uddin -Photography
Iris Tsouris – Painting (2 HM)
Nicole Vaccaro – Painting