Adapting to a Year in Isolation: Students Find New Hobbies
With quarantine hopefully coming to an end soon, a lot of students have developed new ways to keep themselves entertained. Many students, including Josie Byrne ('22) and Myah Ellis ('22) decided on different forms of art to cure their boredom over quarantine. Bryne has started participating in the viral spoon rings trend, and Ellis has started painting again. Outside of art, many Chamblee students are finding peace in outside physical activities. Sophia Shi ('24) has picked up yoga during the pandemic and Luke Williams ('24) has started riding his bike more often.
"I've always painted, but throughout this pandemic, life has been very hard," said Ellis. "I then decided to start painting and drawing again. Painting really helps me destress from basically everything. Life can be hard and everyone needs an outlet."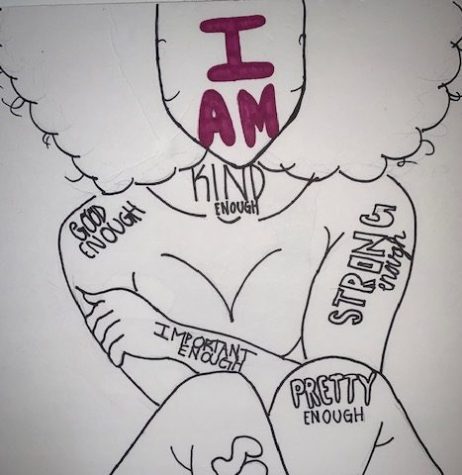 Having outlets from the stress of school was important before the pandemic, but many believe it's even more important now. Sitting in front of computer screens for 8+ hours and listening to teachers with no face-to-face interaction with their peers is tough and the build-up of homework means students often desire breaks.
"I feel like no matter how much you work, there will always be more to do," said Byrne.
Each hobby also serves as a way to connect with other people. Having family members to join in a much-needed break is a plus side. Not only is it a destressing method, but it's also a bonding experience.
"I usually ride my bike with my sisters and cousins, but I occasionally ride my bike with friends. It helps me destress by giving me fresh air and exercise, which put me in a better mood," said Williams.
Students like Ellis and her friends have found another way to connect by doing virtual meetings for art.
"My friends and I attend a virtual painting class when we see each other. We sit down and peacefully paint," said Ellis.
For those who don't have people near them to join in, they may find like-minded creators on forums like Reddit, TikTok, and other social media sites. Social media is a great way for these creators to connect, especially because libraries and community centers are closed due to COVID-19.
"I found out about spoon rings through social media. When I found it, I just had to do it because I love how they look," said Byrne.
While many students enjoy their hobbies after school to get out of the school mindset, Shi prefers to do yoga with her dad in the morning to get ready for the day.
"I do yoga every morning, and sometimes at night as well. Usually, it's just in my living room on a yoga mat," said Shi. "My dad started working from home during COVID, so we often do it together to start our mornings. It really helps us focus and get a good stretch in before we go about our respective days."
The many unanswered questions about finals, AP tests, EOCs, and SATs are starting to pile up and stress out students, along with an intense end-of-the-year homework load, making outside relievers even more necessary.
"Making spoon rings helps me put all my focus on one thing and forget the stresses of the outside world," said Byrne.
Often, hobbies have the ability to take us outside our current state of mind and let us escape the current stress of life, and that's exactly what Ellis is looking for when she paints.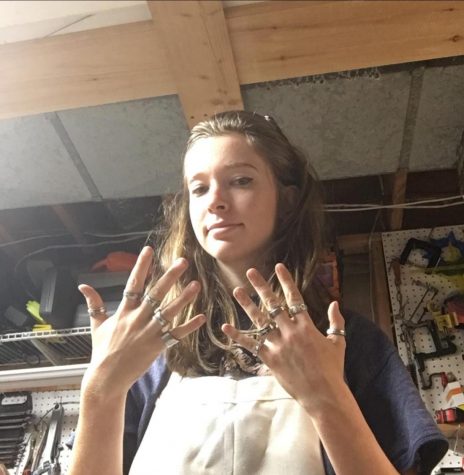 "Art/painting is a very relaxing way to destress my mind. With music and my favorite snacks, it's like a happy place," said Ellis.
The mental health aspect of COVID-19 and the lockdown are also crucial to talk about. Mental health has often been an emotional roller coaster for students, but being locked inside and not being able to see school friends has caused an even greater detriment to mental health. Luckily for Williams, biking has helped him tremendously.
"[Biking] helps my mental health by giving me exercise and allowing me to be outside instead of in front of a screen," said Williams.
For a lot of freshmen who have never set foot in Chamblee High School, hobbies are even more critical for mental health.
"I'm pretty disappointed in missing my whole freshman year and having to take all classes online, but I'd say there are definitely positives to the situation as well. Yoga has helped me de-stress and relieve anxiety," said Shi.
Hobbies aren't only great for school-related stress either. Shi has had the added benefit of improved fitness due to her newfound interest in yoga.
"I've only begun practicing [yoga] regularly very recently, but I definitely appreciate its calming effect in the mornings before I start my day. Also, as a soccer player, rest and recovery are really important, and yoga also helps with that aspect of my health," said Shi.
Though quarantine has certainly been challenging, the additional time to devote to hobbies has been a silver lining for many students.
"COVID has made me appreciate hobbies more. I haven't been doing anything that I would never do before," said Williams.