Open For (Local) Business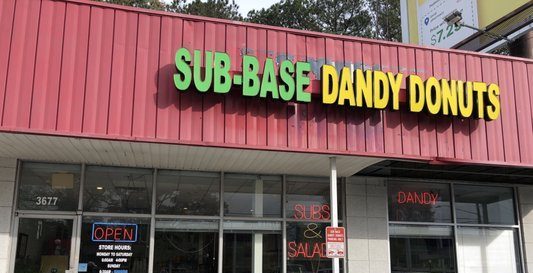 For many students, Chamblee is not just the building they attend school in. It is a community that includes clusters of people, rows of houses, and all of the surrounding local businesses. Unfortunately, when the COVID-19 pandemic initially struck in March of 2020, many local businesses were impacted by a decrease in local customers.
One such business that was impacted was Dandy Donuts, a local sandwich and donut shop located across the school building. As a CCHS fan-favorite and popular after-school destination, Dandy Donuts felt the significant effects of Chamblee's school closure.
"[There are] less customers for sure," said Toby Russell ('23). "In fact, I haven't seen anyone in there with me at the same time. I have seen people going in and picking up donuts early in the morning though. I've also realized that less people are going there after school because of COVID."
Russell visited the shop after his PSAT administration at the school in January.
"They don't really have seating inside anymore because it's all takeout. I also couldn't eat [my food] there, but I sat down as I waited for my sandwich to be made," said Russell.
[Editor's note: The owners of Dandy Donuts could not be reached for comment.]
On the other hand, other businesses saw an influx of customers, especially during the pandemic.
"There was actually a big uptake in business [at ACE Hardware] in spring [to] early summer," said Luca Antinozzi ('22). "Lots of people were at home and doing gardening and home improvement, so ACE got considered essential. We were actually insanely busy and had to limit how many customers were allowed in the store to keep it safer."
Antinozzi has been working at the local ACE Hardware store since April of 2020 and has found it to be essential to his sense of normalcy.
"I am so grateful for this job, as it has been the only way I get to leave the house," said Antinozzi. "It really has been very helpful in helping deal with my summer programs and school and sports all getting canceled. And it is nice working at a business where there is a smaller staff, so everyone is friendly. I have learned a lot of skills and made money of course, but maintaining my sociability has been the best part of the job during these weird times."
Chick-Fil-A, a business not specifically local to Chamblee but very popular among its students, experienced several changes as a result of fluctuating customer numbers.
"Co-workers who've worked here before COVID have told me it was much [busier], especially in the dine-in area," said Kamora Kemp ('22), an employee at Chick-Fil-A. "[Now,] it's closed and only limited to the mobile and drive-thru area."
Farley Wall ('21), another Chamblee student who works at the Dunwoody Chick-Fil-A on Jett Ferry Road, had a different experience when COVID restricted in-person dining.
"When COVID first hit, our location immediately closed the indoor dining room and switched to be drive-thru only," said Wall. "Especially for those first few months, we actually started to see a major increase in the number of cars coming through the drive-thru. Despite being a pretty small location, we consistently were surrounded by a sea of cars during the lunch and dinner rushes. Over time, we began to slow down a bit as other businesses reopened."
During the initial stages of COVID, while many businesses were forced to close down completely, the local Chick-fil-A locations faced a different set of challenges that came with remaining open.
"Due to all of the uncertainty at the time, there was a lot of confusion as to what the future for our store was going to look like, and there were a few employees who decided not to work because of the risks," said Wall. "Our location never fully closed like a lot of other restaurants, so we ended up getting a lot of their customers. I think I remember that the store was a little understaffed for a while, but we've recently seen more people getting hired."
Although the recent COVID-19 vaccine distribution has made it safer for people to venture out of their homes, this did not have a considerable impact on the local Chick-Fil-As' business.
"There are definitely more people who feel comfortable with leaving their homes ever since the vaccine came out, but the impact on our business was relatively small or just hasn't completely hit yet," said Wall.
Kemp agrees that business after vaccine distribution has not improved as much as expected.
"[Business has been] a little bit better," said Kemp. "We've seen a slight boom in cars each hour, but not as many as you would expect."
Larger chain businesses were often more successful than smaller businesses as consumers relied on familiarity and convenience when shopping.
"Chick-Fil-A was one of those unique businesses that seemed to do better during the pandemic than before, which makes it hard to compare to some of the smaller businesses that struggled," said Wall. "Fast food became a reliable place to get food for customers as indoor dining and small restaurants closed."
Ultimately, every business's relative success during COVID depends on its popularity, service type, and response to the situation.
"Chick-Fil-A [also] succeeded, in part, due to its fast response to COVID by adding new regulations for workers [like] periodic handwashing, wearing gloves, face masks, eliminating contact, and temperature checks," said Wall.
[Editor's Note: Additional resources on local vs. chain business success during the pandemic can be found below.]
https://www.nbcnews.com/business/consumer/tale-two-pandemics-big-box-stores-rake-record-profits-while-n1237464
https://www.wsj.com/articles/mcdonalds-chipotle-and-dominos-are-feasting-during-coronavirus-while-your-neighborhood-restaurant-fasts-11602302431
https://www.cnbc.com/2020/10/15/small-businesses-are-in-survival-mode-as-the-covid-pandemic-drags-on.html
About the Writer

Ashika Srivastava, Staff Writer
Ashika is a junior, and this is her first year on the staff. In her spare time, she enjoys reading countless amounts of books, watching Bollywood movies, and participating in too many extracurricular activities. In five years, she hopes to be studying biomedical engineering while also living her dream of being an ice cream taste tester.